Gurpreet Dhillon learned from his father growing up that kindness costs you nothing—but it pays you dividends. It's a value he embodies in his position as director for service lines in Palliative and Hospice Care at the PeaceHealth St. Joseph Cancer Center.
For his commitment to kindness, among many other achievements and values, Dhillon received the Young Professional of the Year Award at this year's Top 7 Under 40 Awards hosted by the Bellingham Business Journal, Bellingham Regional Chamber of Commerce and Whatcom Young Professionals.
"When you're kind to people, people are kind back," Dhillon says. "People remember how you made them feel."
This commitment to kindness stretches beyond his new position with the Cancer Center and the various leadership positions he's held at PeaceHealth during his career. Dhillon also serves on the board of the Whatcom Council of Aging because of his passion for caring for seniors, and with the United Way of Whatcom County to give back to the agency that supported his family when his mother passed away in a car accident when he was 12 years old.
Dhillon, 38, earned his bachelor's degree in Management Information Systems from Western Washington University in 2004 with the expectation of working for one of the big tech companies. He couldn't know that his job working in the hospital during his last year at Western would change his career trajectory.
"What I learned was that I loved the people, loved the mission…and serving a community to do something good," Dhillon says.
The leadership at PeaceHealth recognized something special in Dhillon and gave him an opportunity to show his skills in a paid internship role. That position ended up transitioning into the same full-time analyst position that he'd originally applied for right after college, but didn't yet have the experience to land.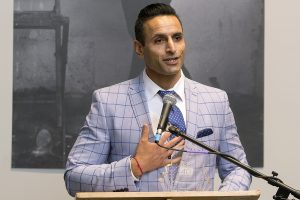 He's since earned his master's degree in business administration from Western and worked in various leadership roles at PeaceHealth, caring for the community. It's his privilege, he says, to work alongside those who are dedicated to the same mission.
The sponsor of the Young Professional of the Year award, Signs Plus, not only believes in honoring young professionals like Dhillon, but expresses a commitment to encouraging the next generation of leaders in their own industry.
Signs Plus works alongside Bellingham Technical College to provide fabrication and welding apprenticeships and hands-on learning in the field for students. They also sit on the advisory council for Whatcom Community College's Visual Communications program, offering internships for students from the program.
"It's important to support and build up young professionals, and recognize the incredible things that they're doing," says Sydney Sutterfield, project manager at Signs Plus. Signs Plus has been involved in the Chamber and its events since the electric sign company first opened in 1992. "Celebrating other professionals and businesses in the community brings everybody together, and that's really important."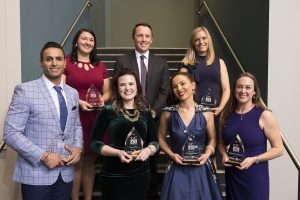 Sutterfield is a member of Whatcom Young Professionals and has presented the Young Professional award at Bellingham Regional Chamber of Commerce Annual Awards Dinner for the last three years.
"It's definitely an amazing experience," says Sutterfield. "We've got some pretty incredible people in our community."
Dhillon was notified of winning the Young Professional of the Year award at the 7 Under 40 banquet on October 18, and will be honored at this year's Bellingham Regional Chamber of Commerce Annual Awards Dinner on December 5.
The 7 Under 40 Awards began in 2016, honoring seven influential leaders in the community each September. A committee of representatives from the Bellingham Business Journal, Whatcom Young Professionals, the Bellingham Regional Chamber of Commerce, PeaceHealth, WWU Alumni Association and the Whatcom Community Foundation come together to select the top seven and the one recipient for Young Professional of the Year award.
Guy Occhiogrosso, President and CEO of the Bellingham Regional Chamber of Commerce, says of Dhillon, "He was certainly both impressive and inspirational to the entire selection committee."
It's about a two-month process from the time the nominations are first open online to when the top seven are announced at the awards event, says Occhiogrosso. The nominations are assessed on criteria that include community involvement and engagement, selflessness, character and vision, among others. Dhillon embodies all of these.
The Annual Awards Dinner will recognize Dhillon alongside others award recipients, such as small and large businesses of the year, CEO of the year, and nonprofit of the year.
Dhillon lives in Ferndale with his wife and three kids. Winning the award is an honor, but it's also sparked aspiration and imagination for what's possible in his kids.
Mentoring other young leaders is another important aspect of Dhillon's life. He advises upcoming young professionals to pay attention to what's going on around them and recognize that learning and growth can come from every encounter.
Speaking from his own experiences, he encourages people to share with the world what they want and what inspires them. "The more [that] people know what you want and what you need, they [will] help you get there," Dhillon says.
He also emphasizes the importance of support systems, building trust and valuing relationships.
In addition to his work at PeaceHealth, Dhillon owns three Port of Subs in Whatcom and Snohomish Counties. He recognizes both industries as essentially working towards meeting the same needs at the end of the day. "We all want to feel comfortable, we want to feel heard, and [know] we're getting taken care of."
Sponsored