When active youngster Emma Morgenthaler reached the tender age of 18 months, her mother Yvonne did what a lot of mothers do: enrolled her busy daughter in local activities, including a Mommy and Me gymnastics class at Bellingham Bay Gymnastics.

Yvonne remembers Emma as very shy back then, and at that first class, when one of the activities called for the kids to run around in a circle, Yvonne had to carry Emma around. The toddler quickly found her home in the gym, however, and fell hard for gymnastics. Today, she can't remember a time she didn't love the sport.
In elementary school, Emma was focused on competitive gymnastics and attended classes at Ferndale's Gym Star Sport Center. Having moved on to other gyms in other cities, Emma now works out daily, training for the Junior Olympics (JO) competitions. JO levels go from 1 to 10, with requirements and milestones for each level.
Emma's first formal competition was in 2009 as a third grader, competing as a level 4 in the JO. On the advice of Gym Star owner Carolyn Saletto, Emma's parents, Yvonne and Paul Morgenthaler made the difficult decision to move Emma to her maternal grandparent's home in Renton so she could practice daily at a highly rated gymnastics school in Kent.
Yvonne and Paul struggled with this decision. They wanted to do what they believed was best for their daughter, to honor her passion, and to remain a tight, loving family, even though they wouldn't be living under the same roof.
"I'd cry every night," Yvonne says, remembering with tears in her eyes. "This has not been an easy journey for the family. But my employer was supportive and sometimes I'd work down there."
I asked Emma how hard it was for her. "There was no question [I wanted to do it], because I really wanted to do gymnastics and progress—and I love my grandparents," she says. "It didn't cross my mind that I'd be two hours away until later on, when I was really missing them."
Other parents told Yvonne that she probably saw Emma more often than they saw their kids, since she and Emma did homework and read together on FaceTime. (When Emma was much younger, teeth brushing was also part of their digital ritual.) Even now, every weeknight that Emma is with her grandparents, she and her mother FaceTime with a daily check-in.
In 6th grade, Emma moved to a Woodinville gym, and two other Whatcom County families shared carpooling with Yvonne and Paul, enabling Emma to move back to Whatcom County and attend Mount Baker Middle school. In 10th grade, Emma moved to her current gym, Metropolitan Gymnastics in Kent, and again lived with her grandparents.
A number of years ago, I attended one of Emma's meets in Everett, and was stunned by the number of her fans in the crowd wearing shirts emblazoned with "EmmaDude" on the front. It came from her very first coach Ben Carson who now coaches at Rising Stars Gymnastics in Marysville. He would gently begin his coaching "Emma…Dude…" and then offer her advice on pointing her toes or straightening her arms. The nickname stuck.
Emma has already accomplished so much. She achieved JO level 10 in 2016, at 15 years old. By the close of the 2019 season, she finished in first place on vault bars and the all-around at the State Championships. At Regionals, she won vault, bars and the all-around, and at JO Nationals, Emma placed eighth on vault and 19th all-around.
All of this is attributed in major part to Emma's hard work. She was lucky to have a good gymnastics foundation, as well as incredible family and community support. About friendships, Emma says, "I've always had friends that want to hang out, but know that I can't, and they still support me."
I asked Yvonne if she held her breath watching her daughter flip and fly. Emma responded for her, saying that on some of her dad's videotapes of her events, you can hear Yvonne's voice urging, "come on, Emma…" Paul gets nervous while she's performing, he closes his eyes, even when he's videotaping. The occasional clicking noise on the videos is from Emma's hair clips that Paul often keeps in his pocket and clicks while she's competing. Emma says she doesn't get nervous when she's actually doing her routine. She's too focused.
What inspires Emma? "My teammates," she says, "because I'm always with them and they push me to be better and do skills I'm afraid of. They help calm me down when I'm nervous." Emma is grateful to all of her coaches, especially Carolyn Saletto from Gym Star, and the coaches at her current gym, Guennadi Komissarov, Cathy Sutherland and gym owner Yulia Hancheroff.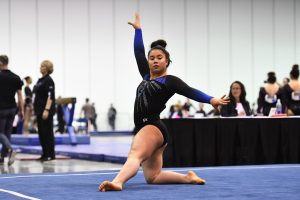 Emma is currently focused on the 2020 Region 2 State meet trials. This will be her last JO competition, as she will graduate from high school next spring, and has accepted an offer to attend Sacramento State College to compete for the Hornets at the NCAA Division 1 level. (Yvonne and Paul plan to fly, drive or bus to be at the sidelines for every meet.)
I asked Emma if she was going to go the Olympic route, which would require her to be practicing and working out all day, while attending school online. She decided that level of sacrifice was more than she's interested in right now.
After college, Emma plans to give her body a break from active gymnastics, possibly staying involved through coaching or judging. Her intended major is biology, and she will be pursuing a career in wildlife rehab or "anything that involves animals." Emma used to volunteer at Whatcom Humane Society and has shadowed at a veterinary hospital.
Emma and her family continue to make it work, thanks to supportive friends and family, technology, and a car that gets good mileage to bring her home every weekend (and take her to competitions). With lots of appreciation of time on the road together, love and patience, they continue to balance everything for Emma's passion of—and talent for—gymnastics.
See video from Emma's recent competitions here.