Since its 1893 founding and the city's 1903 incorporation, Western Washington University and Bellingham have grown together. The university draws in students from all over and, quite often, its graduates find plenty of great reasons to settle in the area after graduation.
As another new class of freshmen begins their college careers, Western is partnering with local businesses and community leaders to present "Paint B'ham Blue for WWU," its fourth-annual welcome celebration, on Wednesday, September 25 at 5:30 p.m.
The blue-hued event began as an idea several summers ago, says Deborah DeWees, executive director for the WWU Alumni Association. DeWees and Daylight Properties CEO Kane Hall (Class of '00) were trying to find a visual way to demonstrate Bellingham's affinity as a college town, as well as it being the second-largest concentration of Western alumni. Western alums have ownership in more than 40 local businesses in the Bellingham core, and a downtown welcome celebration helps drive home the notion that Western isn't just a school up on the hill, but a place with deep connection to the city surrounding it.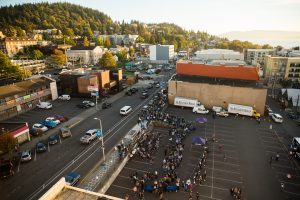 "We wanted to showcase to our students that this community welcomes them," DeWees says. "This is their home."
To further connect Western Washington University with the community, Western worked with Daylight Properties to have their City Center office in the Herald Building, located at 1155 North State Street.
The event also firmly establishes a worthy tradition for incoming students that didn't exist before.
"There were welcome activities on-campus, but nothing that was really, truly a tradition," she says. "This is something that students can remember, during their time at Western and beyond."
The event will kick off on campus around 5:30 p.m., with students assembling in Red Square. There, local band Analog Brass and university president Sabah Randhawa will lead a banner-heavy procession in a Mardi Gras-style march down High Street and onto North State Street. There, a tunnel of alumni will meet them, doling out high-fives and shaking blue cowbells and pom-poms.
Students will pour into the Bellingham Herald Building parking lot, where they'll sign a giant "Home of the Vikings" banner, which will hang from the building's side all year. Party time officially commences around 6:00 p.m., with music, food trucks, and retailers with prize giveaways set up throughout the parking lot and nearby Depot Market Square. R-Squared, a Western alum who has performed at numerous downtown music shows, will headline the music. And you can be sure Victor E. Viking, official Western mascot, will be there, too.
At 7:30 p.m., attendees will gather to hear remarks from President Randhawa and Bellingham Mayor Kelli Linville, before joining together in a countdown to see the iconic Herald sign change from red to blue. At that moment, fireworks will light up the night sky. Students will then walk back to campus around 8:30 p.m. Many students and alums will continue to mill around downtown long after the last firework has gone off, she adds, patronizing downtown businesses.
DeWees says 2,200 students participated last year, along with about 300 alumni, and they're hoping both of those numbers will increase this year. Alumni are encouraged to join in on the festivities and grab a cowbell at 4:30 p.m. in front of the Herald Building the day of the event to cheer on the new students.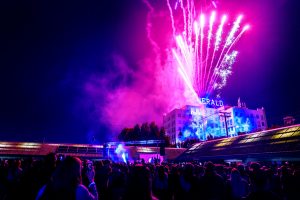 With so many thousands of Western alumni in Whatcom County, DeWees says they're hoping to draw as many as possible to the event. Before new students arrive, alums are invited to a special reception at Western's City Center office and Argyle Salon, located inside the Herald Building. There will be beer, wine, hors d'oeuvres and plenty of entertainment.
"Paint Bellingham Blue" isn't just an event; it's also an idea with literal meaning. You may have already noticed the "Viking Blue" lights wrapped around downtown trees. DeWees says there are 2,600 strands of lights on 180 trees throughout downtown, with 90 light pole banners extending down Lakeway Drive, along Holly Street and into downtown.
This year, the lights will remain up until December 1, when they'll turn white for the holiday season. The lights will remain lit into March, making downtown more warm and inviting through the winter. The WWU Alumni Association raised $130,000 for the purchase, installation and removal of the lights, DeWees says. Daylight Properties also partnered with Sensebellum to create a permanent lighting installation on one side of the Herald Building, as a gift to the university.
"Paint B'ham Blue" is made possible by the WWU Alumni Board of Directors, the WWU Alumni Association, Associated Students of WWU, the City of Bellingham, Mayor Kelli Linville, the Bellingham City Council and the Downtown Bellingham Partnership. Local business support includes managing sponsor Peoples Bank, Chmelik Sitkin & Davis P.S., Daylight Properties, Faithlife, Stateside, Boeing Employees Credit Union, Whatcom Educational Credit Union, Woods Coffee, and Fat Pie Pizza, which sponsors the fireworks display. Event partners include Argyle Salon, Boundary Bay Brewery, Signs Plus, and the Bellingham Herald.
"We really are connected," DeWees says of Western and the Bellingham community. "This event is an amazing experience."
In the future, she says she only hopes the event—and the amount of Viking Blue downtown—continues to grow.
All gallery photos courtesy of Western Washington University
Sponsored