The Jansen Art Center in downtown Lynden is a home for artists of all kinds. A nonprofit organization, "The J" strives to be a place for artists to create, share, and engage across a variety of mediums.
Their jewelry studio in particular is a shining gem (pun intended) if you want to explore the art of metal jewelry-making. Superbly equipped with everything you need to explore the craft, the studio offers metal work, soldering, stone setting, and more.
Jansen Art Center was once Lynden's City Hall. The jewelry studio is next to the space that was formerly a morgue (and is now used for textiles). Beginners and masters alike can come and hone their metalworking skills—and creativity. Workshops and classes cover topics like riveting, soldering, torch enameling, and more, allowing students to design gorgeously intricate pieces.
Though the studio focuses on jewelry, your art doesn't have to be wearable. The studio primarily teaches fabrication with non-ferrous metals, or metals without iron. Beautiful metal sculptures are often being created right next to necklaces, earrings, and bracelets.
"You can learn the basics of fabrication, which are basic techniques to solder, form, texture, and create earrings, pendants, bracelets, and pins out of non-ferrous metals," says Judith Gauthier, head of the jewelry studio.
Gauthier is a veteran in metal jewelry design. She enjoys watching beginners grow, taking the medium of metal-working and using their talents and creativity to produce something from their perspective.
"I love beginning classes," Gauthier says. "When I was young, I thought I was going to be a kindergarten teacher, or a grade-school teacher. [I love] watching them learn and grow and get excited about learning more."
The studio attracts all types of folks, regardless of age or experience. Gauthier often gets people who want to make a business out of jewelry making, or people who just never had the chance to learn and play until now. She even gets some interested in lapidary work (polishing and cutting stones and gems), who want to put their stones into jewelry.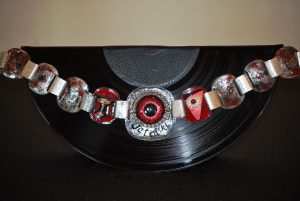 The J also offers an open studio every Thursday for independent work. Gauthier must first approve studio time, as a general knowledge of jewelry tools and equipment (especially torchwork) is essential.
Gauthier started a career in metal jewelry design and fabrication at the Alaska Silver and Ivory Company, assisting in producing hand-made sterling silver and ivory jewelry. She was later an assistant production supervisor for Jody Coyote, selling jewelry to Nordstrom and Macy's. She returned to Bellingham in 1989 and started her own jewelry company, Pouncing Rain Creations (named by her 12-year-old daughter) and made her own line of wholesale jewelry.
Pouncing Rain eventually developed into a jewelry studio where she taught metal jewelry techniques to hundreds of students. Eventually, after a change of hands, the studio became the Bellingham Metal Arts Guild.
"I'm proud that came [from me]," she says. "That's my baby. I can see all the equipment I bought still in there."
Heidi Jansen Doornenbal, the woman behind The J, would later approach Gauthier to lead the jewelry studio.
Gauthier and the Jansen Art Center also host Falling Out of the Box, an annual jewelry and metal art design challenge. Now in its fifth year, the contest encourages artists to create something new with materials they may not normally use. Every year there's a reception, judging, and prizes.
"It's something I wanted to do for years," Gauthier says "I would create these boxes of components. You'd get a box not knowing what was inside. It was non-ferrous metal, and a set of rules. You buy a box, and you have one month to follow the rules and create something."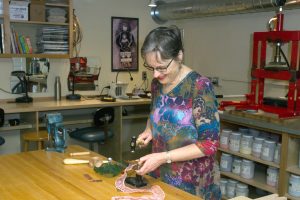 The challenge attracts people from all over the country. One of their sponsors is Rio Grande, a jewelry supply company from Albuquerque, New Mexico.
"We even got one from Australia last year," Gauthier says. "[People] look in the box and go 'What am I going to do with that? You're kidding!' But the things they make are just amazing."
Each year offers a different theme. This year's is "lost but not forgotten."
"It's dedicated to all the lost earrings in the world. We've all lost our favorite earring, right?" Gauthier says. "In the box will be components again…and three pictures of an individual earring. You have to choose one that inspires you to make another pair."
Signups for classes and workshops are available at Jansen Art Center's website. Open studio time is every Thursday from 1:00 p.m. to 4:00 p.m., with approval from Judith Gauthier.
Falling out of the Box registration is now open. Boxes will be sent out September 3, with a deadline of October 4.
Sponsored