Submitted by: Barron Heating and Air Conditioning
BOOM! CRACK!! Then a downpour of warm rain outside your bedroom window. A mid-summer thunderstorm is typically a few and far between event here in the Pacific Northwest, but for many of us, it's a sound we love. But when the weather turns and summer becomes fall, those storms multiply and aren't so sweet.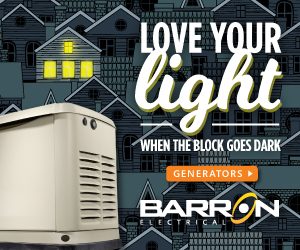 Remember last year? Heavy rain and high winds—correction, gale force winds—seemed to be the norm in our corner of the world. Waking up with the neighbor's trampoline in your backyard? Been there. Downed limbs slapping your house as the lights threateningly flicker? Been there too. Storm after storm leads to power outage after power outage, and the battle gets so tiring.
Let us set the scene for you: winds are raging outside as 16-year-old Nicole and her friends are getting ready for the school dance. A dreamt-about day for the girls, the crockpot is on, cookies in the oven, dresses strewn about and vanity covered with hot curling irons and endless dooding supplies. They're in the thick of it when, you guessed it—the flickering finally gives way and the power goes out. Perfect. Well, try as Mother Nature might, the silence is just long enough to recognize what had happened before hearing the welcome "whirrr" of their home generator kicking on. Cue the sighs of relief!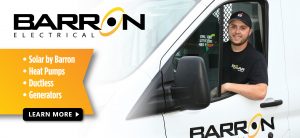 Whether she'll admit it or not, Dad's preemptive planning certainly paid off for Nicole that day. And from wild weather to fluke power outages on the calmest of days, you can be certain that it won't be the last. Ready to equip your home for the dark days ahead? Barron Electrical, a division of Barron Heating and Air Conditioning, is here to help. As a Full-Service Generator Contractor, we sell, furnish and install whole house generators powered by natural gas or propane. Barron Electrical can provide you with the peace of mind that the generator we install will keep your home's lights, heat, water and refrigerator ON, no matter what the weather brings.
Prepare your home now before the winter storms roll in and love your light when the block goes dark. Call Barron Electrical for a free estimate and learn about flexible payment options to install a whole house generator today. You'll be glad you did!