I was told Matt Twining is very knowledgeable about whiskey, so when I sat down across the bar from him, I figured I was in good hands. When he asked me what I'd like to try, I said he should decide—after all, isn't he the expert? "I'm a little reticent to claim that," he explained, "because there's always so much more to learn."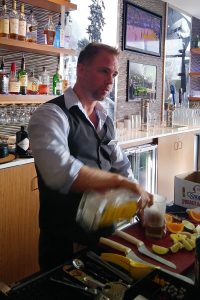 He was talking about the whiskey, but he might as well have been talking about the path he's followed so far in life.
Twining was born in Southern California and moved to Whatcom County as a baby. His father spent all the money he had to bring his family to Washington, and used a modest inheritance to purchase a plot of land near what is now Sudden Valley. The property included a barn, and that's where Matt's family spent the next nine years. "There was no television—no electricity, no running water! I basically lived outside," Twining says. In time, his father's business took off and allowed him to build a house on land directly across the street. "We go there for Sunday dinner to this day, and can look across the road at that same barn."
As a youngster, Matt found music. "I started out just like everyone else: I wanted to impress a girl." When he met a young lady who captured his fancy, he told her he played guitar, and she suggested he play for her sometime. He asked what sort of music she liked, and she requested something by Prince, whose blend of funk, soul and R&B wasn't exactly up Matt's hard rock and heavy metal alley. But he rushed home and asked for his father's help, and now credits that experience with opening him up to talent in whatever form it takes.
Around the same time, he fell in love with musical theater as a student at Sehome High School. When he returned to Southern California as a young adult, he took the acting bug with him. But, he says, "Southern California is all about film, so no one takes theater seriously. Then I moved to New York, where it's all about theater—that's all they wanted!" He continues to act today, and just finished a run with the Bellingham Theatre Guild. "They are absolute pros. You never know who you're going to run into, from stunt men to seasoned actors. I'll be doing more of that."
During his time in California, he didn't restrict himself to theater. "I had way more fun than I should have," he says about the time he spent acting in a few "teen slasher" horror movies. From there he went on to spend a few years acting on a soap opera before switching gears back to music. He played with a few bands in California before finding himself part of a group successful enough to sign with a small record label and tour the West Coast and into the Midwest.
"That's a hard way to make a living," Twining says. He returned to Southern California and used some of his soap opera money to open a recording studio. It specializes in providing musical soundtracks for video games and works closely with Cartoon Network, recording voice actors and music for animated shows. In fact, if you've heard the opening theme to the television show OK K.O.! Let's Be Heroes, then you're already familiar with Matt's singing voice.
The same curiosity that kept him moving from one art form to another also led him to travel, where keeping an open mind broadened his perspective even more. "I learned that you ask where the cool place to visit is, then go somewhere else—go the opposite direction, in fact. Like Croatia." At a time in the country's history when not many tourists made it a destination, he visited and found it utterly attractive and welcoming. "Everyone was just so happy to have you there."
He also made it to the United Kingdom, where he dove deep into the science of whiskey making. Which brings us to the current venue for his brand of performance: the Chuckanut Lobby Bar.
Six years ago, when he decided to live near his family again, Twining got in on the ground floor of the SpringHill Suites hotel project. Because he became involved while the hotel was still coming together, he enjoys the status of being a Charter Member. "It's a great way for the employees to become invested in the building of the business itself," he says.
And Twining certainly isn't your standard bartender. He takes an obvious delight in selecting, pouring and discussing a variety of fine beverages. He winds his way through the effects that history, geography and even economics have on each whiskey's flavor profile, which range from fine and delicate to robust and full-bodied. He gives lessons about the chemistry of the aging processes, and grows philosophical about enjoying them. "It's a great moment," he says, "when the level of appreciation rises to meet the level of the craft that produced them."
It's an apt philosophy that Matt Twining has applied to life in general: see the world's possibilities, and learn to position yourself to fully enjoy them.
Stop in at the SpringHill Suites' Chuckanut Lobby Bar and let Twining serve you something fantastic. The bar opens daily at 4:00 p.m. with nightly happy hour from 4:00 p.m. to 6:00 p.m. A full dinner menu is also available until 10:00 p.m. Sunday through Thursday and until 11:00 p.m. on Friday and Saturday. You can also enjoy their outdoor patio.
Sponsored