If you've hiked Whatcom County's urban and mountainous trails, you might be familiar with geocaching. Since 2001, this international game has combined classic scavenger hunts with modern GPS technology to get people outside, solving puzzles, learning, and making friends.

"Geocaches" are containers of all shapes and sizes. Players hide, find, and return them at coordinates, logging finds physically and digitally. Geocaches occupy hidden spaces of public and private property: roots, rocks, lampposts, guardrails, and other scenery we normally overlook. Preeminent website Geocaching.com boasts over 3 million geocaches, including more than 1,000 in Whatcom County.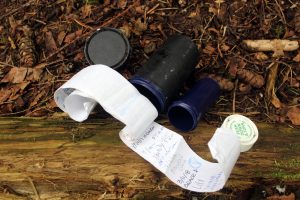 Two prolific local geocachers explained their hobby to WhatcomTalk in between cross-country trips full of caching.
Wendy Crandall, aka "twlare," started geocaching in 2007 and owns Bellingham's most-favorited geocache. Her "X-Men Series" of "GeoArt" mystery caches form an "X" west of Ferndale, hiding true coordinates behind superhero-themed puzzles. Wendy's favorite of her more than 100 hides is a challenge to find geocaches at 25 trailheads.
Eric Huntoon, aka "badger49," has created over 400 Chuckanut Mountain hides since 2008. He makes basic geocaches with the mission of introducing new players. Eric's geocaching adventures include a Grand Canyon trip where a group discovered "a petroglyph there, at that cache…nobody knew of it."
Learning the Ways of Geocaching
Both cachers say the smartphone app has made geocaching easier since they began. Huntoon suggests using basic GPS for better reception. Crandall recommends starting with the app and YouTube videos. She says people often compare geocaching to other scavenger hunts and Pokémon Go.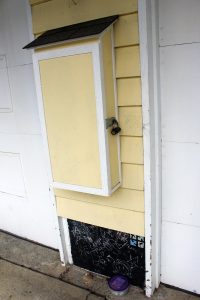 "There's kind of a funny quote about geocaching, which is, 'I use billion-dollar space technology to find Tupperware in the woods'," says Crandall, who often summarizes geocaching as "using the GPS to find hidden things in the world. And usually there's not any real treasure there; it's all about the hunt."
Geocachers invent their own treasures, such as tradable swag, trackables, and GeoCoins hidden in caches. They also pick up lingo. Any non-player or "Muggle" can follow GPS directions, but it takes "geosenses" to find tricky caches following hiders' misdirection.
Crandall and Huntoon think most players learn about geocaching from word-of-mouth and use geocaching to get outside, especially older adults or parents of young children.
"I try to emphasize that it gets kids out," says Huntoon. "They're kind of techie, and there's a competitiveness among siblings, but it gets them out hiking and doing things and keeps them occupied. I think it's a nice blend between enjoying the outdoors and having a little technological challenge."
A Variety of Caches
Different geocache types provide unique challenges. Traditional caches are easy until they involve obscure spots or puzzle-solving. Multi-Caches simply add extra stages. "Sig's" at Sig's Funeral & Cremation Services and "The B.B. and B.C. Cache" at the Bellingham Railway Museum are popular examples at Bellingham businesses.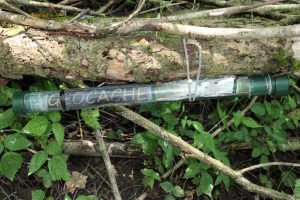 EarthCaches are allowed at national parks because they replace physical containers with geology lessons, which Eric finds highly educational. Popular local EarthCaches include "Go Chasing Waterfalls" and "Chuckanut Fossil Finds Earthcache."
Mystery caches require puzzles or challenges before being found or claimed. Crandall says the challenge of finding seven cache types in one day exemplifies Whatcom County's wide variety of cache types. And Whatcom County's landscapes vary just as dynamically.
"Whatcom County is a beautiful destination for pretty much any outdoor activity," says Crandall. "So there are some wonderful geocaches at everybody's favorite place to hike. Oyster Dome has one of the oldest geocaches around…one of my favorite hikes is Raptor Ridge, and there's a geocache there. So the geocaches will take you to some of our most beautiful outdoor places."
Huntoon says that between Lookout Mountain, Galbraith Mountain, Anderson Mountain, Blanchard Mountain, Chuckanut, North Chuckanut, "there's such a diversity of terrain." Placing caches on strange trails has taught him and others where they lead.
"There's something for everyone here," says Huntoon. "There's city streets, there's city parks, and then you've got the mountains—and I've got one in Lake Samish that you've gotta go scuba diving for. I've got one attached to a buoy out in Lake Samish."
Geocaching Creativity
Whatcom County geocaching has a far-reaching influence. Crandall's March 2019 "Barbie's Birthday Bash" event attracted over 40 geocachers, even from King County and British Columbia. Huntoon's and others' Larrabee State Park hides inspired WaStatePks100: Washington State Parks' partnership with geocachers, whose hides promote camping and Discovery Passes.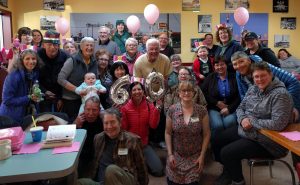 "You can go out and find geocaches, and that's a lot of fun, and that's what a lot of people do," says Huntoon. "But I've derived a lot of satisfaction from giving back by putting mine out there."
Crandall says geocachers the world over share experimental cache ideas because "people love to be creative, and they love to delight other people."
"An urban caching environment requires you to be more creative because you have to place it in such a way that Muggles can't find it," Crandall says, adding that "necessity is the mother of invention sometimes. Cachers like to delight each other."
Go geocaching in Whatcom County, and you'll uncover a delightful new world that's hidden in plain sight.