If you've driven down Ferndale's Main Street, you've probably seen the kooky clock tower located just outside the downtown area. The towering, three-story structure is the main attraction in an otherwise empty skyline.

Many articles have been written about the building, but what has been overlooked are the charming characters who built it. Margaret and Art Rojsza are the quirky couple behind the building and to meet them is to love them. It takes character to build a home with this much personality, and they have plenty of it.
The structure began as a regular, understated home, but the two lifted it off the ground, adding layers and ornamentation until it became the clock tower it is today.
Art created the home to represent his artistic expression and a monument to the freedom that he experiences here in America, a sharp contrast to his childhood in Communist Poland. "It represents hard work, creativity, perseverance and dedication to your dreams," he says. After years of legal battles with the City of Ferndale, the couple won the rights to leave his artwork on display.
Art and Margaret's thick Polish accents can be difficult to understand, but they're full of jovial stories and laughter. They welcome guests with open arms, a fresh pot of coffee, and homemade cakes.
"Krakow is beautiful. I'd like to invite everybody to come visit," Margaret says of her hometown in Poland.
Art is from a small town called Bialystok, 200 miles northeast of Warsaw, next to Belarus. The two met during college at the Mining and Metallurgy University in Krakow.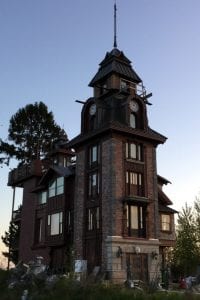 Margaret was taking a complicated architectural geometry class; she's not sure of the direct translation of the title in English, but everyone at the university had to take it, and it was famously difficult.
She was struggling and heard about Art, who tutored on the subject. "I don't think he taught me anything at all," she says with a laugh. "I didn't learn anything from him." She passed the course anyway, and the two have been together ever since.
Art was studying heavy metal construction and design, while Margaret majored in geology. They both went on to receive psychology degrees, just for fun. Art studied psychology on a full scholarship, beating out hundreds of others for the coveted spot. They married in 1985 and started a company in the construction industry.
Their first project was in Poland, where Margaret met with a board of large, booming men who were fighting over a brick and stucco project that hadn't been completed.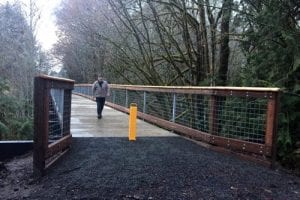 Margaret volunteered for this massive project, covering a 1,000-foot length of the building on scaffolding. The first day, she and Art only completed one square foot. They had 300 days to finish the project. "We got to working and figured it out," she says. They got into their groove and finished in only 30 days.
In the 1980s, Poland was communist, and many young people tried to leave. "If you're active and creative in Poland, the communism made it very difficult to get anything done," says Margaret. Strict laws, regulations, and bureaucracy halted growth, making the construction business difficult.
They moved to Norway for two years. "Usually, Polish immigrants go to Germany, Austria, Italy or Spain. But we don't do things the way most people do," Margaret says.
From there, they moved to Vancouver, Canada. "We worked for Queen Elizabeth in British Columbia," says Margaret. Workers are required to sign contracts with the Queen when working for the Canadian Army.
After living in Canada for 15 years, work brought them over the border to the U.S. Their list of work projects is long and impressive: Lime Kiln Lighthouse on Friday Harbor, Cape Disappointment Lighthouse at Ilwaco, restoring historic houses, building schools, jails, and fire stations, to name a few.
In 2001 they moved to Ferndale for a project at Ferndale High School, retrofitting seismic upgrades, and decided to stay. At the time they had three children, one in elementary, middle, and high school. "We liked the school system and the quiet," says Margaret.
For the last seven years, Art and Margaret have taken on big construction jobs almost entirely alone. They're naturals when it comes to construction, but Art's creativity and ingenuity allows them to navigate difficult jobs.
"If you describe him as an animal, he's a beaver," says Margaret. "He likes to build, and he's faithful to one woman."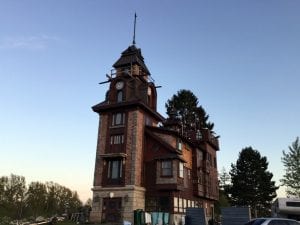 They once built an historic City Hall monument in Everett with a 1,500 pound piece of granite top on it. Art created a pulley system that hoisted the stone into the air.
"I don't even ask him how we're going to do things anymore," Margaret says. "It takes too long for him to explain it. I just go with whatever he does."
In Cape Disappointment, they lifted 170 pieces of sandstone 10 to 12 feet into the air with a pulley and swing system Art invented. "If you have a pulley and a brain you can figure out how to move things," she says. "I don't want to be Hercules, but sometimes I feel like it."
Project managers often think Art is joking when he arrives on site and tells them it's just him and his wife. Margaret is a small lady with a thin frame. The image of her and Art moving massive stones high into the air is remarkable.
The Rojszas are Polish and Canadian citizens and will soon add the U.S. to that list. They passed the citizenship test and are waiting on the call to become sworn in. When that happens, they'll fly a giant American flag from the top of the clock tower. Art loves the American flag.
"Graphically, it's absolutely the most amazing. It's the most beautiful flag by far," he says.