People who move to Whatcom County from the Midwest often complain that there aren't any quality steak places here in the land of seafood, vegan-friendly menus, and taco trucks.
If you are one of said people, you've not yet found Herb Niemann's Steak and Schnitzel House. It's your beacon of hope. Better yet, it's an old-school steakhouse nestled at the foot of the Cascades.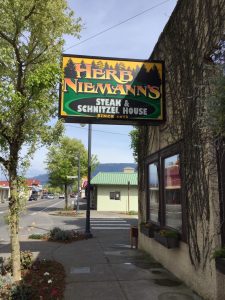 Take a scenic 30-minute drive north through raspberry fields and perfectly kept, vintage farmhouses and you'll reach Herb Niemann's on Main Street in Everson. It's the perfect location for a special night out.
The atmosphere in the bar is warm and inviting with exposed brick walls and a large, colorful stained-glass window above the dark hewn bar. A German theme runs through this 100-year-old building, with heavy wood beams, dark romantic seating and a great big fireplace visible from four sides. A wine cave houses an excellent wine selection, and a display window allows diners to see the chef cutting their steaks.
"All our beef is Herford from Nebraska," says Angel Goering, owner of Herb Niemann's Steak and Schnitzel House. By the time huge sides of beef are served to guests, they've aged "between 28 and 35 days."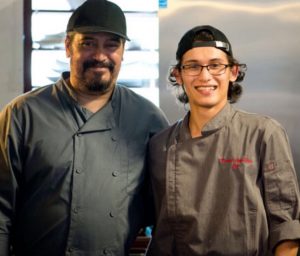 Aging steaks creates tender cuts by breaking down the collagen held within the meat. It also evaporates the water contained within, resulting in a concentrated flavor.
John Vance is the head chef and he lovingly cuts every steak by hand. "It's labor-intensive," says Goering. "They definitely put in some long days."
Goering is very appreciative of Vance and the work that he does. She's proud to have him on staff. "It's really hard to find somebody who can cut steaks in the right way," she says. "It's one thing to break down a fish, but to break down a side of beef is tricky. To watch him do it is like watching surgery. I don't think people realize how involved it is."
Vance has been cooking for 28 years. "I learned from my dad and my mother. She's Filipino and my dad was an Iowa farm boy," says Vance. "I grew up on a tiny 20-acre farm and had to do all the butchering; I cut chicken and beef."
At Herb's, New York strips, filets and ribeyes are all cut to order. "You don't want to cut those ahead, or it dries them out," Goering explains.
Everything is made in-house, including their own spätzle. "They make the batter, put it in a press and hand press it into boiling water," Goering says.
Beef trim is ground into hamburgers and pork trim into bratwurst. Dressings, desserts, soups, sauces—even the Texas toast is made in-house. "The only thing we don't make is our jalapeño poppers," says Goering.
She's a Kansas girl originally, and her dad owned a steakhouse while she was growing; she worked as a server. When Goering moved to Everson, she owned a commercial construction cleaning business.
"When the economy collapsed, I didn't have any work," she says. "All of our contracts stopped, so I went back into the restaurant industry."
She found a job serving tables at Herb Niemann's and eventually became a manager.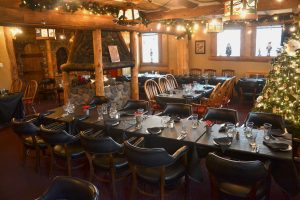 "My dad passed away unexpectedly about nine years ago," she says. Her father was young, and it came as a shock. "He left me money, but I didn't know what to do with it because it wasn't really my money. So, I just put it in an account and left it there."
Five years later, Herb Niemann decided to sell the restaurant. Goering felt that it made sense for her to follow in her father's footsteps and buy it with her inheritance.
"When my dad would come to visit, he would want to eat here because he loved the steak," says Goering. "It's kind of cool, that I knew he loved this place and it was one of his favorites."
She bought the restaurant four years ago and hasn't changed anything except for adding daily specials and a few seafood dishes.
Goering loves living in Everson, and she's delighted to host family celebrations for locals, again and again. She's worked at Herb Niemann's for so long that she sees longtime guests now bring in their children.
"We have a really loyal customer base who've been coming here for many years," she says with a smile. "We can't change it because they want what they're used to, and you don't want to mess with it."
Herb Niemann's Steak and Schnitzel House
203 West Main Street in Everson
360-966-2855
Hours: Monday-Sunday, 5:00 p.m. to close
Niemann's classic Schnitzel Champignon is tender, panko-breaded pork cutlets smothered in mushrooms and sauce Bérnaise. Photo credit: Meaghan Flesch

One rotating special is the 34-ounce bone-in ribeye. Photo credit: Meaghan Flesch

The summertime Monday night special is a beer-battered, line-caught Cod is served with fries and a small Caesar. Photo credit: Meaghan Flesch

Niemann's steak burger is 3/4 pound of house-ground chuck, hand-formed and grilled to your liking. Photo credit: Meaghan Flesch
Sponsored