Good food is powerful. "I don't think there's a more sincere way to show love for another human than by feeding them," says Sarah Woods, owner of Gathered Confections.
Unlike most artists, her work can be seen on a plate, instead of a canvas or pedestal. The word "baker" alone doesn't begin to describe Woods' creativity. When it comes to flavor pairings and display, she is a genius.
Showcasing her work through creative, often floral infusions that rotate with the seasons, Woods uses organic, local ingredients to create unique flavor combinations. Nectarine and bay leaf cupcakes, hazelnut brownie cookies and chocolate fudge cupcakes with olive oil ganache are just a few of her fall confections. And she doesn't stop there.
Her attention to detail and presentation is show-stopping. She uses cakes as canvases, painting with subdued, marbled frosting and adding natural, structural elements paired with the beauty of flower petals in unexpected places.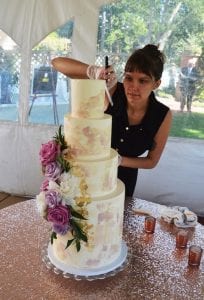 "Gathered embodies classical French pastry techniques, modern innovation, botanical inspiration, sustainable sourcing and community support," Woods says. "I put my whole heart into my work."
While attending Johnson & Wales University for Baking and Pastry arts, Woods found her passion. She worked at a vegan, gluten-free bakery during college and learned how to accommodate any food allergy or diet restriction without compromising quality or taste.
From there she went on a sabbatical, working on organic farms in Ireland and Spain. Outside in the dirt, she experienced first-hand the hard work it takes to grow ingredients, solidifying her passion for sourcing from local, organic farms.
"All high-quality food begins with high-quality ingredients, and quality ingredients start with amazing farmers," says Woods.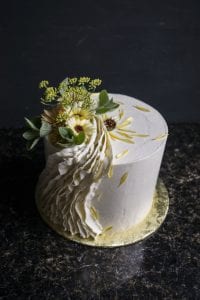 Her passion for local farming brought her to Bellingham. During a visit here from her then-home in Oregon, she found a pamphlet by Sustainable Connections and was amazed by the accessibility of local farmers. "In places I've lived before, it can take years to learn about local food options and build relationships with farmers," Woods says. "And within 24 hours of visiting Bellingham, I felt I already had such a head start."
"Baking isn't something you go into to get rich. Kitchen work (much like farming) is often thankless, exhausting and underpaid, but I do what I do out of a sincere love of food," says Woods. "I feel the most proud and connected spending my days visiting farms and turning their work into something special. I feel incredibly lucky to be able to spend my days brightening others' days and to feel good about the impact. There's a whole lot of heart that goes into every cookie, pie and slice of cake."
It's true; each and every pastry by Gathered Confections is meticulously prepared with no detail unnoticed.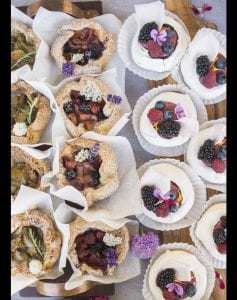 Find Gathered Confections at the Bellingham Farmer's Market and keep her in mind for your upcoming holiday feasts for a dessert that will really impress your guests.
Check the Gathered Confections website or send Woods a note for her upcoming holiday dessert menus. Classics with a Gathered twist will be available, including bourbon-maple hazelnut pie and the Autumn Cake made with parsnip, ginger, apple butter and hazelnut praline. Check here to find a list of her current seasonal cakes.
Cookie Boxes make great gifts for any palate, with gluten free options available. Other options include seasonal treats like Chuckanut Bay bourbon toffee and rosemary candied hazelnuts – all locally sourced, of course.
Sponsored