Four Points by Sheraton Bellingham announces its second annual "Give Back" Event to benefit Northwest Youth Services (NWYS). Throughout December, the hotel will accept and manage donations. They'll also host a reception for this outstanding local nonprofit.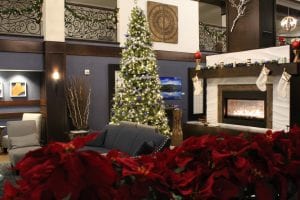 This is the second year for Four Points' Give Back event. Erin Divine, the hotel's Director of Sales, says, "Last year, we did a winter clothing drive for the Lighthouse Mission collecting multiple boxes of warm, clean clothing, along with hosting a community reception. People could make a donation and enjoy some holiday refreshments at the hotel."
This year, they'd like to exceed 2017's benchmark, particularly because the need is so great. Northwest Youth Services fosters self-reliance and offers solutions such as temporary housing to runaway and homeless youth ages 12-24. They help establish goals and build skills in an effort to boost their recovery from homelessness. The organization offers housing, street outreach, employment and educational assistance, connection to mental health services, LGBTQ youth support, restorative justice for juvenile offenders, and referrals to other services in the community. The organization recently opened a housing facility, which already has a wait list of over 100 youth.
"NWYS is also working with the First Congregational Church on Cornwall Avenue to open The Ground Floor in January 2019," Divine says. "This will be a new drop-in day center for homeless youth where they'll be able to shower, rest, do laundry and 'shop' in their free store for items they need."
According to The Ground Floor website, "Of the 700+ people unsheltered on any given day in Bellingham, 23 percent are under 18; 13 percent between 16-24. More than 40 percent of youth report a mental health disability; less than 1 percent have been released from juvenile detention." The numbers of homeless youth are often overlooked by the community at large, which makes this project particularly important.
First Congregational Church of Bellingham will dedicate part of its first floor daylight basement as a drop-in center for homeless youth to shower, nap, study and more. The Ground Floor is slated to open in January 2019, so donations from the Four Points' Give Back Promotion will be especially helpful in this endeavor. "Four Points by Sheraton would like to help fill their shelves with necessities when they open," says Divine.
And help isn't reserved for any one demographic. First Congregational directly addresses the intersection of religion and social services saying, "This is a secular project. The church's role is limited to providing fabulous, rent-free space to Northwest Youth Services, or, should the time come when they no longer need the space, another nonprofit serving our community with justice work. No religion, just space."
"Survival items" are especially needed for the project. NWYS and Four Points are asking community members to drop off donations of new or gently used coats, cold-weather sleeping bags, tents, warm winter clothing, tarps and other items. These supplies often form the line between life and death for homeless or transient youth.
They also welcome donations of non-perishable snacks and toiletry items such as shampoo, toothpaste and feminine hygiene products, all of which are often overlooked in donation drives. Four Points desk staff are on hand to receive financial donations for NWYS, which are helpful in meeting otherwise-overlooked needs.
Community members are invited to check the NWYS Amazon Wishlist for ideas. "We're hosting a donation drive here at the hotel where we'll be accepting donations throughout the entire month of December," says Matt Lesinski, Four Points by Sheraton Marketing Manager. "And if individuals want to donate to their efforts directly, that's also possible through their website."
On Thursday, December 13 from 5:00 – 7:00 p.m., Four Points will host an open house reception featuring light refreshments and entertainment. The event will celebrate NWYS' ongoing accomplishments. The event is free and open to the public. "We are thrilled to support  their mission as members of this community," Lesinski says. "Nonprofits are represented by the community, as much as the community can support them. This aids in their ability to thrive and follow through with their mission."
Stop by Four Points by Sheraton Bellingham and make a difference for Whatcom County's homeless youth today. There's no better time for sharing the love and celebrating the work of those who give back all year round.
Sponsored