The recipe to Chef Brian Nelsen's success? "Making people happy," he says. The head chef at Over Easy Café has a passion for food and uplifting others. In fact, that's how he got his start at Over Easy.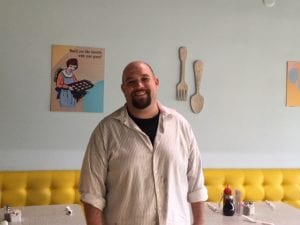 Owner Jamie Bohnett found himself in a crisis when the entire kitchen staff quit unexpectedly. He nearly closed his doors for good, but head server Angie Bailey recommended he call her boyfriend – and Nelsen saved the day. Since then, he and Bohnett have turned the Over Easy Café into a Bellingham success story.
The restaurant industry isn't easy. On the surface, it's pretty and flashy and to many it sounds like a great way to enjoy cooking and socializing all day. But in reality, it's a highly competitive business with early mornings, late nights and skinny – sometimes emaciated – profit margins.
Getting off the ground is often one of the most difficult times for a new restaurant and at Over Easy Café, the beginning was almost the end. Staffing issues, franchise red tape and new business hiccups were just some of their concerns.
But now, after a few years in business, they've hit their stride. The booths are full, breakfast is piping hot and the staff are practically family. They've found their groove and are loving it.
It's been a long road for Nelsen, too. "I was raised by immigrants," he says. "They taught me that if I wasn't going to go to school, I had to work. So they put me in the field. I had to keep up with my grandpa and if I didn't, they made fun of me."
Nelsen grew up in Yakima and has now been in the restaurant business for a decade. "I've done it all," he says. "From a small mom-and-pop to big corporations. I have a passion for making people happy and treating them like royalty – especially the babies. When they come in, they're kings to me." With five children of his own, Nelsen loves and understands the little ones.
A large family has kept him very happy, but too busy for culinary school. Instead, he's learned from experience, self-study and guidance from seasoned chefs. His positive attitude, ability to learn quickly and love for the staff and customers have fast tracked him to the position of head chef.
"Brian is, I believe, the future of our restaurant and he has a lot to offer," says Bohnett.
"I'm a strong believer in 'keep your employees happy and they'll keep your customers happy,'" says Nelsen. "If they're happy and taken care of, they're going to want to help you out in your success."
Customer feedback speaks for itself, with loads of happy diners leaving each day, rave reviews and dozens of enthusiastic regulars.
"I just wanted to focus on making the place comfortable for people," Nelsen says. "No judgements; just come in and enjoy yourself. If your kids are rowdy, don't shush them on our behalf. Let them be comfortable. Whatever I can do to make your day better, I'll try to help."
Bailey agrees, adding, "I love everybody I work with and the hours are great. Jamie [Bohnett] is the best boss I've ever worked for. I really don't know what I would do without him."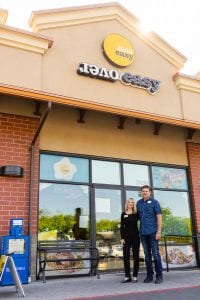 "If there's something he can do for you, if it's in his power, he'll do it," says Nelsen. "He's helped people get back on their feet, even taking employees to church and giving them meals if they need it. He's a good-hearted person."
The feeling is mutual. "Angie is the only employee that's worked here since the very beginning," says Bohnett. "[She and Nelsen] are really a great team. They're both really good not only at what they do, but they're good with people. Brian really knows what he's doing and it's really important to have that. He has my back and I've never had that before."
With plans to open another location, hopefully in the next couple years, the team would like to bring the Over Easy Café to Ferndale or Lynden.
"Big things are coming," says Nelsen. "I just want to give it two years, so I can get everything right."
He's listening to customer feedback and finding out exactly what people want in a breakfast and lunch spot. "We want to find everybody's number one and bring it all into one restaurant," he says. "We want to make sure this is a family place where you know you can go and your family will be treated well."
And you'll love the food. "My favorite dish would be the country fried steak," says Nelsen of their crunchy breaded steak covered in gravy. For Bailey, the Breakfast Sandwich with fried egg, thick sliced bacon, tomato, aioli and sliced cheese on a toasted English muffin is divine. And Bohnett's favorite is the Wolf Pack: two eggs covered with sliced bacon and cheese, sandwiched between two layers of crunchy hash browns.
With Nelsen cooking up new specials daily, the whole family will find something they love at Over Easy Café.
Over Easy Café
360-656-6585
2430 James St.
Bellingham