Sacha (pronounced SAY-Cha) Bliese was always attracted to art and working with her hands. In high school, she took all the metal art courses that were offered. When she learned that a friend's mother made jewelry in her home, Sacha was immediately intrigued. The woman's mentorship inspired her to pursue a degree in art with a focus in metal. Today, she's a professional goldsmith and designer, specializing in hand-fabricated, one-of-a-kind gold jewelry. She launched her jewelry business in 2003, and now works in a private studio near downtown Bellingham.

Sacha is originally from Minnesota. During the years her former husband was in the Navy, they lived in Texas, Florida, Tacoma and Germany. In all those places, Sacha used her skills to do "bench work" in jewelry stores. This meant she was always at her workbench in the back of a store, doing jewelry sizing and repairs. While she enjoyed the work, she yearned to be part of the design, to work directly with the client, and to do custom work.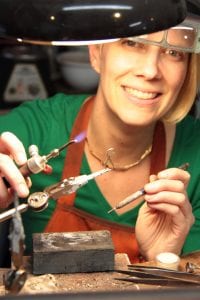 Sacha now lives in Bellingham with freelance artist and illustrator Nathan Lough and their two dogs, Loki and Luke. They are a dynamic couple with a vested interest in contributing to the art community.  She earned an MFA in Arts Leadership from Seattle University in 2015, and served as the business and operations manager at Equinox Studios in Seattle before relocating to Bellingham.
Sacha mainly works with gold for her designs. She appreciates the longevity and integrity of gold; 14-karat gold is strong, while other metals can be soft. The investment in gold retains its value, and its potential for interesting lines and shapes are endless.
Her jewelry is definitely unique, but the stories behind some of the pieces Sacha creates are equally important. One of her specialties has become making memorable new pieces from the old jewelry of loved ones. These pieces might best be described as "legacy art."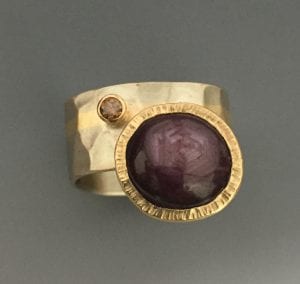 Some of the stories she shared illustrate the many directions her legacy creations may take. As the five-year anniversary of her husband's death approached, a widow asked Sacha to turn their two wedding rings into a single "power ring." For another project, Sacha created a necklace with a small, sealed container of gold for the ashes of the client's late father, set with diamonds from birthday earrings he had given her.
Sacha also gave new life to a pair of wedding bands by adding opals from a grandmother's ring to the gold ring of the client's father.
One of her tightest timelines on a project came when the best friend of a hospice patient brought Sacha the man's class ring. That ring was melted down and used to create an enhancer that hugs his wife's wedding ring now that he's gone.
Sacha is a natural networker. She is also a great believer in the need for professional artists to have a physical studio where they can work. The need for artist studio space, and the value of having cities embrace artists this way was the topic of her MFA capstone paper. Sacha recently shared her expertise on this subject while consulting with the community of Port Townsend.
"The development of multiple artist studios under one roof removes artists from working in seclusion, inspires and validates a community of artists, connects them with one another and creates engagement with the public," said Sacha. "It can also increase property values, ancillary spending and tax roll contributions."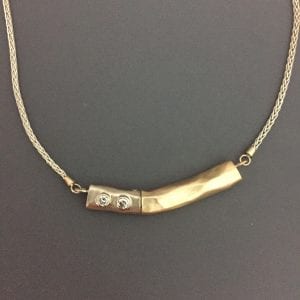 Sacha is the co-founder of the GSR Fine Art Festival (that's short for Goldsmiths' Reunion) in Mankato, Minnesota. What began in 2003 with just a few artists now showcases more than 40 juried artists, plus musicians annually. Sacha still runs this festival long distance, along with her father, Tom Bliese.
Art Festivals are not easy, even for a seasoned vendor like Sacha. She commented that outdoor events risk lack of attendance due to weather, and involve a large investment in tents, displays and inventory. Such events do offer important opportunities for artists to interact with the community, however.
In addition to her other activities, Sacha is an instructor and serves as treasurer for the board of the Bellingham Metal Arts Guild.  This nonprofit organization is for people with varied skills and interests in the metal arts. They offer lectures, demonstrations, classes and workshops by guest artists.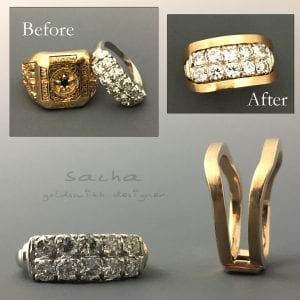 Studio hours are by appointment only.
For more information, visit Sacha's website, Facebook or Instagram. Or, email or call her at 904-233-9056.