Whole Foods Market has selected the Bellingham Food Bank to be the recipients of their Feed Four More annual register donation program. Bellingham Whole Foods shoppers can donate $1, $5, $10 or an open amount to the Bellingham Food Bank throughout the fall and winter holidays.
As Whole Foods shoppers prepare for holiday gatherings, they can help feed Whatcom County families battling hunger. Last year, the Feed Four More program donated $8,660.67 to the Bellingham Food Bank, and $9,083 the year before.
Bellingham Food Bank Executive Director Mike Cohen says Whole Foods has been a great company to partner with. Even before Whole Foods Market Bellingham was constructed, they were in contact with the Food Bank.
Because grocery stores do a lot of business during the holiday season, it makes sense for Whole Foods to partner with the Food Bank during this time. Plus, shoppers are often more generous around the holidays. Cohen says the giving season is about doing more and thinking about those in need.
"We get a lot of help around the holidays, and we're busy on both sides of the giving and getting coin," Cohen says. "We have so many different people helping and volunteering, whether it be grocery stores, faith communities or individual volunteers around these fall and winter months."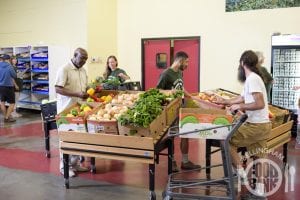 Donations from Whole Foods shoppers will be used to buy food for weeks or months, not just around the holidays. It goes into the Food Bank's general operating budget, which is used for a variety of important purposes.
"It's great that we have all this help around the holidays, but I want people to know that hunger is a 52-week-a-year challenge for most people," Cohen says.
Because hunger is an obstacle for many Whatcom County families throughout the year, grocers such as Whole Foods help the Food Bank year round by participating in their grocery rescue program. This allows the Food Bank to recover products from grocery stores and distribute them to low income families.
Whole Foods expressed interest in helping out early on. They wanted to be part of a program that helps so many individuals in need.
"They've been great, and really easy to work with the whole time," Cohen says.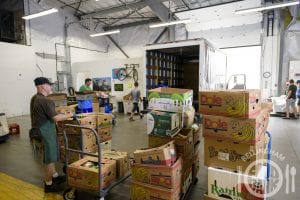 Whole Foods gives the Food Bank items from all departments. On any given day, the Food Bank could receive items from bread, produce, meat and dairy on their grocery recovery missions.
Cohen says the Bellingham Food Bank team goes to Whole Foods every day within the same 15-minute window. They work to get in and out of the store quickly and efficiently so they can get what they need and not disrupt the store's busy work day.
Like a lot of the Food Bank's grocery rescue members, Whole Foods doesn't like food waste, Cohen says. They're glad to know that an imperfect apple or banana is going to get used instead of being wasted. It's one of the many things Whole Foods and the Bellingham Food Bank agree on.
"We're Bellingham Food Bank, but we're only as good as our community," Cohen says. "The investment that other community members and organizations make in us enables us to get as far as we have gotten. Collectively, they invest in us and the end result is the food that becomes part of our five weekly distributions."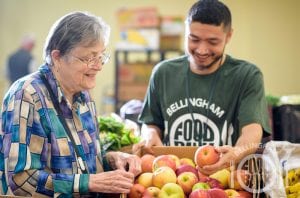 Three of these distributions occur at the Bellingham Food Bank while the other two are at Christ the King Church and Alderwood Elementary School.
Cohen says the Food Bank tries to replicate the grocery store experience as closely as possible. They want customers to have the same experience they would at a grocery store. They know it's hard for some families to come to the Food Bank, but they don't want them to feel a stigma associated with it. Food is split up into different areas and sections just like a grocery store, and is open to both individuals and families.
The amount of food available on distribution night can vary from week to week depending on the amount of donations and food rescues. But the target goal is $70 per family, per trip. The Food Bank tries to ensure each family can come in and walk away with $70 worth of food.
In 2018, the Food Bank made a big change; instead of allowing families to shop once per week, they extended it to twice a week. Cohen says they noticed that families feel extra pressure during the summer, when kids aren't in school to receive free or reduced lunch daily.
"About 20 percent of Bellingham will use our Food Bank throughout the year, and many will come more than once," Cohen says.
Hunger isn't seasonal. But, if people are motivated to get involved and pay attention now, they're more likely to stay involved and aware throughout the year. So do your holiday shopping at Whole Foods Market Bellingham and donate to the Bellingham Food Bank. It will make someone else's holiday season brighter.
Sponsored