Tears rolled down the faces of the Lynden High School players as head coach Chris Elsner addressed her team following the Lions' loss in the Class 2A state volleyball championships. "Losses always sting," Elsner said.
This one, however, may have had some added punch to it as it marked the second consecutive year Lynden had advanced to the state title match only to once again come up just short.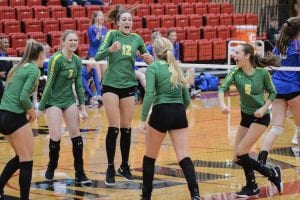 A season after losing to Burlington-Edison in four sets, the Lions suffered the same fate against Ridgefield, losing 3-1 (27-25, 15-25, 31-29, 25-16) to the Spudders in the state title match at Saint Martin's University's Marcus Pavilion in Lacey on November 11.
It would have been easy to dwell on what could have been as the Lions (18-3) had opportunities to win both the first and third sets, but Elsner was too busy happily reminding her squad of all the impressive accomplishments they had achieved this season.
There was the Lions' stellar 11-2 record in a Northwest Conference that featured the 1A state champion in Lynden Christian and undefeated 3A Ferndale. There were the 18 total wins. There was the district championship where Lynden swept all three of its opponents, including Blaine in the finals.
Elsner's smile grew bigger with every success she detailed. "I am just super proud of them," she said. "I am just so grateful for this team and everything they did this year."
Three seasons ago, the Lions limped to a six-win season. This year they became the first team since Tumwater in 2012 to advance to the state championship match for two straight years.
The finals against 2A Greater Saint Helens League champion Ridgefield (21-1) and the Lions was a rematch of last year's state semifinal match, which Lynden won in straight sets (25-20, 25-17, 25-21).
This time things went the way of the Spudders, whose title match triumph was highlighted by a thrilling 31-29 third set.
Ridgefield becomes the first school outside of Burlington-Edison and Tumwater to win the 2A state volleyball championship since 2012. The two powerhouse programs alternated winning the title every season over the last five years with Burlington-Edison claiming three crowns, including one at Lynden's expense last year, and Tumwater registering two victories.
The championship match was the final for Lynden seniors Kyla Bonsen (setter) and Lauren Groen (libero).
"We are a young team, but we are really driven by our two seniors," Elsner said about Bonsen and Groen. "The whole offseason they were the ones that rallied the team. They just have so much heart and determination and grit. They just didn't stop. They fight for every point. There are times (during a match) when we could roll over and they just don't let that happen. They just keep fighting."
The Lions will welcome 11 players back next season from this year's roster, including sophomore outside hitter Anna VanderYacht, who led the state tournament in kills.
"The adversity that we had throughout the season, the injuries, has really made this group close. We had to depend on each other more than a typical season," Elsner said about her team. "We lost our big six-footer (sophomore middle blocker Faith Baar) the first week of the season to an injury and she was such a vital role. The cool thing was other people stepped into those opportunities and really flourished, especially at this tournament. Emily House played out of her mind. It was amazing."
Never was Lynden's mettle and resourcefulness more on display this season than in the Lions' state semifinal match against Central Washington Athletic Conference champion Ellensburg.
The Bulldogs won the first two sets (25-22, 25-18) before Lynden rallied, winning the final three sets, including the fifth set (19-17) where Ellensburg had match point on four different occasions.
Robin Scarlett finished with a team-high 16 kills and 26 digs for the Lions, which also received 14 kills and 16 digs from VanderYacht, 7 kills and 13 digs from Kennedy House and 47 assists and 13 digs from Bonsen.
"The semifinal match was a true test of how much heart this team has," Elsner said.
Lynden opened the state tournament by posting back-to-back sweeps, defeating Steilacoom (25-18, 25-18, 25-19) in the first round and Prosser (25-18, 25-14, 25-23) in the quarterfinals.
Bonsen dished out a combined 48 assists in the opening two rounds with VanderYacht (28 kills, 24 digs), Scarlett (14 kills, 25 digs) and Savonne Sterk (13 kills, 25 digs, 5 blocks) all coming up with big efforts to help the Lions advance to the state semifinals.