Walking into a local bookstore is like walking into a new realm with endless possibilities. You can get lost in a story, discover something new, find the perfect gift or spend time writing your own great American novel. I recently spent a morning exploring a section of Village Books in Fairhaven that was entirely new to me – the third story mezzanine. Co-owners Kelly Evert, Paul Hanson and Sarah Hutton gave me a tour of the entire floor, which recently underwent major renovations.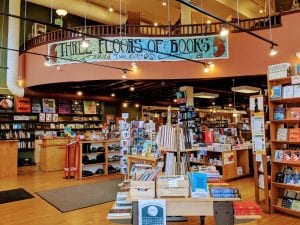 After joking about how remodeling projects always take more time and energy than expected, the co-owners agreed that having some extra time allowed them to make some thoughtful changes. "It really gave us the opportunity to rethink the space," said Hutton, in reference to a new seating and writing area.
This cozy nook is tucked away in a quiet spot overlooking an enormous blown glass chandelier and the main level of the store. The beautiful live-edge maple bar has electrical outlets for writers working on laptops and ample space to spread out with a drink and a snack from the brand new Evolve Chocolate + Cafe, which opened on Village Books' mezzanine in August.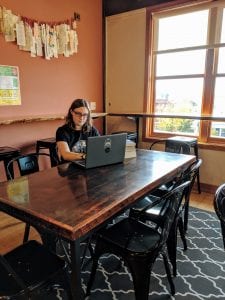 The co-owners wanted to ensure that students and writers felt comfortable and welcome to spend time at Village Books, while preserving the dining atmosphere in the new cafe. "Evolve owners Chef Christy Fox and Shannon Fox have a really good sense of ambiance," says Hutton. "Folks having a conversation and sharing food is very different than two people with laptops."
Evolve offers counter service for coffee, salads, sandwiches, beer, wine, imaginative cocktails and sweets every day. And on Thursday, Friday and Saturday, they offer table service with a prix fixe three course menu. Widely known for their chocolate truffles, Evolve's new eatery features unique flavors with a focus on local ingredients. Many of the herbs used in Evolve's creations are grown on a "living wall" in the cafe. The seating area features tables created with reclaimed materials from The RE Store's Revision Division. Diners at the cafe enjoy a spectacular view of Bellingham Bay while savoring culinary delights.
In a space adjacent to the cafe and sharing the same beautiful view is the newly refreshed Writers' Corner at Village Books. With plenty of table space and another live-edge wood bar, the new space is contributing to a thriving community of writers in Bellingham. "Since I'm a writer as well," says Hanson," it's one of my personal passions to support writers on their journeys."
Village Books fosters local writers through the entire process, from inspiration to collaboration and from writing all the way to publication. They want to see local writers' works on their bookshelves. Writers can connect and learn in writing groups or classes and are free to use the space in the Writers' Corner. And once writers have a finished piece, Village Books can assist with publishing, marketing and distribution.
"We had a lot of writers approach us asking about the process and how they can get published, and we can help with that," says Hanson. "One of the most exciting things is after one of our writers gets published; it's hearing them say, 'Thank you to my local independent book store for providing the space for me to write my book.'"
But writers don't get to have all the fun. Readers are also celebrated at Village Books with over 10 different book groups that meet on a regular basis in the Writers' Corner. Topics are lively and varied, with something for everyone. The "Bellingham Mysterians" group caught my eye.
And to keep the community thriving, or if you just can't decide which book group is right for you, Village Books hosts an annual book group mixer with literature and libations.
Evert, Hanson and Hutton took over Village Books almost two years ago when founders Chuck and Dee Robinson retired. They say that long-time patrons were nervous about the new ownership, requesting they not change anything. But the founders assured everyone that Village Books was based on change and it would only be different if things stopped evolving.
The co-owners are always looking for ways to improve and collaborate with the community. "We are present every day—hands-on owners," says Evert. From painting the walls in the new writers' corner to 2:00 a.m. group texts about the business, the owners are passionate about their work. Evert says, "We want people to enjoy the bookstore and find inspiration here."
They have succeeded on both counts, and the new mezzanine level is an important addition for the writers, readers and culinary enthusiasts of our community.
Sponsored