Skye Hill looked down at a pile of money laying on the counter of Hill's Chevron in Blaine. "These are all counterfeit," she said to the man in front of her. "I can't exchange these."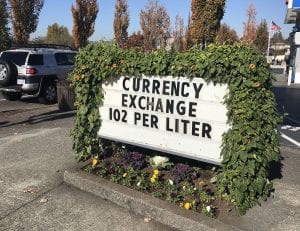 In response, the man flipped out a badge. "Well, I'm RCMP up in Vancouver."
Skye held her ground and, after he left, she called the police. They arrived just as the man (most likely impersonating RCMP) tried exchanging the same money at a bank. Moments like these are par for the course at Mike and Skye Hill's Chevron, a gas station just off the Canadian border that also offers currency exchange.
The Hills have always helped improve the Blaine area. One of their biggest, most recent contributions is Skye Hill Station just next to the Chevron. It's a gorgeous spot with a lighthouse-shaped Starbucks and El Noa Noa.
Advertised in big neon letters in the window and a flower-wrapped sign on the corner, Hill's Chevron offers money exchange in Canadian and U.S. dollars. Their rates can be a lot more flexible than the banks. Mike was inspired after seeing similar setups along the Mexican border.
"Nobody's doing it here, so I figured why not?" he says.
Offering both gas and currency exchange gets travelers to and from Canada to stop and check out Blaine businesses. And if a lighthouse-shaped Starbucks that can be seen from the border is anything to go by, the Hills know a thing or two about attracting attention.
After adding currency exchange to their business model, the pair soon realized how complicated it is; Mike says it's almost like running a bank.
"One of the biggest things that surprised me about it is just how many rules and regulations there are," says Skye. "You think, 'This is just a simple business; I'm exchanging one currency to another,' but like Mike says, it's truly like a bank."
They love meeting all kinds of people.
"We get everything; it's a melting pot in Vancouver," says Mike.
They often get money from other countries, too. The cashiers keep a collection of money from all around the world.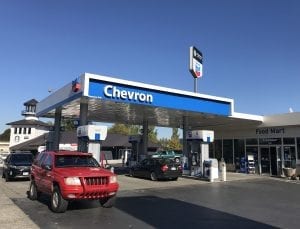 "A lot of times, they're people who have never crossed the border before and never been in this country," Skye says. "It's fun meeting people of all sorts. You'd be amazed how many different countries people come from."
They get people from Canada that confuse Washington State with Washington D.C. and ask where the White House is. They also get Americans who don't understand Canadian loonies ($1 coins) and toonies ($2 coins) and tell them to "keep the change" – of about $30.
And strange things happen all the time.
"You seriously get people who come in here – a husband and wife from Canada – and he'll come in and say [to the wife], 'Watch the kids while I go in the store,'" says Mike. "He'll come in, give you a thousand bucks [to exchange] and say, 'Don't tell my wife.' Then the WIFE comes in with a thousand bucks and says, 'Don't tell my husband.' It's hilarious!"
Beyond strange, the Hills also have to watch out for money laundering schemes. For example, anyone trying to exchange anything over $1,000 has to be checked through the governmental Office of Foreign Asset Control list. Anyone who comes up on the list may have ties to something nefarious, such as narcotics trafficking. People sometimes try to avoid this check by exchanging money separately. One person comes in to exchange half a sum, another person comes in later to exchange the other half. Regulations dictate that if Mike has knowledge of this happening, they have to file a Suspicious Activity Report to the state.
Counterfeit money is another problem. Employees have to be up-to-date on counterfeits and focusing on each bill is a vital part of the transaction.
"Sometimes people will try and slip in an obviously counterfeit bill," says Skye. "They'll try to shuffle it into the rest of them. It's always such a surprise – 'Oh! I didn't know what was in there!'"
The "RCMP" man was one instance. Another time, someone tried to give them a bill with Obama's face on it.
For all its complications, though, currency exchange is a big benefit for the Hills. The money they exchange goes directly to them, which they can put back into the town.
"If we get 800 bucks, that money goes back into our livelihood, this neighborhood and building this type of business," says Mike, gesturing to the Starbucks. "It all comes back."
One of Mike's plans in the future is to do something for the Four Corners Motorcycle Club. The club starts on any four corners of the United States (including Blaine) and tries to hit each one in a certain amount of time. At every point, they take a picture in front of the local post office to prove they were there.
Mike often directs people to the post office, but has plans for a more iconic, more aesthetically pleasing "spot" by putting an address on the Skye Hill Station Sign. They're working on the sign now.
The Chevron is on Peace Portal, just a few blocks down from the border. If you don't see the enormously striking lighthouse, you'll hear the jazzy music the station plays 24/7. Stop in, enjoy a cup of coffee and ask them to share one of their many fantastic stories.
Sponsored