Last season was particularly memorable for the Bellingham High School Girls Golf Team. The varsity team finished second in the state, and seniors Jada French and Sophia Schmidt put in individual efforts that tallied their personal best scores. As a result, both were recognized by college golf recruiters.

The girls bring veteran experience and leadership to a golf team looking for new players. Bellingham native and Bellingham High School alum Coach Brad McKay says they hope to find more interested golfers this year. The current team consists primarily of juniors and seniors, which means their upcoming absence will needed to be filled.
"I think this season we're most looking forward to getting new players in here that can learn under our veterans," McKay says. "Our veterans will help them improve their game and get better. This way, we can ensure the sport stays alive at Bellingham High School."
In fact, McKay says many girls who've never played the sport before try out for the team. But this wasn't the case with Schmidt and French. Schmidt started playing when she was seven – her grandparents got her into the sport – and French picked it up in eighth grade by playing with her father. Both girls have played on the team throughout their entire high school tenure.
Schmidt says her goal for this season is to make sure everyone on the team has fun and she wants them all to play well together. She says they need to approach every single tournament like they'll play their best golf that day.
French agrees with Schmidt; she wants to make sure everyone can achieve their personal best. Coach McKay chimes in that they want to accomplish even more than they did last season. He says there's always a reason to play and participate in tournaments when you're striving for something.
"We have a really great team," Schmidt says. "This year may be our last season, but it's going to be a whole lot of fun."
French says the team is always laughing. Everyone enjoys being teammates and getting better at the game of golf. Both girls have many favorite memories from last season and are excited to gain new ones this year.
Schmidt's favorite memory was when they played at Gamble Sands; everyone but Schmidt scored her personal best, and she was only two strokes off her own record. Her selflessness shows as she explains her favorite memory was one where the rest of the team performed better individually than she did.
Coach McKay and French agree that one of the best parts of the season is traveling with the entire team and supporting each other as they compete in tournaments. Last year, at one tournament, the whole team stayed at a golfer's family member's house and had time to unwind, hang out and compete, all in the same weekend.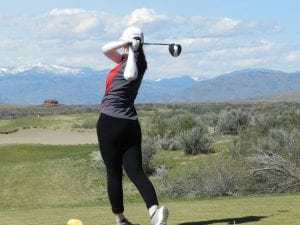 McKay makes it clear he will miss these golfers once their senior season is up, and he's expecting big things from them this year.
"These two seniors started playing varsity when they were freshman and they've come a long way – the whole team has – the last couple years we've been getting better and better," he says.
For both Schmidt and French, the next step is college. French has already made her decision; she's going to Saint Martin's University in Lacey, Washington. She says she's looking forward to playing good golf and working hard in school.
Schmidt is still undecided, but says she'll be making her decision soon. Right now, she's choosing between staying in Bellingham and attending Western Washington University to play golf for the hometown Vikings, or taking her talents up north to play for the Canadian school, Simon Fraser University.
These girls are smart; both emphasize the importance of education in their decision-making process, and each says their decisions aren't purely golf-oriented.
But before college arrives, both girls want to win a title.
There's only one problem: they stand directly in each other's way.
In addition to being friends and teammates, these two are fierce competitors, and some of the top golfers in the state.
"In a perfect world, Jada and Sophia take home first and second place at state," McKay says. "And maybe it would even go down to a sudden death playoff between the two," he adds, smiling.
The girls laugh, and nod their heads agreement. They both want to win, "Well, that could happen," Schmidt says. "We'll just have to wait and see."