First Federal has only been in Whatcom County since 2015, but in less than five years, they've donated over $300,000 to charitable foundations. As their mission statement says, "We are committed to improving the quality of life in our communities by investing in their future." And they do – in a big way.
The First Federal Community Foundation offers grants awarded twice per year in the amount of anywhere from $5,000-$100,000. Most recently, the foundation awarded a $10,000 grant to the Boys & Girls Clubs of Whatcom County for their healthy meals program.
"The Fairhaven Branch just opened at the end of August 2016," says Tina Ruff, customer sales and service manager. "We're on our two-year mark here. I love being in Fairhaven because of the community. We have focused our branch in the core of Fairhaven for building relationships in our core area."
Ruff says the majority of their customers live within walking distance of the bank. One of her favorite things about the job is meeting customers' dogs. "We're super dog-friendly," she says. "Some of our customers pop in just for their dogs to get biscuits and a drink of water. We honestly know some of our customers by their dog's name." Most employees have dogs of their own at home.
"We refer to the Fairhaven branch as a boutique bank," Ruff says. "It has a non-traditional feel. The staff of Rebecca's Flower Shoppe comes in from across the street just to have a cup of coffee and chat."
Two different living room-type seating areas are available, creating a cozy space to relax and gaze out the window while waiting for transactions.
First Federal is dedicated to partnering with other local businesses. They take these partnerships seriously, down to every detail. They even offer Tony's coffee to waiting customers.
First Federal is involved in almost every special event in the neighborhood, from the Fairhaven Outdoor Cinema in the summer to the Christmas tree lighting in front of Fairhaven Village Inn in the winter. The company takes volunteering and community work seriously. They give recognition and sometimes even paid volunteer hours to employees who spend their free time giving back.
"Each person gets to pick their passion," says Ruff. "Employees have the opportunity to follow where their heart drives them and that's a core philosophy that First Federal has." Employees volunteer at a variety of foundations and organizations from non-profit housing to food banks, and homeless shelters to salmon sustainment programs.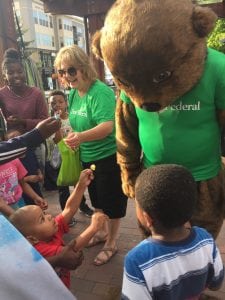 "I started as a customer at this bank," says Ruff. "At Barkley, I was one of their first customers." She never expected to work at First Federal, but after a year of banking there, she decided to apply for a position.
"What stood out to me on their job announcement was that they hire people who love where they live," she says. After growing up in Fairhaven, this idea meant a lot to her. She had never been in the banking industry before, but loved the positive energy the company gave off. She enjoys doing what she loves and appreciates the way employees are treated; they're given many opportunities to train and grow within the company.
Each staff member is trained as a Universal Banker. "They're able to do every type of transaction versus the traditional tellers," says Ruff. This way, a client doesn't need to be passed off to another employee, according to their specialty.
Employees at First Federal love getting to know each customer, the names of their dogs, kids and favorite restaurants – while building long-term relationships. This all makes it easy to help. Sometimes bankers will surprise customers with gift cards to their favorite local spots, strengthening ties between local businesses and the bank.
"Word is out that we give back," says Jennifer Barnhart, senior universal banker. "If you have a need, come to us because we give back. It's not necessarily our goal to just get more business."
While First Federal does reach out to give back, and the companies who received their help often do come to bank with them, that's not First Federal's intention. It just comes naturally after connecting and building ties with the community. "People want to work with who they know," Barnhart says. They don't want to be just a transactional place, they love it when customers stay and talk a while.
First Federal is sponsoring the Greater Bellingham Running Club's Turkey Trot on November 18. All profits from this 5k fun run will go to the Bellingham Food Bank. Join First Federal in supporting the community and making a difference where it really matters.
Sponsored