Randi Axelsson has taken a new position at Solstice Senior Living as their director of sales. Axelsson comes to the organization after a long career in hospitality. Prior to her time with Solstice, Axelsson worked to help open Holiday Inn at the Bellingham Airport in a large project that proved to be almost a year-long undertaking. In addition, she's worked at Silver Reef, and also helped to open the Quality Inn Barron Suites. Along with Kent Loomer, Axelsson also co-directed the Ryan Stiles Celebrity Golf Tournament for four years.
Larry MacDonald, executive director of Solstice Senior Living, reached out to Axelsson, whose work he knew through hospitality circles, and invited her to come on board.
Axelsson officially started on July 9. "You can put in all caps that I love it here!" she says with a smile. "It's so rewarding to talk to these seniors. A lot of them are sitting home alone, kind of disengaged. They're not getting out, not being a part of something. And seeing them come in, getting reengaged with life, having a purpose with life…" Axelsson is animated, excited by the work and the good she sees happening as a result.
She recalls Sam, a U.S. Naval Veteran, who came in, despondently, at age 72. "He couldn't afford it," she says. "Larry and I worked with him. He had been in Costa Rica where he broke his hip riding his bike. So, Larry asked him what brought him back to Bellingham and he said, 'I came back to die.' And I said, 'Not on my watch you're not!' We worked with him and he's now in an apartment here, getting three meals per day. His whole disposition is completely turned around. He's enjoying being here and enjoying his life."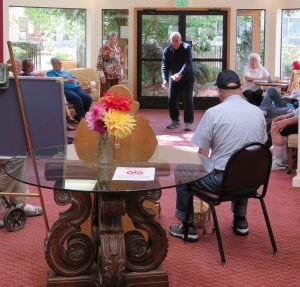 Axelsson talks with warm fondness of the seniors she's already brought in. She gets to know them through the process of helping them move and working out the details. In fact, shortly after starting at Solstice, her first four tours all became residents. Among them is Sam the veteran, who strolls past her office on his way to breakfast every day calling out, "Good morning!"
She also speaks fondly of another resident, now 100 years old, who is from the Bellingham Galbraith Mountain family. He still drives and Axelsson says his attitude and winning smile are things she looks forward to every day. Currently, the youngest Solstice resident is 57 and the oldest is 101, after a 102-year-old passed away this summer.
Of Solstice as a whole, Axelsson says they "are very accommodating. They work with Larry and I to fulfill whatever needs we have to help someone move in."
As an example, she cites their "3000 Reasons" campaign which allows them "A $3,000 window for Larry and me to work with for marketing and support to help someone move in. I've never worked with a company that's so financially accommodating to help people get into a place that's probably safer for them and more comfortable for them to live in."
Solstice is a management company overseeing the independently owned facility held by a real estate group.
Axelsson has found a sense of purpose at Solstice. "It's all about helping the seniors because they know this is a better place for them to be."
In her personal life, Axelsson is just as committed to giving back to her community. She's involved with One Hope Wines, which gives back to nonprofits through wine sales. She's a representative who offers home parties and sells wine with 50 percent of each sale going to a global nonprofit. For example, the Red Blend supports Team Rubicon, an organization which takes veterans to disaster relief areas.
Axelsson has many hobbies that keep her busy. Some time ago, she was involved in improv theater through the Upfront. She did it because in college theater, she "was always fearful of learning lines. So, I thought improv would be easy." She makes a face to indicate that it was anything but, and laughs.
In addition to improv, Axelsson was part of the Vagina Monologues in Bellingham. "When I was offered to do the monologues, I did it, and I was the first one off-script," she says. "It was really, really rewarding."
She also keeps busy with her six-year-old granddaughter, Tatum.
Axelsson believes strongly in supporting the local community's business ventures. She has thrown her help behind the new eatery atop Village Books: Evolve. The new café is co-owned by Christy Fox who was a chef at the Holiday Inn airport when Axelsson worked there. Axelsson also supports Rian Greer's new project, Miller's Back Door, which is next to Rumors Cabaret.
This busy woman has a diverse background, from helping local businesses get started to creating improv comedy to hospitality. Of the difference in her new role at Solstice, Axelsson says, "It's actual person-to-person connection, which feels really good."
In her previous roles, she worked primarily with service providers, or even travel agents, but rarely with guests. At Solstice, she gets to know the residents directly and connects with them. "My veteran is kind of my heart tug," she says. Here, she feels as though she's making a real difference.
A typical day includes staff check-in, tours and lunch with prospective residents, follow-ups, event planning and more. As we spoke, Axelsson was working on a Great Gatsby-themed dinner, which will include a live crooner.
Axelsson has found something great in Solstice. "It's a good fit," she says. She wasn't sure initially – it was something she hadn't done before and, like many people, she had some preconceived ideas around senior care. "I had no idea how uplifting it is for people to finally be out of their confined situations," she says. "Just seeing the vibrancy that's around here has changed things for me. I had seen assisted living, but not independent living. It's just very vibrant here. Last week we had a salmon barbecue and a health fair."
She explains their many activities at length, before winding down to chuckle and adding, "We're kind of like a cruise ship that never sails."
Sponsored