First Federal's commitment to customers has taken another big step forward with the Green App, a new mobile application powered by BaZing that provides plenty of perks and peace of mind. The "Green" App features discounts from local businesses and triple threat protection that includes both mobile and identity theft aid, among other great services, which come at little to no cost to First Federal customers.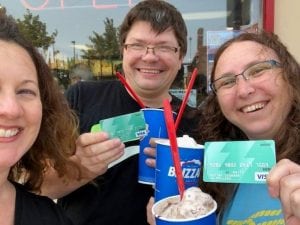 "First Federal is really good at giving back," says Jennie Barnhart, a senior Universal Banker at First Federal's Fairhaven branch. "In my opinion, the Green App is kind of another way for us to give back."
Customers who download the app receive digital coupons from local restaurants and retailers, with deals including buy one, get one offers, percentage off and dollar amount discounts. Local merchants who sign up for the program, which is free of charge to them, can pick which discounts they offer their customers.  And because the app is GPS-based, it can be set up to notify you of deals when passing by participating businesses.
Andy Powell, a Barkley Branch Senior Banker, says it's like having a Val-Pak in your phone. Participating local businesses include BelleWood Acres, Rebecca's Flower Shoppe, Village Books and Paper Dreams, Drizzle, Lynden Bolt, Everything in Sight Optical and Sunset Car Wash, among others.
As for peace of mind, the Green App's cell phone protection is available for anyone paying monthly phone bills through their Green-linked First Federal account. If your phone is lost, stolen or broken, you're eligible for up to $400 of insurance, per phone, for a total of $800 per year.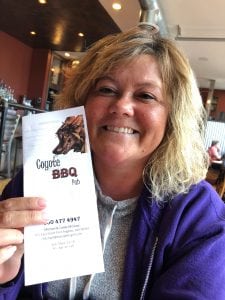 And in a world where identity theft happens every day, First Federal's Green App offers a personal identity theft aid and debit/credit card fraud resolution. The former reimburses you up to $2,500 for expenses toward recovering your identity, while the latter offers you help from a fraud specialist if a debit or credit card becomes lost or stolen.
"With any checking account, you're going to get personal assistance," Barnhart says. "They're there to support and walk you through it and give you that peace of mind."
In addition, the Green App offers roadside assistance and includes services like towing, lockout and flat tire assistance, along with several other mechanical services. The assistance can be used up to four times per year, for up to $80 per incident. Barnhart has used it personally; not long ago, she locked herself out of her car on a lunch break. One call resulted in a quick and easy solution, at no cost to her.
Finally, for those who travel, the Green App offers $10,000 of accidental death insurance, covering loss of life due to a plane or vehicle accident. Barnhart says the app, and the benefits it offers, is about First Federal staying ahead of the customer service and technological curves. "We want to be innovative, we want to be creative; we want to be ahead of the game."
The Green App is available to First Federal customers for a $6 monthly fee, provided they have Northwest or Cascade checking accounts. However, for customers who maintain an average $5,000 loan or relationship balance with First Federal, the app and all its benefits are totally free.
"A lot of people are out there paying hundreds of dollars monthly for these things," Barnhart says. "We're giving away a bunch of benefits for almost nothing. We're looking out for everybody."
To learn more, visit ourfirstfed.com or stop into First Federal's Barkley or Fairhaven branch locations today.