Who doesn't have fond memories of gorging on blueberries as a kid? There's nothing better than picking them fresh off the bush and enjoying the mellow burst of tartness cascading across your tongue. I recall wandering around with a bowlful of blueberries in the sunshine, missing a step with excitement and watching all those delicious berries bounce along the ground. Luckily, they hold their shape unbelievably well for something so small.
The Chrysalis Inn & Spa is taking those childhood memories to the next level with a brand new experience. Doug Elliott, Executive Chef of Keenan's at the Pier, has joined with a team of wine aficionados to create an amazing Wine Pairing Dinner Menu featuring the blueberry. The dinner is in partnership with Bow Hill Blueberries and will take place on August 20 at their farm. RSVP by August 12 to get a seat at the table.
As one of the oldest family-run blueberry farms in Skagit Valley, this partnership is about more than just the berries. Established in 1947, Bow Hill Blueberries features a farm store offering blueberries, jam, dried berries, vinegar and sauces, which are all produced in small batches on the farm. The farm specializes in heirloom berries and offers over 4,500 bushes that are a combination of Rubel, Stanley, Jersey and Blue Crop. Bow Hill also offers a You-Pick option for the community to enjoy the experience of harvesting berries on their beautiful farm.
The Wine Pairing Dinner will take place during Bow Hill Blueberries' harvest season. "I was just excited about the summer and all the local goods," says Elliott. "I always get jazzed about Skagit valley produce and everything in Whatcom County."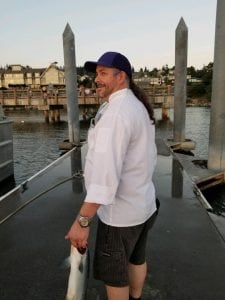 Elliott's relationship with blueberries goes way back. He fondly recalls trying to sneak blueberries from a neighbor's bush as a kid; if he got caught, he had to help pick them. His love for blueberries runs so deep, it only took him ten minutes to craft a creative five-course menu featuring the berry in every dish.
"I toured the [Bow Hill Blueberries] facility and the venue, and I thought it would be a great place on a summer evening to have some food and wine," says Elliott. "It's exhilarating, it's gorgeous and it's in the Skagit flatlands, except you see the Chuckanut Mountains. It's an amazing venue and I'm excited to make a lot of great food."
Elliott's exceptional food is crafted with care and the freshest local ingredients at Keenan's at the Pier. He and his team work to deliver an unforgettable experience to every guest.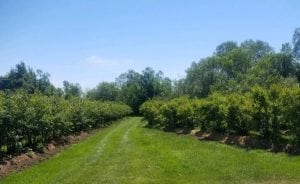 "We work with as many local vendors as we can – fresh caught fish, blueberries, all of it," says Chris Caldwell, Director of Sales and Marketing at The Chrysalis Inn & Spa. She's excited to continue creating events based on local products. They previously hosted a rosé pairing and a scotch-pairing, and are looking forward to another pairing dinner menu as soon as November.
The team at Keenan's at the Pier and The Chrysalis Inn & Spa are proud to offer top-notch experiences at an affordable price. Their last pairing event was only $79 and this five-course, in-depth experience is only $119.
"You'll have an exceptional experience," says Elliot. "There are a lot of meals we put forth that, if I was in Seattle, would have a different price ticket. We keep things really reasonable for the quality and the type of food we offer."
The menu features a variety of flavors and opportunities to try out new wines. It's enhanced by the backdrop of Bow Hill Blueberries' farm and the ambiance of a natural setting.
"I've been obsessed with food my whole life," Elliott says. "There's nothing better than good food."
"Paired with wine," adds Caldwell with a laugh.
The five-course Wine Pairing Dinner Menu will include: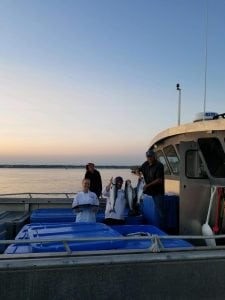 Raven Breads Vollkornbrot crostini,
Gothberg Farms Chevre, house smoked salmon, pickled blueberry chutney.
Gilbert Cellars-Rose of Mourvedre and Grenache
Grilled Elk and Jalapeno Sausage,
Baby Greens with white balsamic dressing, Samish Bay Vache, blueberry mesquite glaze.
Tamarack Cellars-Merlot Columbia Valley
Halibut with wild rice pilaf,
Smoked blueberry compote.
Baer Winery-Unoaked Chardonnay
Venison Rib chop,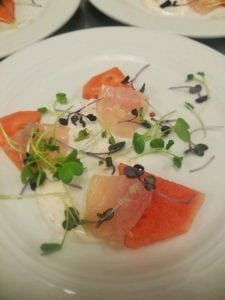 Pickled red onions, roasted baby potato, blueberry barbecue sauce.
Savage Grace "Cot"- Boushey Vineyards, Yakima Valley
Lemon Sour Cream Cake,
Fresh blueberries, seasoned mascarpone, cured lemon gastrique.
Airfield Estates-Late Harvest Riesling
Don't miss the opportunity to explore Bow Hill Blueberries and let your taste buds revel in well-paired wines and exceptional food. Book your seat by August 12 by calling 360-392-5506.
Sponsored