Every Monday for two hours after school at Roosevelt Elementary, there is Club de Lectura ("Reading Club" in English) for Spanish heritage students. The program focuses on building skills of bi-literacy in both English and Spanish.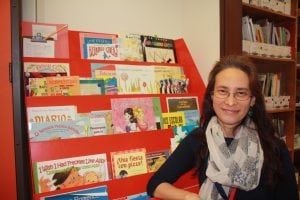 "Our goals are that our students get to know about their heritage culture and get to feel the value of connecting to the roots of their family," says Carmen Avila Cervera (known as Señora Avila to her students), the club coordinator. "Another goal is for our students to become bi-literate and somehow keep developing their oral Spanish. Many of our students start losing their oral Spanish or don't get to develop their oral Spanish because they only use it at home a little bit or only for everyday things, so we wanted them to be exposed to the language in books."
On a typical Monday, starting at 2:30 p.m., the students split into small groups called teams. Each team has fourth and fifth grade group leaders, and each team sits together during the group lesson run by Señora Avila. Then, teams go to different tables to work on games and activities about sounds, syllables and words. Each team goes to each table once and when they finish, students from various high schools come to read with the elementary schoolers.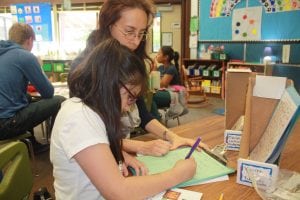 In each reading group, there are two high school tutors and usually three to five elementary schoolers. They read one book together as a group, with the tutors helping identify the pronunciation and meaning of the words. Once the book is finished, the elementary schoolers make a circle chart with either their favorite words from the book or new words they learned, and then they get to choose a new book to read. The reading groups usually last for about 40 minutes, until 4:30 p.m. when the students leave.
Señora Avila has been running the program for about five years, but the program has been going on for about 12 years total. "I've been working at Roosevelt since 2012 and that first year I was involved in Club de Lectura somehow, supporting, observing, learning about it, but I wasn't in charge of it; I was just trying to somehow support it," she says.
Before she came to Roosevelt, Señora Avila was working on bilingual education in other ways. As a child, she grew up in Mexico City and went to a bilingual K-12 school, where she fell in love with the English language. "I always loved English," she says. "For some reason, the sound of it and the grammar of it just was fun for me. I wanted to become an English teacher, so I became an English teacher and I taught adults for many years at a university, at a language center and then when I started studying my major, I became a bilingual kindergarten teacher and that's what I did for three years."
She got a bachelor's degree in education, with a major in special education of literacy and math. "I tried some different things before deciding I wanted to be a teacher," she says, "but then I landed in Morelia [a city in Mexico], in Instituto Michoacano de Ciencias de la Educación – that's the Michoacán Institute of Education Sciences – and I loved it. [It] specializes in education, so everything you study there is related to education: educational psychology, special education or just regular general classroom teaching."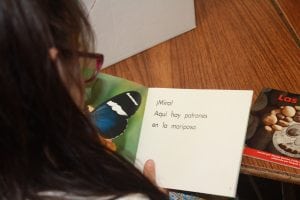 Señora Avila always thought she would stay in Mexico to teach. "I never knew or imagined I would end up teaching here," she says. "I came here to Bellingham with a scholarship from Western Washington University to study my master's. At that point, I was always planning on going back to Mexico to keep teaching, keep working. I was the coordinator for international programs at a language school, so I said, 'When I come back, I'll just keep doing that.' But then when I came here I just got very interested in bilingual education and I got invited to work in different projects and ended up teaching at Western full-time for five years and then eventually got the ELL Specialist position here for Bellingham Public Schools. I love teaching here and helping students develop English and their home language. I'm very happy."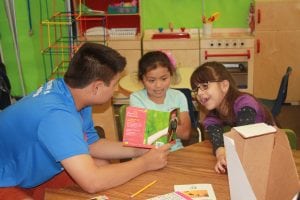 Though Señora Avila is in charge of the program, there are many other people who make it possible. "We've had donations from different institutions to really build up our library before we got the donation from the Bellingham Public Schools Foundation," she says. "We had a nice donation from Western Washington University of books, a collection of books and also our PTA has bought books for us. Our building has contributed with that and the ELL (English-language learner) program too, so over time we've built up a nice library where students can really enjoy all sorts of fiction and nonfiction books, read aloud books and recordings of traditional songs, so that's been great."
On top of this, there are many individuals that pitch in. "Our principal really supports the club, and also our ELL director really supports the club, so thanks to that I have the time to do club," she explains. "We also have a lot of people that collaborate with the club: volunteers, teachers from other schools who come over and help, parents, teachers from our building who also stay and collaborate. We couldn't do it without them, because it's a big program. And, of course, our high school teachers, who help to recruit our tutors and bring them here. It's a community effort."