Do you remember when you first stepped onto a sports field? That initial experience can be nerve-racking and downright terrifying for some. After all, at the time, you're just a child thrust into a fast-paced activity you're unfamiliar with. But with the proper training, coaching and encouragement, those feelings of uncertainty slip away as you settle into your sport of choice.
Hammers FC Academy Director Ivan Colin and HFCA summer camps provide just that for burgeoning soccer stars; the necessary training and mentorship to ensure kids are active soccer participants and have fun engaging in meaningful activities.
For Ivan and the HFCA, it's not just about building kids into soccer players, but establishing them as individuals too. Organized sports give children an outlet to forge connections with mentors and other children, teach them how to communicate with one another and allow them the freedom to play and just be a kid.
Ivan started with the HFCA two years ago when he joined Bellingham United FC as a player. He started as a trainer, then worked his way up to director. Ivan now splits his time between managing the HFCA and playing forward for Bellingham United. "It's tough, but I make it work because I love to see the high moments that happen when these kids are on the field," Ivan says. "I train for Bellingham United at night and do HFCA activities during the day and evening."
November through February is Indoor Season. During his three-month Outdoor season (Bellingham United is year-round), which started in May, Ivan will also host three of HFCA's four summer camp sessions. Summer is a busy time for Ivan but it's all worth it because he's making a difference in children's lives.
Ivan remembers the importance of having strong mentors supporting him when he played youth soccer. He says his coaches, trainers and parents encouraged him to succeed not only as a player, but as a person. Their advice and belief in him, coupled with Ivan's work ethic, helped shape who he is today and provided him with the chance to play both college and semi-professional soccer. Ivan wants kids who attend the HFCA training programs and summer camps to find that same mentorship from himself and his staff.
"As a player and as a coach I love being able to play soccer in front of these kids, and to play with them too; it's great to be able to coach and teach," Ivan says. "These kids look up to you. They look at you like a rock star. It makes you want to be that mentor for them."
For Ivan, it's amazing to see enrolled campers who may seem reserved or shy completely change their demeanor on the field. At first, some kids find it hard to interact with other campers and are unsure how they'll perform. But as soon as they step on the pitch, that all changes. Ivan loves to see kids gain a sense of freedom and channel their energy onto the soccer field.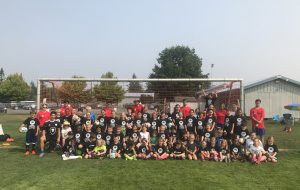 The HFCA runs a variety of drills and activities during their four-day summer camps, but Ivan says his favorite are the big group soccer games. Here, he and the other coaches can really see how much the campers have learned, as well as join and engage with them. There is nothing more rewarding for campers than to "nutmeg" or get by a coach in one of the camp games. More importantly, they get to watch and join in with them having a genuinely good time.
"Our camps and training go beyond the soccer field," Ivan says. "We're all about learning how to play, having fun and helping kids through this developmental stage in their life."
When he arrived from California two years ago, Ivan didn't know much about the soccer community in Whatcom County. He found it to be a tight-knit community where everybody knows everybody. He loves that the soccer community in our little part of the Pacific Northwest brings so many different groups together and forms a strong bond among them.
The first HFCA camp session is June 25-28, with the following sessions running July 16-19 and August 6-9. All sessions begin at 9:00 a.m. and last until 12:00 p.m. The regular HFCA summer camp sessions are for ages five to 12. There is an advanced camp for ages eight to 12, which runs July 16-19 from 1:00 p.m. to 4:00 p.m. All HFCA summer camp sessions take place at Phillips 66 Northwest Soccer Park. The fee is $110 for regular camp and $120 for the advanced camp. Each registration includes a soccer ball and HFCA shirt.
Sponsored