Submitted by: Bellingham Farmers Market
To highlight the grand opening of the Fairhaven Farmers Market and the new market hours (Wednesdays, 3:00 p.m. – 7:00 p.m.), Bellingham Farmers Market is collaborating with two iconic community partners to bring multiple activities to engage customers.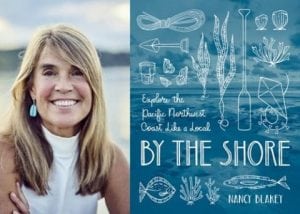 As part of Village Books' VB Reads … book group series, Bellingham Farmers Market is co-hosting a new Regional Cookbook and Cooking Lit group! And the launch happens to take place at 4:00 p.m. Wednesday, June 6, opening day of the Fairhaven Farmers Market. The first cookbook featured is By the Shore: Explore the Pacific Northwest Coast Like a Local written by Bainbridge Island author Nancy Blakey. As a bonus, Nancy will be participating in our inaugural cookbook club meeting. She will also kick things off with a cooking demonstration in the market from 3:30 p.m. – 4:00 p.m. The Regional Cookbook and Cooking Lit group will meet the first Wednesday of each month from 4:00 p.m. – 5:00 p.m. (July 4 moved to July 11 to accommodate the holiday) with the goal of providing inspiration for customers looking to expand their cooking repertoire and use the best in local, seasonal produce.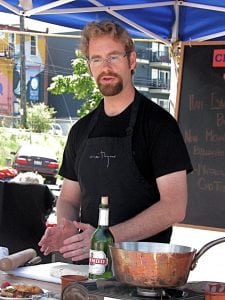 Ciao Thyme is also helping us celebrate the Fairhaven Market opening in style with a first-ever "Market Mocktail Reception" from 5:00 p.m. – 6:30 p.m. Chef Mataio Gillis, and his talented crew, will demonstrate and prepare appetizers and mocktails, using ingredients from our market vendors. After the demonstration, our volunteer "wait staff" will pass these drinks and nibbles for customers to enjoy while shopping the market.
Throughout the afternoon, folk trio The Moving Hats will be performing live music as part of our Fresh Local Music series.
"While we consistently shop both the Downtown and the Fairhaven farmers markets, the Wednesday market has always held a special place in our hearts," shares Ciao Thyme owner-Matiao Gillis. "It provides a more intimate setting for us to really slow down and visit with our favorite farmers and producers. We wanted to help Bellingham Farmers Market kick off their new hours in style and to celebrate with the community that has supported this market for over 20 years."
Wednesday, June 6, Grand Opening Schedule
(All Events on the Village Green unless otherwise noted)
3:00 p.m.—Market Opens
3:30 p.m. – 4:00 p.m.—Food Demonstration with Cookbook Author-Nancy Blakey
4:00 p.m. – 5:00 p.m.—Regional Cookbook & Cookbook Lit Group (Mezzanine Level of Village Books)
4:00 p.m. – 6:30 p.m.—Fresh Local Music with The Moving Hats
5:00 p.m. – 5:30 p.m.—Food Demonstration with Ciao Thyme
5:30 p.m. – 6:30 p.m.—Market Mocktail Reception
7:00 p.m.—Market Closes
Wednesday Fairhaven Farmers Market
Fairhaven Village Green – 1017 Harris Avenue, Bellingham
Wednesdays, June 6 – August 29, 2018
3:00 p.m. – 7:00 p.m. (Market Closed July 4)