For over 32 years, Larry Watson of Rainbow Auto Service and Sales has been servicing Volvos in Whatcom County. He believes having your car worked on doesn't need to feel like a visit to the dentist. Watson knows there's an element of fear when something is wrong with your car. "I see myself as the human connection between a person and their car," he says.
Watson and his team have the depth of knowledge to take over when you need help. Many Rainbow Auto customers have brought their cars to the shop for 20 or 30 years and are now on their third Volvo after passing one or two down to their kids.
Humble Beginnings
Describing himself as "just a regular guy with humble beginnings," Larry is like an open book, ready to share a story or describe the intricacies of restoring a 1982 Volvo wagon. He met his wife, Virginia, on the New York City subway in 1978 just months before he moved across the country and set up life in Bellingham. They were pen pals for four years before she was ready to move to Washington. Together they built up Rainbow Auto in the beautiful Squalicum Valley.
The business' name was a happy accident. Larry was at the Department of Revenue office securing a business license when he realized he needed a name. On the spot, he came up with Rainbow Services, because at the time he was doing just about everything under the sun. Larry changed the name to Rainbow Auto Service and Sales after he started specializing in Volvos, repairing all models, new and old, and even selling pre-owned.
"Nobody has a bad association with a rainbow," says Larry as he opens his arms to displays of rainbow photos, stickers and souvenirs he's received from customers. In fact, he's known in automotive circles as "Rainbow Larry", while working the phone with suppliers and customers he started identifying himself as Rainbow Larry. The nickname stuck.
Human Connections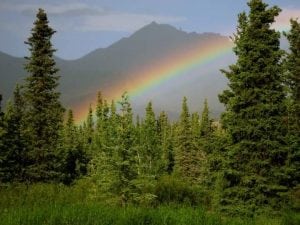 Larry likes to care for people just as much as he cares for their cars. There's a reason his customers travel to Rainbow Auto from Seattle, the San Juan Islands and Vancouver, BC. He's happy to speak with customers at length about their cars because he wants them to feel just as comfortable with the work being done as he is doing it. Honest and open communication are key to his building relationships with his loyal customers.
One customer came to Rainbow and wanted to know if her car could handle a cross-country drive. This wasn't any old car; the local performer had turned her older Volvo into an art car. "It's been painted elaborately; it's a very eye catching old sedan," says Rainbow Larry. "She came to me and said she needed to drive to a gig in Boston, attend an art car parade in Houston and make another stop to see family in Nebraska." After taking a look at the car, Larry had to break the bad news: "I wouldn't drive this car across Bellingham, and you cannot take it to Boston," he said. He ended up replacing the transmission and brakes, to make the car safe to drive. He got word a couple months later that the trip had been a success.
Many people enjoy coming into the shop to share a mug of Rainbow's gourmet coffee and catch up on life before getting down to the business of car repair. Many customers have become great friends. And his skill for human connections is not limited to customers — Rainbow Auto's employees are treated well and make up a team that is one of the best in the business.
Most employees in the automotive industry are paid based on the number of jobs they complete in an industry established amount of time. Larry doesn't want to just crank out work without ensuring that it's been done properly the first time. This means the team at Rainbow Auto isn't rushed, and customers are happy when problems are solved after their first visit. His team receives an hourly wage and paid time off. "I believe their lives are best spent not entirely at work," he says.
Evangelical Customers
Some Rainbow Auto customers have taken their passion to the streets and started recruiting others. Many new customers tell Rainbow Larry that they were stopped in a parking lot and asked, "Do you take your Volvo to Rainbow Larry? If not, you really need to."
When you find someone, who takes good care of your car and cares about making a human connection, it's priceless. It's no wonder Rainbow Larry has such a loyal following.