What in the world is a Shroompaloompa? "That's what we call ourselves here," Cascadia Mushrooms owner Alex Winstead says with a laugh. "The mushrooms never sleep; we're constantly trying to keep up with their schedule."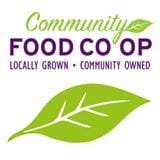 After a tour of the farm, it's easy to see why that's such a demanding job. Row after row of mushrooms at various growth stages line the walls of expansive grow houses. These two huge, cylindrical buildings are the first things you notice when you arrive.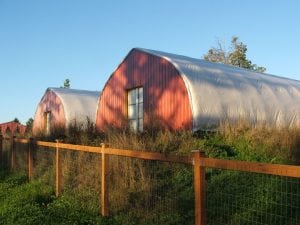 They're designed to simulate spring and fall weather. One is warm and damp, with invitingly muggy air. The other is cool and crisp like a mid-October walk. At the beginning of each row are small, budding mushrooms. Near the opposite end are the full-bodied delicacies you can pick up at the Community Food Co-op or Bellingham Farmers Market. "We'll have five different batches of mushrooms growing all at the same time and each type grows at a different speed than the other," Alex explains. "To an extent, it's like being an attentive parent."
Alex won't just be a mushroom dad for long; he and his wife are expecting their first child this May. "We're just really gearing up for the baby," he says. "I'm trying my best to make sure everything is taken care of before my wife is due."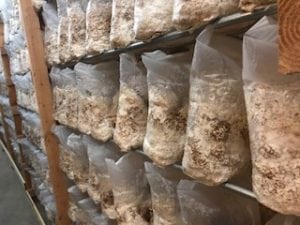 That's no small feat. On top of being an expectant parent and keeping up with the mushrooms' intricate growing process, it's also morel season. In the mushroom world, this means packing up and driving across the state. Morel mushrooms require a very specific growing environment, which just isn't found in Western Washington. And the mushrooms don't seem to care how far harvesters drive because sometimes they just won't grow. "It's kind of like a fishing trip," Alex says. "You pack up, drive and spend all this energy on catching that one type of fish, and you still come home without anything."
This year harvesters will travel to the Okanogan area, where wildfires eradicated other species and made room for morels to pop up. "They have a very temperamental growing environment," Alex says, "and you just have to hope you get lucky."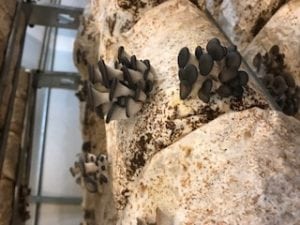 Why spend all this energy on a fungus? Because they're delicious. Morels are one of the most highly sought-after mushrooms and are beloved by farmers, chefs and food enthusiasts alike. People who say they don't like mushrooms usually make an exception for this variety because of its unique nutty flavor and meaty texture.
While the upcoming morel hunt may be keeping Alex up at night, their best seller, the shitake, is having one if its best years ever. "We have had the biggest shitake season in our history," Alex says proudly. "We've actually had so many we've been able to put them on sale twice at both Bellingham co-ops!"
Shitake mushrooms are by far their most popular product. Between deliveries to seven natural grocers, two weekly farmers markets and over 20 restaurants, they sell out every week. In fact, the farm sells out almost everything every week. Besides morel and shitake mushrooms, Cascadia Mushrooms also offers lions mane, oyster, pioppino and reishi mushrooms, along with mushroom compost, at-home grow kits, specialty mushroom supplies and workshops.
What was once a humble fungus, the mushroom has grown into something more thanks to Cascadia Mushrooms. Alex and his team of Shroompaloompas have managed to turn this simple food into an especially exciting and delicious experience for their customers. These mushrooms are a delightful and nutritious addition to any diet. Luckily for Whatcom County residents, we have some of the best. And for those mushroom skeptics? It might be time to give them another chance.
To find out where Cascadia Mushrooms are sold or served, check their website or visit the downtown or Cordata Community Food Co-Ops.
Sponsored