Submitted by: Ferndale Chamber of Commerce
The Ferndale Chamber of Commerce and Ferndale Downtown Association have worked cohesively over the past few years but never so much as when they decided to do what they could to help fill some of the commercial vacancies in and around Ferndale. The reason; because a vibrant and growing downtown is vital to the success of a city as a whole.  There needs to be quality shopping opportunities and restaurants to keep the community of Ferndale here and spending their dollars locally.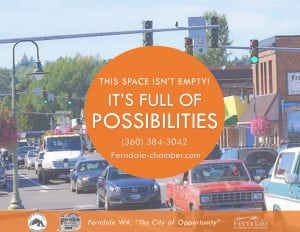 In September of 2017, the first Commercial Wine & Walk Tour took place, bringing over 30 stakeholders together to view several of the downtown corridor vacancies.  Starting at Pioneer Pavilion, the home of the Chamber and Visitor's Center, the group walked through everything from retail spaces to mixed use spaces in just over an hour.  All the while, networking and brainstorming about what Ferndale needs in the sense of retail and professional businesses.
Fast forward to the next tour coming up on April 10, 2018 and over half of those properties have been leased or sold, along with many we didn't tour, proving that churning the water works.  "Ferndale is seeing some great things happening in its future and with the Chamber always advocating for quality business growth and a healthy economic climate, this real estate tour has fit right in with our mission," states Executive Director, Ann Serwold.
The tour starts at 1:00 p.m. with wine and snacks at the Pavilion and goes until 3:00 p.m. It is open to anyone with a vested interest in Ferndale.  We encourage everyone from realtors who have or may have in the future, clients looking for their first space or their next growth location to entrepreneurs and commercial bankers.
For more information regarding this event, please contact Ann Serwold at the Ferndale Chamber of Commerce at 360-384-3042 or register online at www.ferndale-chamber.com.
We look forward to growing with you!