A relationship without kids has taken on a whole new meaning for Grace Harbor Farms, one of Community Food Co-op's long-time suppliers. When consumer demand for their high quality goat and cow's milk products outgrew their farm's ability to house a herd of goats and cows of adequate size, they switched to becoming a processor-distributor business. They now purchase their milk from local farms that share their vision of local milk production practices.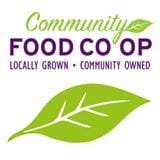 One of the very first Grade A dairy micro-processors, Grace Harbor now buys 100 percent of the goat's milk they process from the local goat farm that sold them their first Saanan baby goats, also referred to as "kids."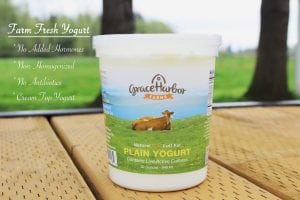 They use Guernsey and Jersey cow milk in their Natural Yogurt, Kefir and Whole Milk products, which gives naturally sweeter, richer hued milk than the more highly processed commodity brand products. Their milk products are pasteurized but not homogenized, and the cream is never separated. They do not sell cream based products such as butter, half and half, etc. because Grace Harbor Farms does not separate out the cream. Their milk is full fat as naturally received from the farm, an important concept for the milk consumer to understand.
Other dairy processors receive the milk, then separate it into skim milk and cream. Then, depending on what is being made, they add cream back into the skim milk, in affect reconstituting the milk to create 1%, 2% or whole milk which is deemed to be 3.25% butterfat by the USDA. Artificial vitamins are added to replace those taken out, depending on what is being made. This is a USDA regulation. Grace Harbor Farms is not required to add vitamins because they never remove them, which is what cream separation does.
Grace Harbor Farms' whole milk products butter fat content is naturally 4.5% on average, as tested when received from the farm. This is one reason why Grace Harbor Farms' dairy products have a richer nutritious natural flavor when compared to other brands.
I was excited to chat with Grace Harbor Farms' founders and owners Tim and Grace Lukens. I was already a fan, having purchased some of their goat's milk based lotion, which impressed me with its pleasant, comforting scent and exceedingly smooth, silky texture.
Grace Harbor Farms has quite a story, which merits more space than I can write about here, but Grace – the creative, critter-loving force behind the married dynamic duo – assured me a book about their adventures and misadventures is in the works. I can hardly wait!
The first thing evident while listening to Grace and Tim (who handles the finances), is that they are full of mutual respect for each other and make a great team. Secondly, they're committed to providing products as nature intended: pure and additive-free.
Fortunately for their customers, they partner with suppliers that share this mission and their views about community and protection of our food sources.
How did Tim and Grace get started in the dairy business? It started small and grew quickly. Concerned about the impact of the Y2K scare in 2000, they began thinking of ways they could ensure they had their own access to food. When Grace suggested they get a couple of goats, Tim couldn't say no. He's from the "happy wife, happy life" school of marriage. From there, they started making soaps, then lotions and eventually yogurt, milks and other products. Initially, they used only goat milk, which doesn't taste "goaty" if strict sanitary standards are adhered to and the milk is immediately chilled.
When the question arose of whether they should "go for it" with the goats and try to make a business out of it, they decided they should, as consumer demand was there.
Tim and Grace first met while fishing up in Alaska, though they both had roots in Whatcom County. And while it may seem that fishing and farming are completely dissimilar, in reality, they share many of the same characteristics, like unpredictability.  Additionally, Tim had both farm and retail grocery experience, so it made sense to move forward.
They began with area farmers markets, then leased a kiosk at Bellis Fair Mall. While the mall gave them valuable exposure, it was expensive so they decided to break into the retail market as wholesalers. Tim and Grace still handle all aspects of the business with the aid of great employees who help out with processing and running the small retail outlet they have onsite.
When I asked Grace about plans for the next chapter, she excitedly told me she's looking into straw bale gardening and getting ducks – in all her free time when she's not making wine in their cellar or cooking for family and friends. Tim raved about his wife's cooking. Grace loves to make meals that can be shared by friends and family. Both Tim and Grace have a strong Christian-based faith that has given them the strength and confidence to pursue their passions, even in the face of adversity.
If you haven't tried Grace Harbor Farms products, you can find them at both the downtown and Cordata Community Food Co-op locations.
Sponsored