Mount Baker Theatre (MBT) is celebrating its 90th birthday. Thanks to community support and renovations the building looks great. But behind the nonagenarian's lobby doors is a man who has been helping daily for the past six years to keep things sparkling clean and squeaky free –MBT's Head Custodian Glenn Curtright.
Curtright is always on the move from setting up tables and chairs for guests to cleaning the building, to making sure every light bulb in the original fixtures shines as brightly as the stars that appear on the stage. His love for MBT began long before it was converted into a performing arts center.
"Myself, my brother and a couple of neighbor kids used to walk to the theater when I was eight years old. We'd walk down here to watch the old Dick Van Dyke Disney movies, all in black and white," says Curtright who will be turning 60 this January.
Back in 1965, MBT was actually a movie theater more commonly referred to as a movie palace. It had been built by West Coast Theatres and was owned by William Fox of 20th Century Fox Studios.
"We'd stay until dark and watch movies all day long then we'd walk all the way back home. I said, 'Mom, that'd be a really cool place to work,' and guess what? Here I am! Careful what you wish for!" says Curtright.
One of the recent endeavors Curtright and his assistant took on was to check every one of the 1,517 seats used by guests in the architectural treasure that is the MBT Mainstage. The daunting task was completed by Curtright and four volunteers – the Squeaky Seat Crew.
"You know, it's really funny – we have this education program and we can have as many as 3,000 grade school kids come into the theater in one day," says Curtright, "Because little kids can't sit still, they're bouncing up and down and you can hear those seats going squeaky, squeaky, squeaky. It's so annoying! It drives the artists and the actors just crazy. So once a year we go through them."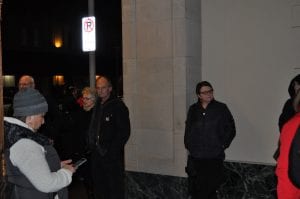 Curtright asked the volunteers to check each seat to see if it squeaked or would get stuck down. They would wiggle it to see if it was properly fixed to the floor and note if the upholstery needed attention. Problematic chairs were marked and labeled with masking tape. Then it was Curtright's job to facilitate the repair.
"I think Glenn was surprised how fast we checked all the seats and the thoroughness of our findings," says Ken Christiansen, 66, a volunteer and member of the Squeaky Seat Crew. "It took about four hours and we didn't even stop for a cup of coffee!"
Christiansen, who retired from working operations at BP Cherry Point Refinery, volunteers his time to MBT as an usher and to Whatcom Literacy as a tutor. When he volunteered for the Squeaky Seat Crew, he was surprised at how many seats needed attention. But he was thankful that the most frequent finding was just a squeaky seat and of course, the squeaky seat gets the oil.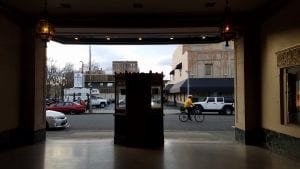 "I wanted to give back to the community," says Christiansen who chose to volunteer for Mount Baker Theatre because he and his wife love to go see the live performances. Thanks to him and the other Squeaky Seat Crew volunteers, it will be a squeak free experience!
They've formally checked all the seats twice since Curtright has been working with MBT. Soon the Squeaky Seat Crew run through will become an annual checkup and Curtright hopes to bring volunteers in to help complete the task.
Maintaining any theater is hard but preserving and accurately fixing a theater that is nearing 100 years of age is even tougher. Curtright explained that one of the toughest challenges is being unable to find the pieces necessary to make some repairs because they aren't made anymore. However, that hasn't stopped Curtright, he has even found one person in Whatcom County who will help weld the seats when required.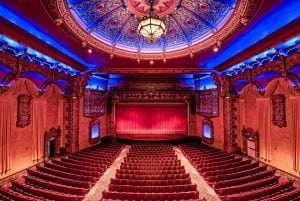 Curtright's work, accompanied by singers and bands rehearsing on the mainstage, is never done. He is always finding things to work on and helping others when someone needs something. Through his work and attention to detail, the theater remains functional and in its historic form.
The future for MBT will include extending the current mainstage from 26 to 42 feet and expanding to a 45-piece orchestra pit. This expansion will accommodate larger productions. Future development will also include more earthquake improvements so MBT can stand tall for another century and, with the help of the community, remain squeaky seat free.  If you want to support Glenn, the squeaky seat crew and all of the wonder that is Mount Baker Theatre, making a donation is just a click away at their website.
Mount Baker Theatre
104 North Commercial Street
Bellingham
Sponsored