When we discovered that WhatcomTalk was one of the top four finalists for the Bellingham/Whatcom Chamber of Commerce Small Business of the Year award, we were thrilled. To even be nominated is a remarkable honor, and to be a finalist is truly amazing. But even better was discovering the company we were in. Of the three other finalists, two are WhatcomTalk customers – Veritas Media Productions and Launching Success. What an honor to not only be recognized, but to be recognized alongside friends who are doing good work in the community we love.
On awards night, November 30th, we gathered the WhatcomTalk team for a pre-event party/meeting. Our team of writers has grown and evolved in wonderful ways since our inception and this was the perfect chance to gather and celebrate. Our paid, professional writers are truly stellar people who produce big, bold and beautiful content describing the place where we all love to live, work and play.
The evening started with drinks and appetizers at B-Town Kitchen and Raw Bar. The outdoor patio was the perfect place to gather with its chic décor, multiple fireplaces and warm ambiance. We laughed, exchanged stories and made connections. Afterward, we transitioned to a private Four Points by Sheraton meeting room where we discussed our vision for WhatcomTalk and how we can best continue spreading positivity and building community here in Whatcom County.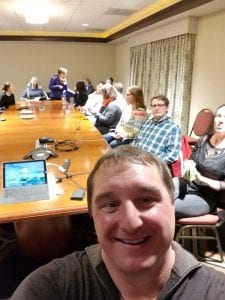 In addition to 15 writers and two interns, the gathering was attended by co-owner and Community Manager Stacee Sledge, as well as Bill Schwartz and Kevin Coleman, Community Outreach and Business Development Managers. NorthAmericaTalk co-owners Dan Jones and Martin McElliott drove up from Olympia, along with Community Editor Andrea Culletto.
While we didn't take home the Small Business of the Year award, we were excited for our long-time partners, Launching Success. They truly deserve this award and we are so happy to support them in their mission of educating all of our area's children. (Plus, we just love spending time in their store!)
All in all, it was a great night filled with amazing individuals. The future looks bright as we move into 2018 with our thriving team and the strong partnerships we've built over the past few years.