At its core, Bellingham-based Intellitonic is a digital marketing agency with a heart. "We decided to build a digital marketing firm that's more altruistic in nature," shared Founder, Alex Bruner. Until recently, Bruner managed a team for the Tribune Company's digital marketing agency, overseeing the web efforts of 800+ clients. He probably could've continued to grow his career working for big businesses, but he wanted his work to mean something more.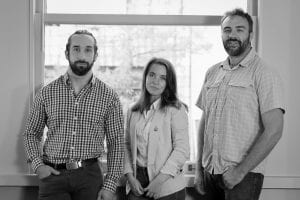 "Rather than just focusing on bottom-line revenue, we're more interested in building relationships," he shared. "Because of that, we thought some of our first offerings should be catered to nonprofits."
In an increasingly digital world, digital marketing firms like Intellitonic have become integral to the business landscape. Cutting through the noise can be a challenge for organizations who are looking to share what they're up to. Having experts who can help guide their marketing efforts (all while staying faithful to a budget) has become a must-have. Intellitonic works with businesses and nonprofits from all over the country but they saw a real need to help nonprofits share their good work so they can be free to do more of it.
In addition to Bruner, the Intellitonic team is made up of two other founding members, two team members focused on business development and sales, and interns from Western Washington University and Whatcom Community College. Bruner, along with Owner and Principal, Jared Keller, and Owner and Director, Courtney Rambo, has thought a lot about the choice to build a business in Bellingham. In addition to commonly listed perks like abundant natural beauty and proximity to Seattle and Vancouver BC, Intellitonic sees Whatcom County as a strategic setting for their current and future well-being.
Quality of Life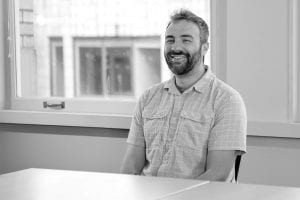 One of the first reasons the Intellitonic crew gave for setting up shop in Whatcom County had to do with quality of life. "I really liked Chicago but I missed the small town feel of Bellingham," shared Bruner. "I got really jaded with the daily grind at a thousand-person company. Plus you can't beat the natural beauty here."
"I appreciate that Bellingham has a real strong sense of community and work-life balance, which is important for what modern businesses are turning into," added Keller. Keller has a track record of creating business in Whatcom County. His first company Conversica, an artificial intelligence sales platform, was also founded and developed in Whatcom County.
An Opportunity to Shape the Future
Businesses like Intellitonic are investing time and talent to encourage Bellingham's growth. "I think Bellingham is growing in a really awesome direction," shared Keller. "The sense of community is a huge part of it. We want to build more jobs, more opportunities and more business development in Bellingham. Being in digital marketing, it's what we do. We identify businesses that are looking to grow and get to play a hand in that growth."
Intellitonic is hoping to play a unique role in Bellingham's growth, especially the downtown business core. Their team members each worked from home for the first year of business but Rambo said that moving into their downtown office gave them a greater sense of investment in the community. "Bellingham and Whatcom County became almost unofficial clients once we got our office," she explained, which is located in the in downtown Bellingham at the National Bank Building.
Collaborative Business Culture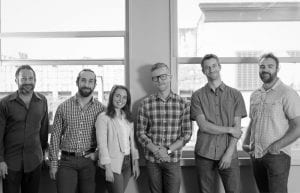 When the opportunity arose for Bruner to move back to Washington and for Intellitonic to open and share an office space with Technology Alliance Group in downtown Bellingham, the team leapt at the chance. Intellitonic found the local business community to be supportive, especially those businesses who would typically be considered competitors.
"There's an incredible amount of competitiveness [in Chicago] and it's not a very nurturing environment for small, local businesses," he shared. "Here, even people who work in the same field as us are willing to come in and give us tips on development practices," Bruner explained.
"And vice versa," added Rambo. "The level of collaboration here is awesome."
"We've found the business community here to be almost aggressively cooperative," Keller said.
Intellitonic's practices reflect that culture of enthusiastic collaboration. They're passionate about their work and they want to share what they know to help others succeed.
"We love talking about this stuff and we love being helpful," shared Keller. "Our priority is to help organizations grow."
Some organizations never ask for help because they don't know what to ask for or they're worried about being sold to, but that's not Intellitonic's style.
"We're not about the hard sell," Bruner explained. "We give away massive amounts of information for free every day because it helps improve our own processes and inform our next steps. Talking about this stuff doesn't have to be painful."
Plus this service-minded company culture also helps the folks at Intellitonic build relationships with the right clients. "We want to work with people we want to work with," shared Rambo. "It needs to be a good fit on both sides."
"There's dentists who say, 'I'm the gentle dentist,'" shared Bruner. "We want to be the gentle digital marketing firm."
Know a small business or nonprofit who could benefit from a gentle approach to digital marketing? Visit Intellitonic's online tools or get in touch for questions.