I met Mulu Belay many years ago when she had a stand at the Bellingham Farmers Market. I'd beg my family every Saturday to go downtown, pick up some local veggies and eat some Ethiopian food. My favorite is the lentils with potatoes and carrots over Injera. Once I discovered Kara ("Kahr-uh") I was hooked. Kara includes minced Jalapeño peppers, garlic and salt. It's so spicy it hurts. You can't get enough.
Mulu knows my sister, so once she put that together she'd give my sister a small jar of Kara to give to me on occasion. I put it on just about anything from tacos to soup. I've been interested in hearing Mulu's story for a while, so I asked for an interview at her restaurant, Ambo Ethiopian Cuisine.
Mulu started cooking at age five in Ethiopia. She grew up in a small village near Ambo, Ethiopia. She was the second child, the first girl. As was typical for her region, Mulu began to learn to cook for her family at an early age. Mulu cooked with her mom and grandma. There was no electricity and no running water.
"Everyone can cook potatoes and carrots," she says. "I just took my mom's and grandma's recipes and fixed them." Mulu improved and developed her recipes and continues to tinker. Since she immigrated to Bellingham, she has developed her own spice mixes such as her Burberry which is detailed in her cookbook. For her Injera she has experimented with barley, wheat and sorghum as Teff, the gluten free grain commonly used in Ethiopia, is hard to find here. She has since developed a gluten free recipe for Injera that uses Teff, rice and sorghum.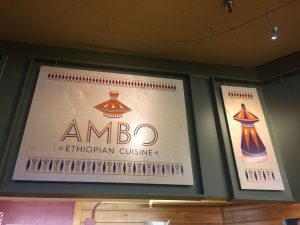 About 11 years ago, she immigrated with her family to Bellingham. She first lived in Bellingham Co-housing in Fairhaven. She enjoyed the communal dinners, the morning coffee breaks and the connections she made with fellow Bellinghamsters. While living in Co-housing she cooked a communal meal for 32 people. This got the attention of others living there.
She met the owners of LaFiamma and Fiamma Burger, Ken and Dan. Through this, she was encouraged to develop her cooking and get connected to the community. Ken and Dan hired Mulu to work at La Fiamma for six months. There she learned preparation and cooking skills the American way with the goal to have her ready for the farmers' market. She learned how to order ahead, how to pace herself and keep up in a busy environment. They let Mulu use their kitchen for two years while she was at the farmers' market for free. Mulu beamed a smile, "I am so thankful for Ken and Dan."
Mulu cooked and served Ethiopian food at the farmers' market for four years. During this time she also taught cooking classes at the Community Food Co-op. She also met Merrill and Carol who later helped her write and publish her cookbook, Ethiopian Feast. Merrill and Carol were customers who agreed that Mulu's cooking is amazing. Questions from customers kept coming, such as, "When are you going to open a restaurant?"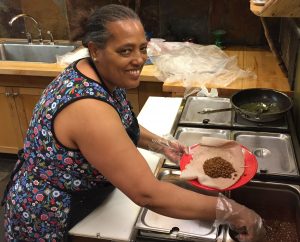 Thus, Ambo Ethiopian Cuisine in the Terra Organica market started two and a half years ago. "You have to be strong," Mulu said. "It's not easy, but better to be on your own. The customers' comments, feedback and encouragement makes you stronger." She describes her job as a 24 hour a day job – thinking ahead, paying bills and planning. "I've had no problems with customers for 11 years," she said.
Her business has its challenges. "I don't write well in English," Mulu confides. Yet, with the help of longtime customers Merrill and Carol, she was able to share her knowledge of cooking with her cookbook, Ethiopian Feast. The book has been available since March 2017. It took about five years to write.
Mulu doesn't have much free time. She exercises regularly and cooks for her family which includes three kids and her husband, a Physics Professor at Western Washington University. She is very thankful for starting in Bellingham Co-housing. "The 10:00 a.m. coffee breaks, the communal meals, it was like the village where I grew up," she said. "Bellingham is a great place to raise kids."
Mulu encourages her existing and new customers to try her food and remember her food. She can't say enough about how thankful she is for those that helped her to become the owner of Ambo Ethiopian Cuisine. Mulu is happy to keep her business steady and connected with Terra Organica.
Mulu's graciousness and thankfulness on her life's journey is evident and ever present. I cannot imagine Bellingham without her and her business. I am also thankful for the community support Mulu received. It should make us all proud to be Bellinghamsters. If you haven't tried her food yet, I encourage you to try it. Don't forget to load up on Kara!
Got an idea for someone you've always wondered about? Maybe you already know them but think they deserve some lime light. I'm looking to get to know others that make our community a better place, a unique place, maybe even a stranger place. Drop me a line at submit@whatcomtalk.com.