Having grown up quickly in the small town of Elko, Nevada, Jaramie Thomas, now 38, moved to Washington State as a teenager to begin a new life. Since opening a medical marijuana dispensary in 2012, he's found his niche at Satori, as a State Certified Medical Marijuana Consultant. He's turned his passion for assisting clients in obtaining medical marijuana, into a side consulting business and a full-time job as one of Satori's most knowledgeable and experienced staff members.
Arriving in the Marijuana Industry
After Thomas' stepfather got a job with LedCor Group in Vancouver, BC, the family relocated to Ferndale. He soon discovered an "altogether different weed culture," which was less violent, much more welcoming, and provided a total lifestyle change. "It was very violent where we grew up. Even at a young age, people were getting stabbed and shot at school and there were a lot of drug cartels," Thomas remembered.
One step can lead to an unexpected future. He knew after his first job he wanted to work smarter, not harder. Employment at Ace Rock and Gravel in Everett turned into a position at Alpha Technologies, who sent him to school to study small circuit electronics. Years later he began at Lowes as a delivery driver and worked his way up through management before he segued to remodeling and flipping homes. After the economic crisis of 2008, "I lost everything, my job, my retirement and we were in the middle of financing two more homes to remodel," Thomas recounted. After working 70-hour weeks at gas stations just to make ends meet, he happened into Northern Lights Gardening.
Early Days of Medical Marijuana
Thomas learned the industry by working with marijuana growers buying grow lights. "As the medical marijuana boom started happening, I was selling grow equipment to a lot of the people opening collective gardens and learning to grow marijuana from some really good gardeners," Thomas said.
In 2013, Thomas opened Grass Roots Collective, a medical marijuana dispensary in Bellingham. "I started out as a delivery based service. I had a site on weedmaps (a medical marijuana directory) and I had my medical marijuana card. I formed a collective garden with two friends," he said. In a short time, Thomas earned the money to open his own store. "It was just me and a 50/50 partner, until the sheriff closed me down in 2016."
The Final Chapter in Medical Marijuana
Keeping up with changes in state marijuana law has been challenging within the marijuana industry. "When recreational marijuana became legal, the state gave dispensaries a deadline to close down," Thomas said. But there was a stipulation. Pledges that medical marijuana would be sold at recreational marijuana stores didn't happen. "Everything you see in the stores right now is recreational, there is no medical marijuana being sold," Thomas said. Higher levels of THC in medibles (medical edibles) including Rick Simpson Oil and other concentrates, would allow for up to 500 mg of TCH.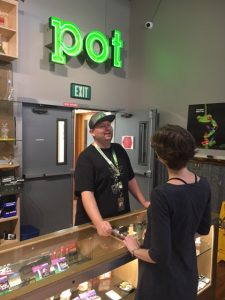 Grass Roots Collective was the last hold out dispensary in Bellingham where patients could get high concentrates. "Most other dispensaries in the state were not collecting sales tax," Thomas pointed out. That's when the state stepped in. On July 22, 2016 the sheriff's office called. If Thomas didn't shut down by 5:00 p.m. that day, he would be charged with a felony. The sheriff came to shut down the business, yet acknowledged Thomas' sterling reputation. "When the sheriff showed up, he was really nice. He saw that we'd been donating to the Retired Sheriff's Fund, Agape and Lydia's Place. I'm a recovering cancer patient myself, so we donated to cancer patients as well."
Thomas was diagnosed with prostatitis and prostate cancer at the age of 28. After being misdiagnosed, a nurse practitioner was finally able to assess his symptoms and steer him toward treatment. "After the second round of chemotherapy, I got so sick, I stopped taking treatments on my own accord and started following the Phoenix Tears, Rick Simpson Oil treatment program and I've been in remission ever since," Thomas attested. Thomas maintains a daily dose of CBD capsules- keeping his PSA down and his cancer at bay. Thomas notes he wasn't diagnosed with an advanced stage of cancer and the cancer hadn't spread to his spine, which can be fatal. You can buy the same full plant extracts Thomas uses at Satori.
Connecting with Satori
Thomas' healing journey continues. Some mutual friends who own Hand Made Apparel introduced Thomas to Quinn Sharpe, one of the owners of Satori. "I was honest with them during our interview and said I didn't want to be involved with a store that wasn't going to advocate for medical marijuana." That's when Sharpe informed Thomas of their plans to have a private medical marijuana consulting room and offer a 20 percent discount for medical marijuana cardholders.
Not only did Thomas sign on, his sister now works at Satori. And his specialty is still educating and consulting with medical marijuana patients. "Just this Sunday, I had a woman come in who's got pancreatic cancer and is going through chemotherapy. She had a medical card and didn't know what to do with it. I got her registered in the medical marijuana database and started to talk to her about growing marijuana at home and how to affordably process medicine."
Satori encourages Thomas in his side medical marijuana consulting business and to serve any of their customers in need. Satori continues to support Thomas who lends his skills to the community for which he's always advocated.
To learn more, visit Jaramie Thomas at Satori at 100 E. Maple Street in Bellingham.