I would really like to think of myself as a charitable person. My parents raised me to help those in need and give when I can. But the truth is, I can count on one hand the number of times I've given to a charitable organization. And I'm not counting household good donations to Habitat for Humanity and The Salvation Army. I'm talking about sending a check to an organization that I believe in—someplace that helps those most in need or provides a service that is important to me. When I've had a little extra money—and even once when I really didn't—I've managed to give a little. Always, I wish it could be more. Always, I wish it could be more often.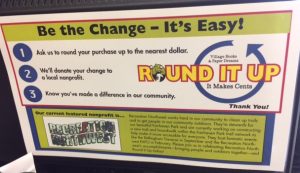 But for right now, as my paltry donations make their way to deserving organizations once every few years, I am reassured by the fact that my shopping is sometimes an unwitting act of benevolence.
You see, I love to browse around Village Books and Paper Dreams in Fairhaven. It is one of my go-to gift spots. I always find something, usually many things, to send to my mom and sister for birthdays and holidays. The space is more of a gathering place than a store and serves as the hub of Fairhaven. I do not need another reason to shop at Village Books but I found one. Whenever I choose to buy from Village Books not only am I supporting a local business, I am supporting our community through charitable donations.
Village Books is an enduring contributor to many local nonprofits. They have an ongoing donation program for area organizations and have been recognized by the state of Washington as an Outstanding Philanthropic Small Business. Village Books has long been cultivating partnerships with nonprofits that benefit Whatcom County. "It's a cornerstone of what we do," says co-owner Paul Hanson.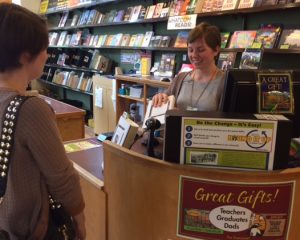 I had called him to find out about Village Books' newest giving program "Round It Up," which Hanson and his partners have launched as, "a chance for customers to support a nonprofit in our area that's doing great work." It is a simple concept. Whatever the total sale at the register, you can choose to round it up to the next dollar. This extra change that would otherwise lie at the bottom of your purse or the cup holder in your car will instead go directly to an area nonprofit of Village Books' choosing. The recipient of funds will change seasonally. First up is Recreation Northwest, probably best known for the Bellingham Traverse relay race but doing equally notable work as stewards for the environment.
I spoke with Todd Elsworth, founder and co-director of Recreation Northwest, who told me about his love of his native Bellingham and his respect for the community. He told me about his love of native salmon and his respect for their lifecycle. He told me about how, back in 2001, he first had the idea to package his passions together in a relay race that would rally community spirit and bring awareness to the, "natural and urban challenges of the wild salmon."
This would become the Bellingham Traverse and the beginning of Recreation Northwest—but not without the help of community collaborators. Chuck Robinson, then the owner of Village Books and a very active member of the Bellingham nonprofit community, was the first professional Todd approached with his race idea. Chuck was in and a partnership was born.
This partnership endures 16 years later. The Bellingham Traverse remains Recreation Northwest's signature event, but there is also an increasing focus on encouraging stewardship of open spaces through community recreation events and work parties. The donations from the "Round It Up" program will help fund phase II of Recreation Northwest's work as stewards of Fairhaven Park, during which trails will be moved from wetlands and boardwalks will be built. If you would like to get involved there are ample opportunities to donate not only money, but your time.
Paul Hanson assured me that Village Books and Paper Dreams is planning a trail-building party and while I may not currently be in the position to write a check, I am very good with a shovel.
And I will certainly be "rounding it up" on all of my purchases at Village Books.
How to "Round It Up" at Village Books and Paper Dreams
Each season, Village Books and Paper Dreams will feature a different nonprofit partner that will benefit when customers at the Fairhaven and Lynden locations choose to round up their purchases to the nearest dollar. The non-profit will receive the difference. As you pay for your purchase, simply tell your Village Books or Paper Dream sales associate that you'd like to Round It Up for local non-profits. The Village Books team will take it from there.
Sponsored