Have you been to the Community Food Co-op Bakery Café lately? Perched on the corner of Forest and Holly streets, the Café is like a welcoming beacon for Downtown Bellingham with its energy, brightly lit interior and popular outdoor seating area.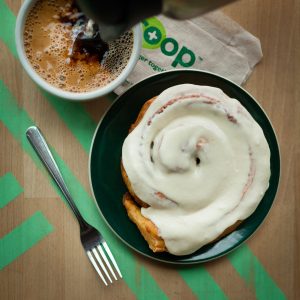 The Co-op Bakery Café definitely has something for everyone, anytime of the day: espresso drinks, tea, smoothies, freshly baked treats both sweet and savory, grilled-to-order paninis, sandwiches and a host of grab-and-go items prepared from scratch in the Co-op deli kitchens.
The new Co-op Bakery production kitchen, located in the same building as the café, was completed in 2016 and has over 1,000 square feet. It includes brand new equipment such as ovens that adjust for humidity and a steam kettle for making custards and other delicacies requiring a gentle heat.
If you are looking for a custom-made birthday cake or cupcakes, the Co-op Bakery is the perfect place to have a masterpiece or special dessert created for that special someone in your life. The bakers' excellent decorating skills are sure to make your loved one happy on their special day with a cake decorated with their individual interests and dreams in mind.
The talented bakers at the Co-op Bakery also specialize in understanding the dietary concerns that occur among many of our community members and are skilled at creating spectacularly delicious treats that meet specific dietary requirements. Vegan, grain-free, sugar-free, dairy-free—the Bakery team does it all and does it with style and taste.
If you want to place a custom order, simply stop by the bakery and chat with a baker to place your order. Using their culinary expertise, they will cheerfully guide your selection.
Each of the Co-op Bakery's freshly baked treats is made from scratch using the highest quality, non-GMO and organic ingredients possible. Bakery goods are always free of artificial colors, antibiotics and hormones. You can find the bakery's house-made goods at all three Community Food Co-op locations.
Stop in today at the Community Food Co-op Bakery Café to enjoy a wonderful treat; a quick breakfast, lunch or early dinner; or pick up something from the convenient grab-and-go case. Rest assured that every item from the Co-op bakery or deli is made with quality, care and a lot of heart, right here at your local Co-op!
Sponsored