Whatcom County forests are alive with wildlife. From the Chuckanut Mountains to Mount Baker and the Snoqualmie National Forest, the North Cascades are home to a wide variety of wild mammals. Tiny pika scurry along talus slopes. Mountain goats graze among high-country meadows. At the top of the food chain, ever-elusive cougars hide out in rocky outcroppings and dense vegetation.

Many of these mammals – particularly the little guys – are often overlooked or misunderstood. What's that whistling sound? Why do they make it? How do they survive the winter? Larger species may be a cause for concern, especially if your own little ones are in tow. What are the best practices when recreating in cougar country?
Learning about these animals and what to expect from them can put hikers, backpackers, and other explorers at ease in the wild. And you'll have better trail stories to tell if you can identify them. In this roundup, we'll introduce several species of wildlife in Whatcom County and recommend useful resources for further reading.
Pika
The smallest, cutest mammal on our list is the Pika. These tailless creatures often go by the nickname "rock rabbit" – a telling description. They prefer to live among rocks and are related to rabbits, after all. Pika do not hibernate, but instead gather tiny mouthfuls of vegetation to build their burrows. In order to stockpile enough food for winter, they must stay busy the rest of the year gathering their "haypiles."
You'll find Pika at high elevations during summer and fall hikes, sounding their telltale "meep" call. Listen for them on trails like the Chain Lakes Loop and Ptarmigan Ridge at the end of Mount Baker Highway. Keep a close eye on talus slopes. They are surprisingly quick and blend in with their surroundings. Always keep your distance and respect their hard-earned homes.
Marmot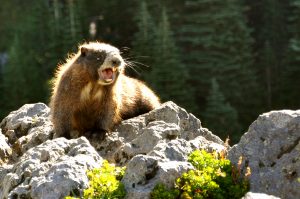 You'll likely hear their whistle before spotting them. Hoary Marmots like to bask in the sun on high rock perches, whistling to alert other marmots to possible danger. Part of the ground squirrel family, marmots are much larger than squirrels, weighing in between 8 and 20 pounds. They hibernate the winter away, surviving on ample fat reserves.
Hoary Marmots are so-called for their silver-gray shoulder and back fur. Like Pika, they live at high elevations above the tree line and eat vegetation. They are not particularly afraid of people, and will generally ignore passing hikers as they forage. Give them plenty of space to do so.
Elk
Another mammal that you may hear before seeing, elk can be found grazing among the Cascade foothill meadows. You're most likely to spot Rocky Mountain elk or hybrids (genetically mixed populations of Roosevelt elk and Rocky Mountain elk) in Whatcom County. As large members of the deer family, these beasts can weigh up to 700 pounds.
Elk feed on vegetation year-round. Because they live in herds, you're likely to see more than one at a time. Watch for them at dusk and dawn, especially during their fall mating season. Listen for their shrill bugle — a downright bone-chilling sound if you've never heard it before — at Silver Lake Park in north Whatcom County. Always admire elk from a safe distance.
Mountain Goats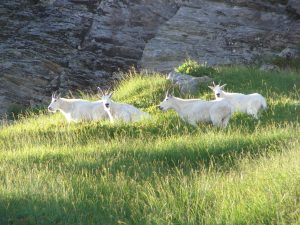 "A Beast the Color of Winter," mountain goats are indeed snow white. They prefer to live at high elevations, climbing and scrambling among rocky cliffs. Yet despite their goat-like appearance, mountain goats aren't really goats at all. They are members of the antelope family.
Mountain goats' muscular makeup and specialized climbing abilities are survival mechanisms: they can travel where predators can't. With thick fur, they shrug off wind, water, and snow. They are completely adapted to their harsh environment. You can often see them around Mount Baker. Try hiking trails that begin from Artist Point. If you encounter a mountain goat on the trail, give it plenty of space and let it move at its own pace. These animals can be aggressive and should be left alone.
Cougar
It's unlikely that you'll ever see a cougar in the wild. Despite being the largest members of the cat family in North America, mountain lions are expert hiders. They are predators, eating mostly deer, with a diet that includes elk, moose, mountain goats and wild sheep. Incredibly fast and strong, a cougar is capable of taking down prey much larger than itself.
Because of this, special care should be taken when hiking in cougar country. Hike in groups and keep children nearby. Educate yourself on what to do in case of an encounter. For detailed information, see the Washington Department of Fish and Wildlife's Cougar factsheet.
Additional Resources
This list is just the tip of the iceberg when it comes to wildlife in Whatcom County. You're more likely to encounter black bears than cougars, so be sure to read up on "Do's and Don'ts in Bear Country".
For a full list of mammals in the North Cascades, visit the National Park Service website. Additionally, the Washington Department of Fish and Wildlife maintains detailed species fact sheets.
Looking for birds instead? Check out our suggestions for where to go bird watching in Whatcom County.