The new Holiday Inn & Suites-Bellingham is the first new build in North America to embrace the brand's H4 design concept. The Holiday Inn brand promises to champion the joy of travel for everyone and the H4 Solution – representing Happiness, Hospitality, Home and Holiday Inn – has been developed to create a guest experience reflecting just that.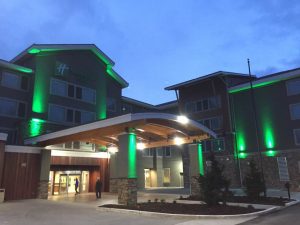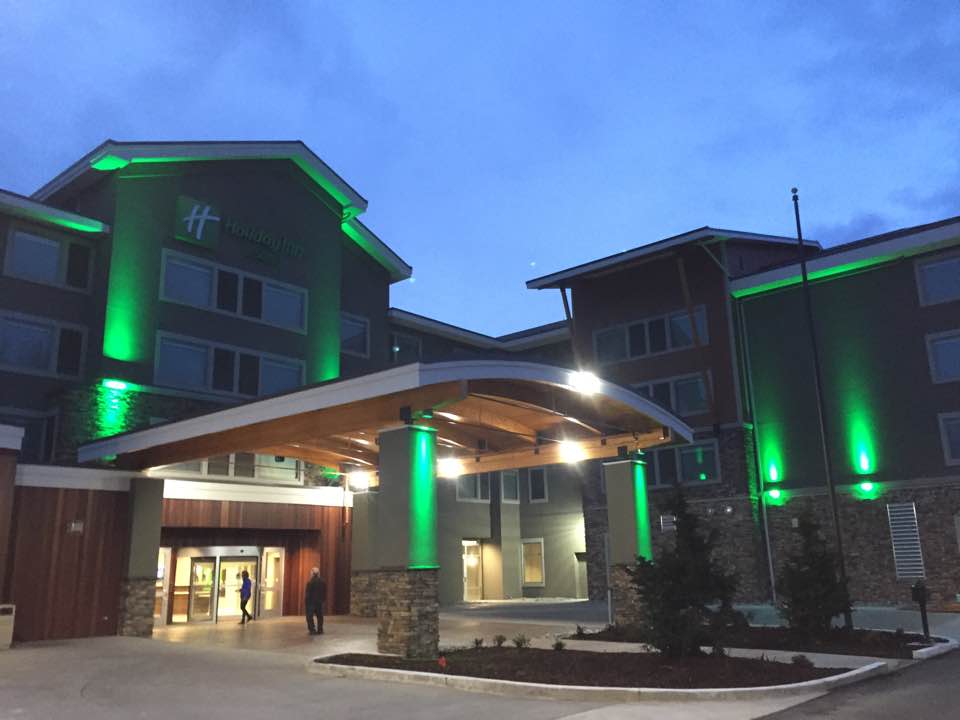 "In 1952, Kemmons Wilson had a vision for a hotel brand that would help everyday people experience the joy of travel," shared Eric Lent, Vice President, Holiday Inn® Brand, Americas, IHG. "He did not believe that extraordinary journeys were reserved for only those with extraordinary means." The new approach allows guests from all walks of life to make the space their own with unique in-room elements such as:
A Design-Infused Approach that is Both Warm and Inviting
The combination of familiar, yet modern touches makes the room feels more like home than a hotel. Earthy design elements reflect the hotel's goal of bringing the outdoors in, giving rooms a relaxed, comfortable feel.
The Welcome Nook
Room entryways serve as drop zones for guests to hang their coat, drop their keys or bag and plug in their devices. Complete with a bench for kicking off your shoes, the Welcome Nook is a transitional space much like a mud room.
New Room Types
"We offer a smorgasbord of room types," shared Director of Sales & Marketing, Randi Axelsson. Every room offers a mini fridge and microwave, while some have kitchenettes that allow guests to eat-in to save on costs or meet specific dietary needs.
The King Bed with Comfort Hideaway room type is brand new and features a trundle-type bed which doubles as a sofa during the day and can pull out into two twin beds at night. The room design is perfect for families with kids and teens, giving each member a comfortable place to sleep and play. Business travelers will also find much to enjoy since they'll find a separate place to work or relax and unwind.
A Sleeper Sofa as Comfortable as the Bed
If you've had to sleep on a hotel sleeper sofa in the past, you know that they've earned their bad reputation. Poking springs and metal bars make for a poor, uncomfortable night's sleep. But no more. Holiday Inn & Suites-Bellingham has invested in sleeper sofas that rival the comfort of their beds.
"Instead of a typical four or five-inch mattress, these have a nine-inch mattress much like the bed you have at home," shared the hotel's Director of Operations and General Manager, Ragan Humphrey. "I think they're going to change people's minds on the sleeper sofa. It's not just an afterthought." They've been testing these sofas at another property in Marysville for months and the feedback they've received has been overwhelmingly positive. Some guests even preferred the sleeper sofa.
Customizable Rooms
A moveable desk and more than five dedicated power stations throughout the room were designed with today's travelers in mind, giving them the ability to work and play anywhere in the room. "Modular furniture allows guests to make the room their own," said Axelsson.
The Holiday Inn & Suites-Bellingham's commitment to the H4 design concept provides comfort and functionality in a convenient location, holding true to the brand's founding principal of providing warm hospitality for all. The hotel chain has adapted to the changing needs of travelers by making sure that their rooms make it easy for guests to experience the joy of travel.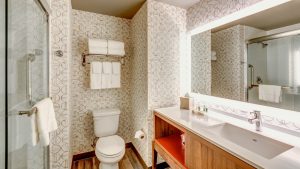 "We do know the needs of travelers have evolved over the last 60 years and the Holiday Inn brand is changing with them," shared Lent. "Through these innovations, we are raising the expectations about what a great stay should be and designing for the future, to create memorable travel experiences for years to come."
Holiday Inn & Suites-Bellingham is located at 4260 Mitchell Way in Bellingham, conveniently located just a step away from the Bellingham International Airport terminal. Reservations can be made now on their website or by calling 360-746-6844.
Sponsored