Does this scenario sound familiar? You are pacing back and forth between the grocery store aisles trying to decide on the perfect wine and food pairing. It's true that it can be difficult to match the ideal food item with its quintessential wine counterpart. But this doesn't need to be the case any longer. Back in 2013 Christos and Anna Adams, owners of the Old World Deli in Bellingham developed their Food + Wine Club in order to make the search for that perfect pair a little easier.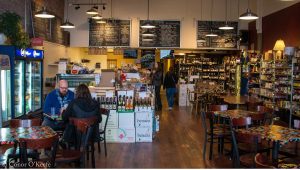 The program is simple and affordable. For a price of just $85 per month you receive three bottles of wine, one artisan cured meat, one house-made meat, one specialty cheese, one specialty market good and 10 percent off bottles of wine in the shop all month long.
"We thought the Food + Wine Club would be a great way to pair our house-made meats, cheese from our case and other accouterments with the wines selected for the month," Anna said.
In addition to all of the items you acquire when joining the club, you also get guaranteed seating at Old World Deli's various special wine events hosted throughout the entire year. Anna says they have been trying to incorporate a greater number of events since they moved to their current location in 2010.
With live music, a wine happy hour and an eclectic evening menu, the Old World Deli has seen more customers come into the space throughout the years, but that doesn't stop them from wanting to try new methods to get people familiar with their products.
Anna said they are planning to launch a new monthly evening program that focuses on a theme (country, area, holiday, etc.) for each wine and food pairing which will tie in with their current Food + Wine Club.
"We have so many great things to offer with our wine – market, house-made meats and deli case meats and cheeses, but we need to do a better job of tying these all together and making them more accessible to people," Anna said.
Anna and Christos are working to make customers aware that Old World Deli is more than just an eatery you visit for lunch. They look to solve this problem by creating new programs to influence immersion with their customers. "A lot of people eat lunch here and never notice the wine and market section or don't know the meat and cheese in the deli case is for sale or that we make our own bacon, corned beef, pastrami, sausages, pate, duck confit and smoked duck breast," Anna said.
The monthly 10 for $10 Wine Tasting has become one of Old World Deli's more popular and successful events recently launched. The 10 for $10 is an event that happens on the last Thursday of every month. Anna said the event has brought lots of new people into Old World Deli. Thursday is typically the deli's slowest night so the 10 for $10 event is a great way to fill the place up, she said.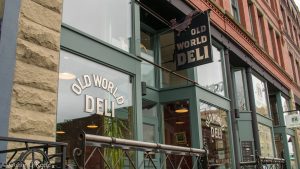 "We're brainstorming new events for the year but haven't nailed anything down quite yet. We are also planning a big event for our 10 year anniversary coming up Tuesday, June 13," Anna said.
Although already hosting a plethora of different options to enjoy fine wines, artisan meats and specialty cheeses, the Old World Deli isn't done exploring ways to introduce the Whatcom County community to perfect pairings that will please the taste buds.
Old World Deli
1228 N. State Street
Bellingham, WA 98225
360-738-2090
Hours: Monday from 10:00 a.m. – 4:00 p.m.
Tuesday and Wednesday from 10:00 a.m. – 6:00 p.m.
Thursday, Friday, and Saturday from 10:00 a.m. – 8:00 p.m.
Closed Sunday
Old World Deli's Happy Hour offers $3 house wine, $2.00 off all sandwiches and $1.00 off beers (dine in only). Plus, there is no corkage on house retail wine daily from 10 a.m. to 6 p.m. and all night on Thursdays. Buy a bottle off the shelves and enjoy at market price, with $5 corkage after 6 p.m. on Friday and Saturday.