While shiny and new has its appeal, have you ever noticed that we really enjoy returning to our old favorites? We cherish our classic books, songs, plays, musicals and films. Our culture has a place in its heart for timeless originals and we love to revisit them over and over.
We also enjoy them when they are reimagined and remade. Bellingham's own Mount Baker Theatre (MBT) is a stunning example of how history can be preserved and shared while serving the demands of modern, continuously changing society. Several of this season's enthralling shows also transport us back to an earlier, nostalgic time.
The Historic Movie Palace is Reborn
Built at the peak of the elaborate movie palace era, MBT opened on April 29, 1927. It is the only survivor of five movie palaces built in Whatcom County during that time. It was built under the guidance of architect R.C. Reamer with an imaginative Moorish-Spanish motif and elaborate interior. It was originally equipped to show motion pictures with the latest gadgetry, a flying screen, and a top-of-the-line Style 215 Wurlitzer theater pipe organ that is still in use today.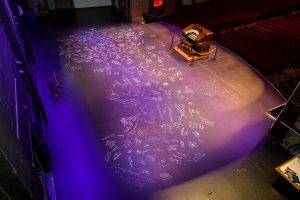 In 1978 the theater was placed on the National Historic Landmark Register. But by the 1980s it was in need of significant repair and was slated for demolition. In 1984, the community rallied and saved MBT by developing a partnership between the city, county and the community that resulted in a city-owned facility managed by the Mount Baker Theatre Corporation, a 501(c)(3) nonprofit.
Since then, taxes have funded the theater's management and private support has provided several phases of remodeling and renovation. Significant restoration and remodeling was completed between 1994 and 2004 to preserve the original architecture and improve restrooms, dressing and green rooms, the tower and other backstage functions. In 2008 infrastructure was upgraded including electrical, heating and ventilation systems, along with fire and security systems. Lighting, sound and projection technology has also been upgraded with the times over the past two decades. Over $14 million in capital improvements transformed MBT's three venues to their current forms which now support more than 400 events and 110,000 visitors annually.
2017 Season Shows Highlight the Revisited and Remade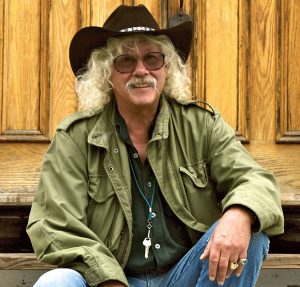 On April 20, Arlo Guthrie will return to MBT to revisit his musical heritage with his "Running Down the Road Tour," an album first released in 1969. Guthrie will take us back to that time while his modern performance of each song will be influenced by the experiences gained over the last four-and-a-half decades. Guthrie and his band will also celebrate the best of Guthrie's American Folk catalogue from the late sixties and early seventies including "Coming into Los Angeles," which Guthrie sang at the legendary Woodstock music festival in 1969, and "Oklahoma Hills" that was originally performed by his legendary father, Woody Guthrie. This tour brings back the sound that shaped a generation, carrying audiences to their most remarkable memories of the time, while breathing new life and vitality into each legendary song.
Like the theater itself, MBT's Wurlitzer theater pipe organ has been able to balance preservation with modern high-quality sound. "The organ is one of few remaining Wurlitzers that is still in use in its original location," explains MBT Executive Director Brad Burdick. "We have all the original pipes. We've added a few over the years. A few years ago, we went through a process making changes to the organ while protecting its history. A donated larger console was incorporated and we eliminated the aging hardwire system and introduced an infrared one that transmits the original, unaltered sound. Now the organ can be moved wherever it's needed."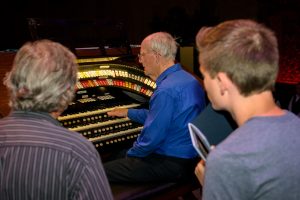 Over the past few years, world-traveling organist Dennis James has played the historic, modernized Wurlitzer while he accompanies historic films that MBT allows modern audiences to revisit through MBT's Silent Film Series. "Dennis considers our Wurlitzer among the top 10 theatrical organs in the country," notes Burdick. "So many have fallen into disrepair over the years. We're proud to be able to maintain and care for this historic instrument."
On May 14, James will play alongside a film that made history in its time. The film "Ben-Hur" was remade in 1959 and 2016 but is even better revisited in its original 1925 silent film glory.
The film was ground-breaking for its time in many ways. Shot in Italy and Los Angeles, its cast was rumored to be over 125,000. The sea battle filmed in Anzio, Italy used many native Italian extras who were engulfed in real-world political struggles as supporters or opponents of Benito Mussolini.
Forty-eight cameras were used to film the battle, which was a record for a single scene at that time. The U.S. extras included unknowns that would someday become film icons including John Barrymore, Joan Crawford, Myrna Loy, Clark Gable, Mary Pickford, Carole Lombard, Fay Wray and Samuel Goldwyn. Although the film has been remade over the years, revisiting the original while James plays the Wurlitzer will be a once-in-a-lifetime experience.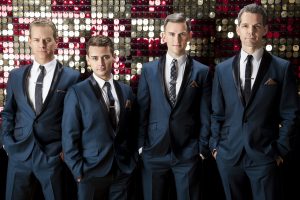 On May 18, The Midtown Men will bring their Broadway brotherhood to MBT. Together, these four talented performers played over 1,000 shows as the stars of Broadway's "Jersey Boys." Tony-Award-winner Christian Hoff, Michael Longoria, Daniel Reichard and Tony-Award-nominee J. Robert Spencer bring iconic hits from the 1960s in this dynamic show. The Midtown Men have remade each song with their own style while allowing audiences to revisit all their favorites including a few by the Beatles, the Four Seasons and some Motown classics.
Because of community support and volunteer efforts, MBT's historic venues, fantastical Wurlitzer pipe organ and captivating shows continue to showcase the remade and revisited. MBT has become a historic home to a premiere Pacific Northwest cultural tourism destination. It sustains the regional community through its arts education programs and substantial economic impact. In return, our community continues to work together to keep MBT accessible to future generations.
Mount Baker Theatre
104 North Commercial Street
Bellingham, WA  98225
Phone:  360-733-5793
Tickets:  360-734-6080
www.mountbakertheatre.com
Sponsored