The match was one of the more physical encounters at Mat Classic.
The state's top two 195 pounders in the 3A classification going full bore for the full three periods, neither taking a step back.
When it was finally over, Ferndale's Ben Broselle exited the mat battered and bloodied but, above everything else, elated as he became just the third Golden Eagle ever to win two state wrestling championships.
Broselle closed out his high school wrestling career in grand fashion by earning a hard-fought 7-4 victory over a very-game Jeremy Smith of Yelm in the 195-pound state finals at the Tacoma Dome on February 18.
The senior's strong showing helped Ferndale finish ninth overall in the team standings, the squad's highest placing since 2008.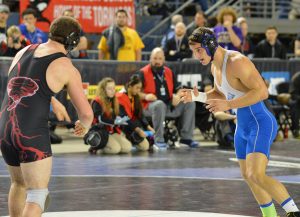 In addition to Broselle's title, the Golden Eagles also received a third-place finish from junior Eli Coy (132 pounds), a sixth place from sophomore Jaden Schwartz (145) and an eighth place from senior Pavel Kolbert (170).
"Today was just awesome. I'm sad for all the guys who lost, obviously," Broselle said, "but super happy for all the guys who won. Eli, Jaden, Pavel, I can't believe they all did it. They were all cheering me on, egging me on for my state title. Incredible way for it to end."
With the victory, Broselle, who won the 182-pound title last year, enters a select fraternity of Ferndale wrestlers, joining Chet Slevin and Jason Muggy as the only multiple-time state champions in program history. Slevin captured the 189-pound title in 2003 and 2004, while Muggy remains the school's only three-time titlist, winning the 141-pound crown in 1988 and back-to-back 148-pound titles in 1989 and 1990.
Broselle made short work of the competition in advancing to the championship round, pinning his first three opponents in lightning-quick fashion.
He opened his run at title No. 2 by pinning Connor Wood of Prairie in 32 seconds. That triumph was followed by pins of Kamiakin's Luke Eskelsen in the quarterfinals (1:23) and Mount Spokane's Mason Miethe (1:29).
Smith ended hopes of an all-Whatcom County final when the Yelm senior defeated Squalicum junior Brian Pullman, 3-2, in the other semifinal match.
"It would have been fun wrestling Brian again," said Broselle, who defeated Pullman, 6-1, the previous week in a regional semifinal matchup, "but I've wrestled him three times. I wanted someone new."
What he got was a determined Smith, who had placed third in the same weight division last year in the 4A ranks with his only setback at the 2016 state tournament coming in overtime in the semifinals.
Broselle scored a two-point takedown in the first period to establish an early advantage. The two battled the rest of the way.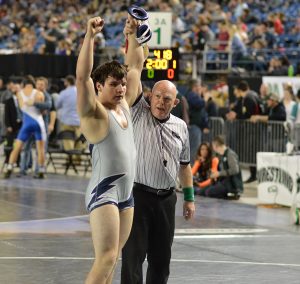 Shortly after the first points were scored, the first of four match stoppages for blood cleanup would take place, an indication of how physical the title match was.
"That actually helped me a little. I was getting tired," Broselle said about all the stoppages. "It was a tough match. I had never wrestled him before. I had wrestled two out of the four kids in the semifinals before so I knew what I was getting into, but with Smith, I had no idea."
Despite missing out on a finals appearance, Pullman rebounded impressively, defeating Eskelsen, 3-2, in a loser-out match before knocking off Miethe, 5-3, in overtime to secure third place.
The Storm also received a sixth place from junior Jase Cooper (113) and an eighth from sophomore Dominick Mack (285).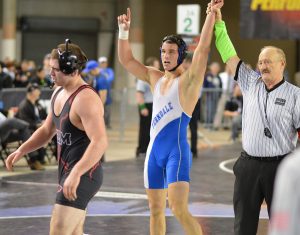 In the Class 2A tournament, Blaine junior Saul Magallon won the 220-pound state title, while Lynden senior Brody Weinheimer was runner-up in the 195-pound division.
Magallon defeated River Ridge's Blayne Haderman, 3-1, in the championship round. Haderman entered the tournament as the top-ranked 2A wrester in the weight class. The two were tied at 1-1 until a late two-point takedown in the third period secured the win and the title for Magallon.
Magallon was one of three Borderites to take home some hardware as senior Colton Economy (third, 132) and senior Riley Fritsch (fifth, 170) each placed.
Weinheimer cruised into the state finals after dominating his first three opponents, highlighted by a 67-second pin of Mountlake Terrace's Reyne Mack in the semifinals, before losing in the finals, 3-2, to Othello's T.J. Martinez.
Mount Baker finished fourth as team in the girls' state tournament, getting a state title from junior Emma Bruntil in the 135-pound division and placings from Gabriella Mata (sixth, 110) and Korbyn Cadle (sixth, 120).
It marks Bruntil's second state championship as she won the 130-pound title last year while attending Nooksack Valley.
Lynden's Kali Spady posted a third-place finish in the 145-pound girls' state tournament, while Nooksack Valley had a pair of placings in Lynette Samano (sixth, 125) and Grace Himango (eighth, 190).