This is often the time of year where we begin to feel the winter blahs. We tire of the cool, rainy weather and the fact that it keeps us indoors. Thankfully, this time brings some of the best viewing opportunities for independent film in Whatcom County. This round up of independent film opportunities will keep the winter blues at bay. The best part is that each of these opportunities supports a local business, filmmaker or both.
Bellingham Film Annual Showcase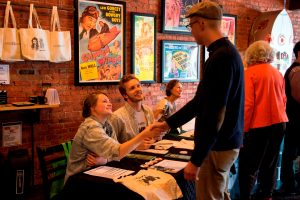 9 p.m., February 11, 2017 at Pickford Film Center (PFC)
$7 regular admission, $5 students, seniors and Pickford Members
Each year, Bellingham Film hosts a short film showcase as an opportunity to share with the public content produced in Washington State. The showcase includes both short films and trailers for projects that are currently seeking funding and for feature films. For the Pacific Northwest filmmakers, it is a chance to see their work on screen and perhaps find investors and future collaborators. It's a great way to see what is being made right here and nearby. Many of the filmmakers attend.
17th Annual Bellingham Human Rights Film Festival (BHRFF)
February 16 – 25, 2017
Free admission and parking
Over the 10-day BHRFF, 25 thought-provoking films will be screened across 13 venues throughout Whatcom County. Volunteer committee members select the insightful, moving films that they hope will encourage the community to explore and engage in critical issues that are particularly relevant in our country today. Topics include environmental activism, overcoming disability limitations, the effects of militarization on our society, refugees and immigration law, gender identity, food waste and antagonists cooperating to solve problems. Films are followed by facilitated discussions, some led by the filmmakers themselves.
BHRFF received a 2015 Mayor's Arts Award and was listed as one of nine "Film Festivals That Are Making A Difference." Amnesty International USA's local Group 270 also received an award for its financial and volunteer support of BHRFF.
Opening night of the festival will be held at PFC with Western Washington University (WWU) Fairhaven College as the primary venue. Be sure to check the full program for exact show times and locations.
Bellingham Children's Film Festival
March 11 – 12, 2017 at PFC
This annual festival showcases innovative and fun films from around the globe with animation, live action, shorts, and features. The whole family will enjoy the ice cream social and interactive art projects in the Pickford lobby. Check the PFC site for more details on films and show times as they develop or join their e-mail list to have a weekly newsletter delivered to your inbox. Part of PFC's mission includes an increasingly active education program for kids in elementary through high school.
Bellingham Music Film Festival 
April 6 – 8, 2017
The Bellingham Music Film Festival is a collaborative effort between WWU's New Media Design, the Make.Shift Art Space and PFC to share the diversity of music through the medium of film. The festival features a collection of music videos, documentaries and narrative pieces by regional, national and student filmmakers. The fun is augmented by live performances and receptions with filmmakers, performers and viewers alike. Check their Facebook page for the latest details as the festival gets closer.
CASCADIA International Women's Film Festival
April 20 – 23, 2017
In order to help shift the historical under-representation of female directors in the global film community, CASCADIA International Women's Film Festival (CIWFF) has created a curated three-day festival that showcases female-directed shorts, documentaries, and feature films from around the world. Many of the directors will be available for discussion after the films. Films shown will include those by emerging and seasoned women directors from France, Russia and Austrailia, as well as a historic silent film.
This first annual festival will also include social events, workshops, industry panels and educational events including a panel discussion, "The Emerging Technology of Immersive Technology—Virtual Reality," co-presented with Bellingham Film at Sylvia Center for the Arts on Tuesday, April 11. The panel will include female filmmakers currently filming with virtual reality technology. Check their website and Facebook page for the official selection and evolving details as the festival gets closer.
These thought-provoking, artful films will keep the winter blues away from now until May when the weather will allow more comfortable outdoor excursions. Enjoy and feel good about supporting Whatcom County's local film community.