After walking down a long road in the Birchwood neighborhood with its large lots peppered with Craftsman houses, I arrived at Christie Tomlin's home. I imagined the lavender, calendula, mint, and motherwort blossom on the three-and-a-half acre farm during the warmer months.
According to Christie, her husband grew up on the farm which has been in his family since 1946. "When he was a child they had cows, pigs and chickens. This acreage was in the county in those days," says Christie.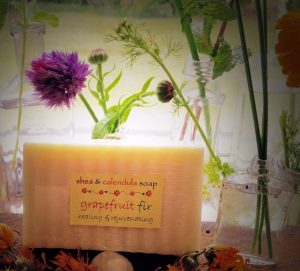 These days, Christie and her apprentice Brenna cultivate the land growing and harvesting the flowers that become soaps and essential oils. They make the Birchwood Botanical products in a special kitchen-office tucked away in the corner of the farmhouse.
Christie started her business 37 years ago. She sells oils, soaps and other home-crafted personal care products at the Bellingham Farmers Market. During the holiday season, Birchwood Botanicals appears at the Allied Arts Holiday Festival. Christie also sells her products through her website.
For Christie, her natural body care business finds its origins in a personal connection to the land. "I started working with herbs when I was around 21 and I was pregnant with my first child. I started reading and exploring the uses of herbs. I found myself fascinated with the history and folklore of herbs and their many uses. This led me to explore the medicinal uses of herbs and turning these precious plants into oils and salves to use on our bodies for gentle and safe nourishment and healing."
On a rainy January day, I sipped a chamomile-mint blend tea while Christie and Brenna described their seasonal work and connection to the earth. As we sat at an oak table, Christie's two dogs relaxed in the background seemingly enjoying our conversation. These two women along with Mary Ann preserve a folkloric tradition that brings renewal to the earth and our bodies.
"My love of herbs was a self-discovery," recalls Christie. "However, I did grow up helping and learning to grow and preserve food that came from my Grandfather's gardens and orchards. When I was in my twenties, I met an older woman, MaryAnn who quickly became my gardening mentor and my dearest friend, teaching me how to get my hands dirty.
"To date Mary Ann continues to guide me through the process of growing and creating herbal products. With her encouragement and support, I now have a part-time employee, Brenna, who has fulfilled an apprenticeship with us. Together we are finding joy and fulfillment passing on to her all the knowledge and experience we have learned."
Several years ago, I bought Geranium essential oil from Christie. And several times since then, I have browsed through her diverse soaps, salves and oils at the farmers market. Like many other herbal product makers in Whatcom County, Christie grows the flowers that make up her products. Who wouldn't want to visit the farm during the height of growing season?
"We grow a large variety of plants, including an array of aromatic herbs, culinary and medicinal herbs, several mints; peppermint, ginger mint, apple mint, Swiss mint, Kentucky colonel and even a strawberry mint. Our main crop is calendula officinalis. You will find calendula in most of our products and blends. In 2014, we put in another 40 lavender plants that we simply love," describes Christie.
We contemplated the best time of year to interview Christie. Winter lacks photographic opportunities and during the spring and summer, Christie is too busy growing, harvesting and making products.
"Through the growing season, we harvest and bundle ornamental flowers for sale at market and by special order starting with lily of the valley in the spring," Christie says. "About mid-summer, we have a beautiful crop of Calla lilies and we finish the season with a crop of fiery orange Chinese lanterns which provide a beautiful harvest color that our customers enjoy.
"We harvest our herbs as soon as they are ready, depending on the weather – Comfrey, herwort, nettles, bergamot, rose petals, chamomile, red clover, St. Johns Wort to name a few."
An artist as much as an herbal craftswoman, Christie demystifies the production of our favorite self-care products. "Over the years, I've organized our herb kitchen so that making the products is an easy and smooth process. We're always a season or two ahead in our planning. All our herbs and flowers are harvested by hand and processed one stem-at-a-time. After the herbs are processed, they are brought into the herb kitchen to store and create our herbal oils, infusing the plant material into a high-quality olive oil for our skin care line."
As I conclude my interview with the wise women, I give thanks for the preservation of a folkloric tradition.