Whatcom County is filled with talented people. The photos we received for the 2016 Photo Contest were each beautiful in their own unique way. We had so much fun reviewing them all. In fact, with all these wonderful choices, it was hard to choose a winner. Yet, after much evaluation, four winners emerged. Without further ado, I present the winners of the 2016 WhatcomTalk Photo Contest:
Carol Kilgore
As first place winner, Carol Kilgore received an overnight stay at SpringHill Suites Bellingham and a one-hour float from Still Life Massage and Float.
"I took this photo a couple years ago, on Mount Baker Highway," Kilgore said. "Every once in awhile you'll just be driving along and the sun and clouds are right. That was one of those moments. I submitted five photos and all of them were from times when I was just out and about exploring. That's what I really like to do. That's what it means to me, the New Year, just more time to do that. I'm semi-retired so I have time. And we live in such a beautiful place. Before I started taking photos, about five years ago, I never went anywhere. I knew it was so beautiful around here, but when I started photography, that's when I really started to get out and explore. You really notice things more, like the light. On my way here I noticed that the mountains look incredible and wondered if I had time to stop. On the way home, I'm going to go take a few photos."
Jennifer Coleman
As 2nd Place Winner, Jennifer Coleman received a $50 gift card from Chinuk Restaurant – at Four Points by Sheraton Bellingham, a $50 gift card from Whole Foods Market in Bellingham and a $25 gift card from Old World Deli. Coleman is the Marketing & Social Media Director for Scenic Washington State. It's part of her job to take fantastic photos that showcase how beautiful our area is.
"I've been managing our Facebook and Instagram for a couple of years," Coleman said. "It was taken at Birch Bay State Park and it was one of those 'wow' sunsets, where it was peak. It was amazing. And then the kids were out there playing, in silhouette with their arms up. I always feel like it's sort of an opportunity pose; arms are open and also just being out and being able to see what's happening. You know, that sunset was happening regardless of whether or not we were there, but we were there. And so just to make an effort to have those experiences, especially with the kids there. Just getting outside. I drag them out hiking all the time and take them to the beach. Two of them are my kids and the other is a friend. It's part of my job to be out there doing things, capturing and sharing it."
Molly Greenleaf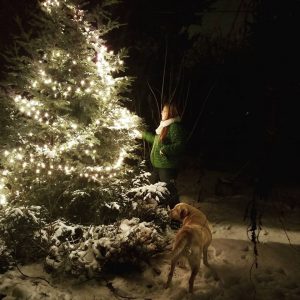 As 3rd Place Winner, Molly Greenleaf will receive a $25 gift card from Brotha Dudes, a Bellingham Flag swag bag, four gate admissions to the 2017 Northwest Washington Fair, and two tickets to a performance of The Upfront Theatre.
"It was actually taken of my sister and her dog," Greenleaf said of her winning photo. "I was over at her house helping her decorate this last Christmas and I saw her and her dog having this little moment outside and I just leaned out and took a quick snap with my camera phone. I love photography and I travel quite a bit. With what you guys were asking for in 2017, it kind of speaks to taking those quite moments and enjoying life for what it is and all that good stuff."
Tarah Redpenning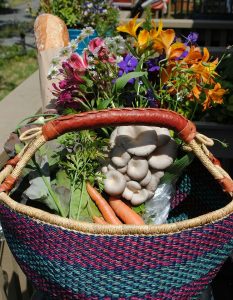 Fourth place winner, Tarah Redpenning received a one-month membership to CrossFit Iron Industry, including nutrition coaching, a pre/post fitness assessment and unlimited access to classes.
"I chose this picture because of the beautiful colors," Redpenning said. "It makes me think of the day I took it. I had bought this basket specifically for the farmers market and was so happy to walk downtown and collect some locally grown goodies. I love to support local farmers. I live in an apartment but love to garden. I grow all that I can on my balcony and get the rest from the farmers market as often as I can. I had just gotten my camera, so I was testing it out on my new basket with all the goodies in it. It was so fresh and beautiful, I couldn't resist. There's just something so beautiful and peaceful about growing fresh veggies and sharing them. It's a great way to meet new friends and keep the old ones. My neighbors love harvest time too."
This slideshow requires JavaScript.