Seeing a Broadway show is a once-in-a-lifetime experience and we're fortunate to have access to them at Whatcom County's Mount Baker Theatre (MBT). But have you ever wondered how they accomplish each extravagant show while traveling from city to city each night across the nation? Mount Baker Theatre's Facilities Director, Jim Zoehrer, helped us put together a glimpse into what it takes to pull off a hit Broadway show in an active theater in just 24 hours.
Around 3:00 a.m.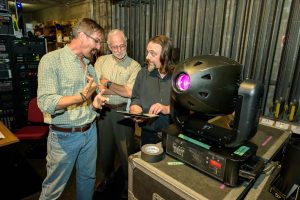 To take the incredible high-quality musical, dance, and dramatic spectacles that have appeared on Broadway on the road, you have to get up pretty early in the morning—or stay up pretty late—depending on how you look at it.
"A typical Broadway show will arrive in the middle of the night with one to four 53-foot semi-trucks and one to three tour busses," explains Zoehrer. "The cast will head to nearby hotel rooms while crew will catch a couple of hours sleep in the busses before beginning the 'Load In' process."
7:30 a.m. – Load In
About 60 local stage crew including carpenters, electricians, and riggers that have been hired by the MBT arrive and work together with the six to twelve traveling Road Crew to mark out the floor, begin unloading and installing the semi-trucks full of rigging, stage lighting, set walls and backdrops, and flooring that is unique to each show. "We have a list of about 300 crew that live and work between Bellingham and Seattle that we can call to work on a show. They all also work at other theaters as well so not everyone is available," explains Zoehrer. "The number we hire depends on how large the show is. I exhaust my local people first before calling Seattle."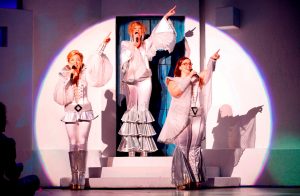 Between four and ten wardrobe technicians will launder and repair costumes, shoes, and wigs.
1:00 p.m. – 4:00 p.m.
At the lunch break, two-thirds of the local crew will depart, returning later after the show is over to help break down the show or 'Load Out.' The other third, or Show Crew, remain to continue Load In. "Lights are focused, hand props are laid out, they'll fine tune the fly and rigging systems, and get the sound system dialed in," explains Zoehrer. "You wouldn't believe it, but with all that crew, the entire show is set up in about six or seven hours."
6:00 p.m. – Show Time
After a dinner break, the Sound Technicians and Show and Road Crews return and the cast, music director, and orchestra show up for a sound check. "The Production Stage Manager works with the leads and the cast to make sure the microphones work properly and that everyone is clear about any changes to the show," notes Zoehrer. "These shows play at venues of all sizes so each show is a little different and those details need to be worked out on a daily basis for local conditions. MBT is the right size for a three-and-a-half to four truck show, but we often get five truck shows." Some shows like Beauty and the Beast and Hair had an entire semi-truck full of wardrobe and wigs. "Some things are stored in the alley or we find room. We do Tetris here," chuckles Zoehrer.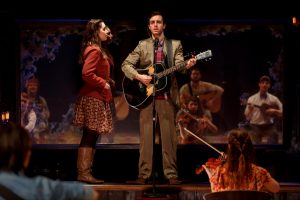 Cast will begin hair and makeup preparations and do any last minute adjustments to costumes.
Around 6:30 p.m. everyone goes into 'Show Mode.' Crew get their 'Tracks' which is a list of cues that tell them what their jobs will be during the show and might include bringing props on and off throughout the show.
A multitude of volunteers also arrive to assist with ticketing and ushering while concessions crews prepare for the 1,500 guests that fill the Main Stage and balcony seats.
At 7:00 p.m. the house will open and patrons will find their seats, enjoy concessions and take in the luxurious Spanish-Moorish architecture that has graced the theatre since it opened in 1927, with more than $14 million in improvements since 1984.
7:30 p.m. – About 9:45 p.m. Show Time
At 'Curtain' or the opening of the show, MBT Executive Director Brad Burdick welcomes guests and introduces the show and thanks the sponsors. Shows are generally two to two-and-one-half hours with a 20 minute intermission.
10:00 p.m. – About 4:00 a.m.
The 'Load In' crew returns during the show's finale to become the 'Load Out' crew. "The last things to be unpacked are the first to be packed up again. Wardrobe begins packing up while the show is still being performed. We disassemble in the reverse order that we used for set up so that the trucks can be packed up again two trucks at a time," explains Zoehrer. "That all happens within two to four hours after the show ends depending on the complexity of the show."
The cast packs up and heads to the next venue to begin the process all over again. Before departing, the Road Crew will take showers at the theater and then load their busses to head to the next city. But after a Broadway show has left the building, the work is not yet done. The 'Load Out' crew will return MBT to a show-ready state, with lighting and sound in place for the next performance. Some members of local crews will work a total of 15 hours in a single day.
Many Broadway tours do 8-week legs with a week or two break in between, performing over a number of months or even for over a year. Many of the shows that come to MBT do one night in each city and are arriving from or departing to cities like Olympia, Spokane, Yakima, Eugene, OR, or Victoria, B.C. Some touring companies get one day a week off and they often spend it sightseeing in whichever city they've landed in that day. If you're curious to know more about the show from the perspective of the cast, check out these short videos by the casts of Bullets Over Broadway and by the ensemble of 42nd Street.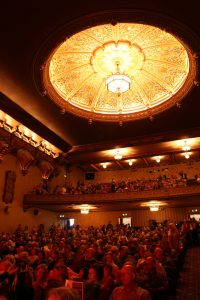 Keeping the MBT hive running in top form to host traveling Broadway shows is a big job for Zoehrer, his leads, volunteers, and the huge team of hard-working, self-driven crew. But they're up for the task for the sake of the art form. "I delegate to my team and make sure we stay on budget and stay safe," says Zoehrer who must always look ahead. "In that same day, I also have to think about the other 14 shows coming up." In a single week, MBT may host ten other public and private shows, rehearsals, rentals, and events across their three venues in addition to the Broadway show.
Now that you know what goes into delivering a quality Broadway performance, consider seeing one by ordering your own tickets. You can travel to Dublin (via Broadway) on November 4 when MBT hosts the Tony Award-winning production of the romantic musical Once. This story follows a Dublin street musician's struggle to reach his dreams and find his art in the chemistry he develops with a captivating young woman. On December 18, Mamma Mia! will take you to a Greek island paradise with a mother, a daughter, and 3 possible dads for a funny tale that unfolds with songs by ABBA. Then, go from screen to stage with the multi-talented singers and dancers of the stage adaptation of Fame, a show that highlights the hard work and ambitions of students at New York's High School for the Performing Arts. Another classic, The Pirates of Penzance, will arrive on March 12 to transport audiences to another time in this exuberant musical masterpiece performed by the New York Gilbert & Sullivan Players.
Mount Baker Theatre
104 North Commercial Street
Bellingham, WA 98225
Phone: 360-733-5793
Tickets: 360-734-6080
www.mountbakertheatre.com
Sponsored