Anyone who spends time in Downtown Bellingham or the Historic Fairhaven District has seen the positive impact of the Bellingham Farmers Market. Connecting shoppers to local farmers and crafters, the market gives Bellinghamsters an opportunity to better understand and appreciate where their food and goods come from. There's nothing quite like knowing the person who roasts your coffee, or meeting the farmer who grew your mushrooms. Now fans of the Bellingham Farmers Market have a new opportunity to enjoy the bounty of what local farmers have to offer at their new After Hours Farmers Market.
Two years ago the Bellingham Farmers Market board went through an in-depth strategic planning process. As part of this process they decided to survey both customers and vendors to see what opportunities they could find to better meet the needs of the community.
"It became clear during our recent strategic planning process and community surveys that customers wanted more opportunities to engage with our vendors," said Market Director, Caprice Teske. After taking customer feedback to their farmers, the Bellingham Farmers Market determined that an after hours market could accommodate everyone's needs.
"We concluded that a mid-week, evening market would provide the additional time shoppers want and still allow farmers the time they need for field work earlier in the day," shared Teske. And so the upcoming After Hours Farmers Market pilot program was born. Held every Thursday during the month of September, shoppers will be able to stop into the Depot Market Square from 4:00 p.m. to 7:00 p.m. to peruse offerings from their favorite farmers and artisans.
Because the Wednesday market in Fairhaven wraps up in August, the Bellingham Farmers Market Board decided September would be a good time to pilot a new evening market while still taking advantage this bountiful harvest season. More than 20 local farmers and food vendors will provide fresh produce, meat, dairy, baked goods and more to take home for dinner or to enjoy on-site.
"We are excited to pilot this market during Eat Local Month," Teske added. "It seemed like the perfect opportunity to launch a market that features hyper-local food producers from Whatcom and Skagit counties."
For folks who would like to experiment with fresh ingredients during their mid-week meal, the After Hours Farmers Market can provide a great opportunity to find new treasures. Regular Saturday market-goers may find that their fruit and vegetable supply begins to dwindle by the time Thursday rolls around, but during the month of September they can stop downtown on their way home from work and bring freshly harvested produce and high-quality meat, dairy, and baked goods home for an instantly gratifying local feast.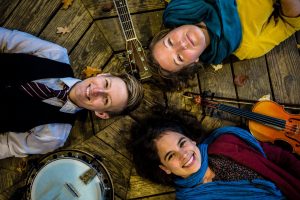 If you're the kind of shopper who is ready for a break from cooking a meal by the time you've made it to Thursday, the After Hours Market is a great opportunity to grab prepared foods instead. Picnic tables will be set-up for you to eat on-site, or you can grab food take-out style to bring back to the family (or your latest streaming video obsession).
This cozy, focused market will be tucked inside the pavilion at Depot Market Square instead of sprawling through the parking lot, so it will be a more intimate setting focusing primarily on farmers and food goods with fewer craft offerings.
"Depot Market Square is our home, and it's also conveniently located downtown," said Teske. "It was a no-brainer to host this After Hours Market there." You can bike, bus or walk to the market like you usually would, but if you're driving through the area remember that off-street and city-managed parking in lots and garages is free after 5:00 p.m. on weekdays.
There will be live music each evening for shoppers who would like to linger and relax after a long day at work. The music schedule includes:
Because this After Hours Market is a pilot program, the Bellingham Farmers Market's board and vendors will seek customer comments and assess the Thursday market at season's end to determine if it will continue beyond the September trial.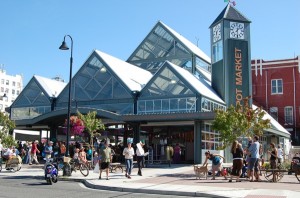 "We'll be relying heavily on community feedback on this market," shared Teske. "The future of this market really depends on how customers react to it. We could potentially grow our regular market offerings if there's enough demand to sustain a night market in addition to our Wednesday and Saturday markets."
The After Hours Farmers Market will be from 4:00 p.m. to 7:00 p.m. every Thursday from September 1 through September 29, 2016, at Depot Market Square (1100 Railroad Avenue, Bellingham, WA 98225).
Sponsored