During a recent visit to Lynden, my husband and I were struck by the detail and vibrant colors of the revitalized mural on the west side of the Post Office building.
It prompted the question: "What defines a mural?" My husband said a mural was any painting on the side of a building. I always thought a mural told a story or a series of stories in one painting.
Wikipedia defines a mural to be any piece of artwork painted or applied directly on a wall, ceiling or other large permanent surface — including business signage.
I stand corrected.
There is no denying that many Whatcom County walls feature stunning murals that are not business related, but I didn't realize just how many murals existed until I started looking for them.
Check out some of the artwork I found while exploring Whatcom County's many murals, then use the map at the end of this article to plan your own self-guided mural tour.
Lynden Town Mural — 610 Front Street, Lynden
To celebrate their 40th anniversary, the Lynden Lions Club commissioned Western Washington University art students Cecilia Karoly-Lister, Anjali Grutzius and Alaina Scheffer to retouch a mural painted by Bill Swinburnson in 2002. The students received college credit to work on the mural.
Bay Street Village — 306 West Holly Street, Bellingham
Two of the most well-known Bellingham murals exist thanks to the diligence of artist and local treasure Lanny Little. Bay Street Village welcomed visitors with a blank canvas on Holly leading into Old Town until it caught his eye in 1999. This mural was paid for by Old Town businesses and city matching funds. The Sibyl Sanford Foundation played a huge part in the creation this mural, allowing for five students to be paid a stipend to work side-by-side with Lanny.
Fairhaven Village Green — 1207 10th Street, Bellingham
The mural project at the Fairhaven Historic District started during the summer of 2000. Lanny Little obtained permission from the building owner to paint the mural. The Fairhaven Association sponsored the work and community and corporate donations were accepted.
When the Fairhaven Village Green was constructed in 2003, Lanny made some adjustments to the mural. In 2013 the mural was refreshed with new characters and Lanny painted himself in, signing the wall. A community raffle helped to raise money to pay for much of the work. Like the Bay Street Village mural, the Sibyl Sanford Foundation helped sponsor the creation and restoration of these murals, allowing for students to be paid a stipend to work side-by-side with Lanny. The names of donors and volunteers are painted to look as if they are chiseled into the stone.
More of Lanny's work includes the Carnegie Library mural on the east wall of the Crown Plaza Building and the welcome sign to Fairhaven greeting passengers arriving by ferry. These were paid for by businesses and private funds.
Sadly, nothing lasts forever. Lanny had been commissioned to do a mural at the ground floor of the Parkade and on the facade of Henderson's Books, both of which are now painted over. Other murals he painted that are no longer visible were at Blue Horse Gallery, Nooksack Casino and Lakeway Market. Fortunately, these have all been archived on his website.
Salmon Art Trail — 205 Prospect Street, Bellingham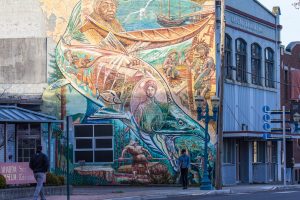 On the south side of the building that is the home of the Sylvia Art Center, the old Cascade Laundry site, is a mural completed in 1990 of Whatcom Creek Salmon Art Trail and Salmon Woman
Mount Baker Landscape — 3098 Northwest Avenue, Bellingham
Reclamation Art and Design (RAD) was a group formed to promote the use of reclaimed and recycled materials in art and design. In 2010, Cecily Thornton was working in her (former) office and was staring at a blank wall at 3106 Northwest Avenue. RAD got permission from the building owner, gathered a group of volunteers, procured donations of painting materials from the neighborhood association and businesses, and painted a vast Mount Baker landscape. 7Yr Films captured the weeks-long project on time lapse video here.
Carnation-Oxford Building — 1920 Main Street, Ferndale
Driving into Ferndale, before you cross the river, you will come upon the Carnation-Oxford building, which used to be a creamery. The smokestack first had the American flag painted on it during the first Gulf War and was repainted during the Iraq war. Other murals grace the buildings exterior.
Community Mural Project — 5703 4th Avenue, Ferndale
The Community Mural Project was organized by Bertella Hansen and Janice Bethman as a way to beautify the Ferndale Post Office. More than 35 artists and over 45 painted stamps were contributed by local artists. Most of the stamps are 1'x1′ or larger.
The map below highlights more than two dozen mural locations. This is by no means all-inclusive. Go explore, keep your eyes open, and enjoy.