With all the snow that's dumped on Mt. Baker recently, snowshoeing is going to be fabulous this year. It can be easy to forget about snowshoeing, what with all the talk of skiing, boarding, sledding, and so on. But snowshoeing is awesome in that it is for everyone. It's affordable, accessible, appropriate for all ages, and you can snowshoe virtually anywhere. I've done only a little snowshoeing in Whatcom County — most of my snowshoeing experience has been around the Leavenworth area. So in order to put together a great local snowshoeing guide, I teamed up with my talented and very outdoorsy father-in-law, Rick Dubrow, co-owner of Bellingham's own A-1 Builders.
When I sat down to talk to Rick about snowshoeing in his office, I immediately noticed the large, old-fashioned looking snowshoes nailed to his office wall. Well, at least I could be sure I was in the right place. Rick informed me that those were called "Bear Paws," and that they are used for much lighter, fluffier snow than we get in Whatcom County. He picked them up in Colorado. When I asked if he liked snowshoeing the first time he tried it, Rick responded without a moment's pause: "Oh, I fell in love with it instantly."
Our county is thick with snow lovers of all types. But Rick has no shortage of reasons why he loves snowshoeing best. "It's funny, but there's kind of a firewall between people who like skiing and people who like snowshoeing," he says. "I enjoy the latter because I appreciate how it really slows you down. It's perfect for observing and reconnecting to nature. And anyone can do it. If you can walk, you can snowshoe." Rick admits that falling in love with snowshoeing can lead to a sort of snow addiction. "The other thing about it is, many people don't realize they love being out in the snow until they try snowshoeing. I'd say it's the gateway drug to snow."
Snowshoes: Rent or Buy
REI no longer offers rentals but has snowshoes for purchase, and the store is staffed by experienced and knowledgeable salespeople who can help you select the pair of snowshoes that are right for you.
Adults can rent snowshoes from Backcountry Essentials for $21/day (all-day and overnight rental). It's okay to return rentals anytime the following day before closing. Also, Backcountry features graduated rental prices, so the longer your rent, the better deal you get: $31 for two days, $44 for 3 days, and so on.
Adults and kids alike can enjoy snowshoe rentals from Yeager's. With rentals running at just $15 for 48 hours (from pickup to return), snowshoeing is an affordable activity for the whole family.
Pick up a snowshoeing package at Glacier Ski Shop for $20/day, and rent a handy-dandy item called "shoe covers," which are "giant warm and waterproof socks that enable you to use regular shoes with snowshoes," while you're there.
Guided Snowshoeing
The Bellingham REI has great snowshoeing classes, but they fill up fast, so don't delay. Classes range from a free Snowshoeing Basics class to an Avalanche Transceiver course, both of which are offered on-site at the store. There are also getaway classes like REI's Snowshoe and Brews trip (that ends at a brewery in Leavenworth) and an Intro to Snowshoeing at Lanham Lake, just to name a few.
Forest Service-led snowshoe hikes at Mt. Baker are another fabulous option. Snowshoe hikes are planned this year for February and March. No previous experience is necessary. Groups meet and depart from the Glacier Ranger Station at milepost 34 on the Mt. Baker Highway. Donations are requested ($15 for adults, $10 for kids). The interpretive hikes are two- to three-hours long and are ranger-led. Snowshoe hikes are a great way to learn about winter ecology while getting a little exercise, and the Forest Service even provides the snowshoes and poles. Call or email to make reservations.
Safety First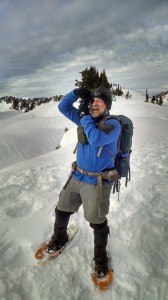 If you plan to go it alone (unguided), avalanche safety is essential. Rick says understanding avalanches and avalanche danger is a must for anyone who is interested in snowshoeing, as many local people have died in avalanches while trekking across the snow. One great resource for tons of avalanche info and links to classes is the Northwest Avalanche Center. Also, REI holds courses, and the Glacier Ranger station hosts an Avalanche Awareness Walk in March.
Another important note (as with any hike), is to remember to let somebody know where you're going and what time you intend to be back.
Additional Gear
Rick recommends loading up on hand and foot warmers, gators, sturdy waterproof boots, a hat (he says "if your hands are cold, put your hat on!"), good sunglasses, snowshoes with poles, layers, and insulated clothing. Rick also carries wands with flagging at the top. Not everyone does this, but if its windy or snowing, you can lose the snowshoe path you came in on in minutes. Flagging ensures you'll find your way back to your car.
Beginner Hikes
One nice snowshoe route to start with begins in the ski-area parking lot and continues on up to the Warming Hut (aka the Heather Meadows Visitor Center). It's an easy hike and takes maybe an hour round-trip. The warming hut itself was built in the 1940s by the Civilian Conservation Corps. It's closed during the winter months, but still offers a scenic turn-around point for your hike.
Hannegan Pass Road is a gentle, often groomed hike that is ideal for beginners and families. Hike as much or as little as you like. The trail is about 5 miles roundtrip. The highlight of this snowshoe for many are the views of the North Fork Nooksack River and even Mt. Shuksan on a clear day. This is one of the routes often taken by the Forest Service-led snowshoes. Park at the Shuksan Picnic Area, about 13 miles past Glacier on Mt. Baker Hwy.
White Salmon Road is another great beginner trek (it's also called National Forest Rd 3075). This trail can be found to the left of one of the last hairpin turns on Mt. Baker Highway before you reach the ski area. More breathtaking views are to be had down this road. On a clear day, you'll see Mt. Shuksan and the two Goat Mountain peaks looming large.
Intermediate Hike
Artist Point is a classic hike, well-known by locals, that begins in the ski-area parking lot. You will pass the Warming Hut and continue on to hike about 4 miles roundtrip and gain about 1,000-feet in elevation. The views from Artist Point on a clear day are unparalleled. Mt. Shuksan is the most photographed mountain of all time, or so it's rumored. There's a reason this is Whatcom County's most popular hike.
Advanced Hike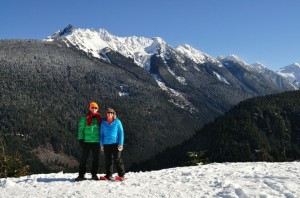 About 7 miles past Glacier begins the epically beautiful and rigorously steep snowshoe hike known as Excelsior. Unlike summertime, there's no road to get you up to the Damfino Lakes for an easier starting point. Canyon Creek Road is closed in the winter. But, many people take off on snowshoes right from the highway. Rick says, "It's a very good workout."
Or, if you want an even easier way to learn how to snowshoe, wait until it snows in town!
Rick proclaims, "You know, all you need to snowshoe is snow." And he's right. We have plenty of awesome, gorgeous places to snowshoe right in our fair cities. Zuanich is lovely in the snow, or take a hike up Sehome Hill for some nice views and a little exercise. Most places where there's snow, there's an opportunity to snowshoe.