By Theresa Golden
Feeling stressed and wishing you could take some time to catch your breath? Meet Summer Cushman, an artist, minister and yoga therapist practicing in the tradition of Viniyoga and specializing in breath work as a medium for transformation.
Summer's first experience with yoga began like so many others: signing up for a yoga class and participating in the exercise aspect of postures. But her real yoga journey began with a desire to add more spirituality into her life. Summer wasn't raised with any kind of religious structure growing up, but she was always interested in ministry work. "I felt a call to be a minister, in a certain sense, but I didn't know a minister of what necessarily."
Summer chose seminary school at the Earlham School of Religion in Indiana to explore her spiritual questioning. In her final year of seminary, she really reached out for yoga as a practice, enrolling in a 200-hour yoga teacher training. "I wanted a practice that included the body in a different way," she says. "I wanted something that could include heart, mind, body — all of that."
After receiving her Master's degree in Divinity, Summer studied for two years at the American Viniyoga Institute in California and can now officially call herself a certified Viniyoga teacher. Summer found that yoga allowed her to understand her spirituality in a safe way that didn't predefine religion for her. She explored and really considered all traditions and lineages yoga had to offer, but specifically chose Viniyoga because of the level of depth and integration the practice involved. Here she really delved into the deeper studies of yoga, especially the ancient texts.
For Summer, yoga is truly a way of life. It's evident in her practice, ministry, and career as a yoga therapist, and it's also evident in her art. Upstairs in her studio, Summer's art is spread out over the walls and the ceiling. An incomplete oil painting on wood paneling rests on the wall with roots and sketch studies nestled below. Abstract images of nature, heart, and body span across a section of ceiling. Paintings on velum and tracing paper are layered and then photographed as final pieces of multidimensional work. Learning printmaking during her undergraduate studies, Summer continues with this process as well, carving into linoleum blocks and printing images on cloth to create prayer flags.
After owning her own yoga studio in Indiana, where she provided as many as 13 group classes a week, Summer changed gears when she moved to Bellingham with her husband Jeremy, a professor at Western Washington University. She dove into her own personal yoga practice as a sort of sabbatical, and after a period of rest, Summer decided to shift her focus, providing one-on-one therapy. Summer developed a group class designed as a 90-minute weekly retreat for the general public at Inspire Studio.
The entrance to Inspire Studio is a doorway on Cornwall Avenue. The narrow stairs lead up to a large open wood floor reminiscent of a dance studio, except for the gently creaking boards. Gold hued cloth pillows decorate the ceiling while flameless candles and salt lamps cast a warm glow on the brick. Toward the back of the room, housed on shelves are yoga mats, bolsters, foam bricks and blankets. Everything needed is here, no need to haul in your own supplies unless you want to.
It is here that Summer leads a group class through movement, breath work and meditation. She articulates the movements and breathing exercises she wants the class to take, clearly guiding with words as she walks around the class observing each person's movements. Summer doesn't practice with her students, so there is no need to watch what she does while trying to fit into a mold. Never forcing a student into a posture, she invites students to try something a little different for safety reasons or to help them experience something new, perhaps something that takes them out of a habit. Postures, she feels, are merely a tool for connecting to one's self, and she selects them to be easily accessible to everyone.
During her class she utilizes her study of breath work. "The breath is one of the biggest gifts. Breath practice is one of the biggest gifts that yoga can give to us. I think a lot of transformation comes from that connection to the breath."
For Summer there is a lot of science behind breath work. The breath is strongly integrated in the nervous system connecting us in a systemic way to both the sympathetic nervous system — a place of quickened heart rate and quickened breathing known commonly as fight or flight — and the parasympathetic nervous system — a place of rest and digestion.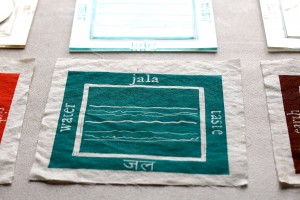 "We live in a world now where everyone is constantly stressed and anxious. So we are living in sympathetic nervous system response," explains Summer. "Yoga can help bring us back into a parasympathetic state." Summer's goal is to help her students leave that constant state of stress and, through breath work and connection to self, move over into a lifestyle of rest and healing.
Summer Cushman's Yoga-in-Depth class is open to the public at 5:30 p.m. on Thursday at Inspire Studio.
Prayer flags are available on her Etsy page: YogaInDepth.
For a more in-depth view of Summer's background, classes or to schedule a one-on-one yoga therapy session, visit SummerCushman.com