By Laura Rogers

The apples on the trees are turning red, the leaves are beginning to fall, and the spiders are happily spinning their webs. It must be harvest season. And with the harvest comes a bevy of fun fall activities for families here in Whatcom County. Whether you enjoy fall fruit, farm animals, pumpkins and gourds, or a huge corn maze, you can have it all with the great farms and attractions in our area.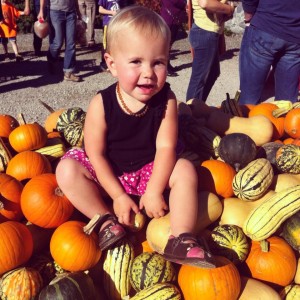 Cloud Mountain has been an integral part of the Whatcom farm community for over 35 years. But it's so much more than a farm. Aside from researching, propagating, and growing plants and edibles suitable for our corner of the Pacific Northwest, they hold events, festivals, classes and workshops throughout the year as part of their commitment to community learning. Probably the best way for families to experience Cloud Mountain is at their Annual Fall Fruit Festival. The festival has been an event at the farm for more than 25 years, and it's possible to sample over 200 varieties of their fruit, including apples, berries, kiwis, quince, grapes, nuts, and more.
Our family has attended the Fall Fruit Festival for the past five years. My kids look forward to the caramel apples, apple cider press (kids can press it themselves), arts and crafts, fun music to dance around to, and even Mallard Ice Cream. As parents, we look forward to the fruit tasting, and the kids even sometimes let us get through the entire line. We usually cap off our experience by picking out a few pumpkins to take home. The other thing I enjoy about Cloud Mountain is knowing my visit supports the farm as a local non-profit. Their mission as a non-profit farm center is to create a thriving local food system and provide hands on learning to experienced and beginning farmers and gardeners. And that feels pretty good.
Cloud Moutain Farm Center
6906 Goodwin Road in Everson
Fruit Festival: Oct. 3, 10:00 a.m. – 5:00 p.m. and Oct. 4, 11:00 a.m. – 4:00 p.m.
Regular Hours: Wed. – Sat. 10:00 a.m. – 5:00 p.m., Sun. 11:00 a.m. – 4:00 p.m. through Oct. 31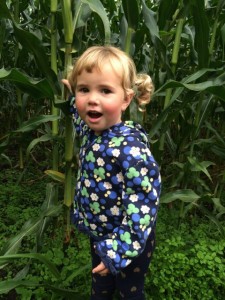 Every year the Lynden High School FFA Booster Club creates an enormous corn maze which is sure to thrill kids of all ages. Just south of Lynden, on Hannegan Road, lies the tall, expansive corn field which gets a new design cut into it every year, just in time for September and the cooler, darker evenings. The Corn Maze is the Lynden FFA's main fundraiser. Proceeds go toward travel to state and national competitions, equipment, classes, and scholarships.
Open weekends in September
Fridays from 6:00 – 10:00 p.m.., Saturdays 2:00 – 10:00 p.m., Sundays 2:00 – 6:00 p.m.
Flashlight Maze after dark on Fridays and Saturdays
Adults – $6, Kids – $4, Preschool and under – free, Family Rate – $18
Kids must be accompanied by an adult.
With the largest pumpkin patch in the county, plus a slew of other fun family activities, it's not surprising Stoney Ridge has become the most popular fall farm in our area.
When you aren't scouting out the perfect pumpkin, there are animals to see, a U-pick (or they-pick) apple orchard, hay and train rides (small fee for the train), corn maze, and all the cute fall paraphernalia you need to create the perfect fall-outing photo album. There are several craft and decoration stands along with cozy food and beverage cottages to get in out of the weather if need be. Enjoy hot cider, coffee, freshly made mini cider donuts, a hot dog stand, pies, (and the list goes on).
Stoney Ridge has been owned by the same family for three generations. The farm started out as mainly an apple orchard. It has grown and evolved over the years to become a multi-faceted Whatcom fall favorite. In addition to the pumpkin patch and family activities, they also sell Christmas trees once the harvest frenzy dies down.
Stoney Ridge Farm
2092 VanDyk Road in Everson
Open Oct. 3 through 31
Hours: Thursdays, Fridays, and Saturdays from 10:00 a.m. – 5:00 p.m.
Entry Fee: Approx $2-$3 per person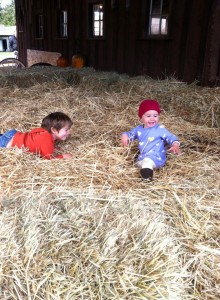 Cramer's Western Town is located just down the road from Stoney Ridge, and for those searching for a smaller, somewhat calmer pumpkin hunting experience (but still with the bells and whistles for the kids), this is probably the place for you. Among the attractions there is a hay jump, duck race, petting zoo, pony rides, hay maze, and horse-drawn wagon rides to the pumpkin patch.
My kids ask specifically to go to Cramer's every year. The pony rides are unique among the fall farm activities in the county, and the hay jump, which is a large bouncy area covered in hay and surrounded by hay bales, is quite possibly their favorite thing of all time. Also, the large draft horses are pretty incredible to see up close (if your children aren't afraid of large animals). Entry to the farm is free, but many of the other activities charge a small fee. The views from the pumpkin patch cannot be beat, with unobstructed Baker looming large on the horizon. Photo-ops are everywhere at Cramer's.
Cramer's Western Town
956 Van Dyk Road in Lynden
Open Fridays, Saturdays, and Sundays 10:00 a.m. – 5:00 p.m.
There really is a little something for everyone at Bellewood Acres. Besides an enormous, diverse apple orchard and pumpkin patch, they also boast a pristine new farm market, country cafe, gift shop, bakery, and even a distillery, which is the first true Farm to Glass distillery in the state. Fancy a drink with BelleWood Eau de Vie Apple Brandy or BelleWood Honeycrisp Vodka before the kids hit the pumpkin patch? Then Bellewood is calling. The farm is open year-round and is just six miles from Bellingham.
Families can stroll on their own through Bellewood's impressive 25,000-tree orchard, or they can board the "Apple Bin Express," which takes folks by train through the apples orchard, stopping at the ripe varieties for U-pick, and then takes passengers on to the pumpkin patch. There are twenty apple varieties to choose from, including local favorites such as: Jonagold, Sansa, Honeycrisps, Golden Supreme, and many more. Check the handy ripening calendar to see when certain varieties will probably be available.
In addition to their beautiful pumpkin patch, Bellewood has a large selection of gourds, Indian corn, corn stalks, hay bales and mums that are great for fall decorating. The market and gift shop offer fresh produce, apple cider, artisan cheeses, caramel, specialty honey and jams, fresh honey-roasted peanut butter, and gifts. The country cafe serves up light breakfast and lunch options, and some truly delectable desserts.
Bellewood Acres
6140 Guide Meridian Lynden, WA
Apple Orchard is open early September through early November, daily from 10:00 a.m – 5:00 p.m.
Pumpkin Patch is open Sept. 30 – Oct. 31
Country Cafe and store are open 7:00 a.m. to 5:00 p.m. daily